Drumroll please.
You can now use Woodpecker Warm-up & Recovery on the trial for free.
That's right – you don't have to pay a penny to start using it right after you sign up.
You can get a head start with warming up your email address or entire domain.
And if you already have an email address that you're using for outreach, and you're seeing issues with its deliverability, you can choose the recovery option to start getting it back on track.
Keep reading to see how it works and how it can benefit you.
Before and now
Previously Woodpecker Warm-up & Recovery was only available to users on a paid subscription. But we decided to include our trial users as well – from the very first moment you sign up for the free trial.
In fact, we encourage you to start with this step, as soon as you sign up for the trial.
It will definitely pay off later.
Why you should turn on warm-up right away
1. Your email address or domain will start warming up automatically, behind closed doors
You'll have more time to focus on building a strong prospect list and to craft a phenomenal email copy and follow-ups for your campaigns.
Since Woodpecker will take care of warming up your email address or domain, you'll gain more time for preparations.
2. It won't cost you a penny
Woodpecker Warm-up & Recovery is now free for our users – right after they sign up for the trial. Unfortunately, its no longer available for Google users.
3. The warm-up or recovery feature can be turned on with one click
You select whether you want to warm-up an email address/entire domain or recover it and Woodpecker takes care of the whole process for you.
Sign up and start warming up immediately
Make sure to make the most of this option by starting warm-up or recovery as soon as you sign up, to get ahead of the game.
1. First things first – connect your mailbox to Woodpecker.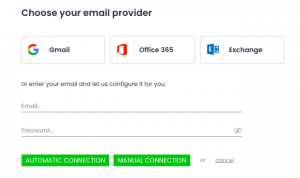 2. Go to the drop-down menu and choose SETTINGS>ACCOUNTS>WARM-UP. Plug in your mailbox.
3. At this point, you'll see 3 modes you can choose from.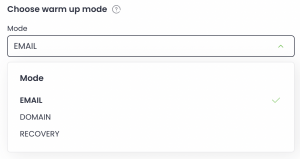 If you have a brand new domain (set up 1-3 months ago) – pick DOMAIN

If your domain is already warmed up, but you added a new account – choose EMAIL
If you've been using your account and you see the deliverability isn't best – choose RECOVERY
4. And that's it – Woodpecker will take care of the entire technical aspect of the warm-up or recovery process for you.
Worried you'll use up all your trial emails during the warm-up process?
Well, don't be.
Remember that emails sent during the automatic warm-up process do not count towards your email limit on free trial – you still get 50 cold emails.
And when you're signing up for Woodpecker, you actually get one additional email slot for free – which means you can plug in two email accounts: one to warm up, and another one that's already warmed-up) to send your first small campaign.
You don't 'lose' emails from your daily limit and you can have another email address or domain warming-up simultaneously, so it's ready in case you experience a bump on the road.
What happens after the trial ends?
If you were using the Warm-Up & Recovery feature during your trial, the process will automatically pause once the trial period is over.
If you decide to buy a Woodpecker subscription within 30 days of your free trial ending, you'll be able to simply resume the already-in-progress warm-up or recovery process with one click.
You won't have to start the whole process again from scratch. You'll be able to pick up right where you left off, without losing the entire progress made during the trial.
If more than 30 days pass from when the trial ended, though, you'll have to restart the entire cycle – simply because these processes have to be consistent to deliver desired effects.
Why choose Woodpecker Warm-up & Recovery?
It's actually completely free
When you set up a trial account you get one extra slot – which means you're starting off with 2 free slots.
So you can now start warming up your email account or entire domain during your free trial from one slot and send campaigns from an already warmed-up email account from a second slot, simultaneously.
Warming up a spare email account allows you to gain peace of mind.
Fully automated
No matter whether you choose the warm-up or recovery process during your free trial, Woodpecker's intelligent system will work wonders and take care of everything for you, so you can forget the process is even taking place.
Top-tier deliverability
During Warm-Up & Recovery, Woodpecker will even detect if any emails sent land in the SPAM folder and automatically take them out and place them in the main inbox.
This will help build back or sustain good deliverability and a positive sender reputation.
Recovery option
If you see any deliverability bumps on the road, you can always switch to the recovery feature.
Start sending campaigns from the email address which has been warming up, while you let your main account regain good deliverability.
This means that if something doesn't quite go to plan you can still remain in control and resume sending your campaigns from your back-up email and leave all deliverability worries behind.
In case you've used tools in the past which have ruined your email reputation, Woodpecker Warm-up & Recovery also gives you the choice of building back your sender reputation.
One click activation
Turn on warm-up with one simple click and let Woodpecker do the rest behind the scenes.
Over to you
Interested in trying it out?
Sign up here to start warming up today:
The link to the article has been copied.