Getting more customers than you can help at one time is a problem many of us would like to face.
Well, in the case of Ecom Capital, an e-commerce growth business, that's exactly what happened when they started using cold email for lead generation.
their goal was to get clients for their $7,000/month service

they went from setting zero meetings to making 2 qualified sales calls per day

the first deal was closed 21 days after sending the first cold email
About Ecom Capital
Industry: e-commerce growth
Employee count: 11-50
Use case for Woodpecker: lead generation
Product used: Woodpecker Agency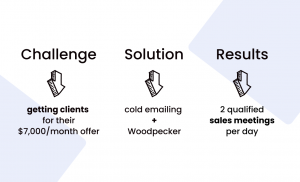 Challenge: validate the offer & create a consistent stream of leads
Ecom Capital set out with two goals:
validate their higher-priced service, and then

validate a predictable, consistent and sustainable method of cold outreach to bring in business
They kicked it off with cold calling, but it didn't do the trick. When they put their sales team on phones and gave them massive lead lists to contact, not a single deal came out of that for 3 months.
Michael, their Head of Operations, explains why that didn't work for their business: "People who pick up the phone want more information, and it would be very difficult to convey that information over the phone just from a cold call 'cause what we're doing is quite technical."
So Michael started looking for other options, and stumbled onto cold emailing.
Solution: the powerful cold email
To do it right, Michael went through cold email training programs and resources – including the Woodpecker Academy and a lot of the articles on Woodpecker's blog.
First, they had to take care of the technical backend set-up, like the marketing and sales process for outbound prospecting.
When that happened, satisfying results started trickling in.
So much so that, in fact, they had to pause their cold email campaigns since they quickly got more customers than they expected.
"From the day we hit GO on sending emails – we started seeing results after about 21 days," says Michael.
Results: more clients than they can serve
The team had to put their brakes on since they started getting more clients for the premium service than they could handle at that moment.
When they were fully prospecting, though, Michael was hopping on 2 qualified sales meetings per day for their $7,000/month offer.
Here's how he described their 2-stage process:
The team members who were sending cold emails would go on 15-minute discovery calls, and when the leads were "discovered" – meaning they were suitable for the offer – they'd get passed on to Michael as the head sales person in the company and the (then) head of Client Success.
Michael would then get on a call with them to discuss and close the deal.
Choosing a tool that suits their needs – Woodpecker
"We had maybe 4 people prospecting for, I'd say, an equivalent of maybe 20 working hours per day for the team combined," describes Michael "and we were sending about 100 emails a day to new prospects collectively as a team. From that I was running about 2 sales calls per day when we were at peak outreach."
When he was looking for the best solution and comparing his options, Michael had his team in mind.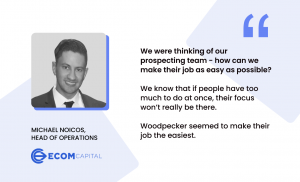 The team saw Woodpecker was the best for what they needed.
"And the experience has been great," says Michael "It's simple to use. The interface makes sense. It makes it easier to control the follow-up process. You type in an email in a document, copy it, and bam! You've got it done. You don't need to worry about following up and any of that manual process.
I like how you can customize it. And the support is exceptional. I spoke to Damian a lot, and whenever there were things that weren't working, he'd come in and help me with messages like: Here's your action task, if you need help, I'll be there. Especially important with the technical stuff no one seems to get."
What's the next goal?
Ecom Capital's next objective is to bring on board a consistent level of clients, averaging about 1 per week for that particular higher-priced service.
Why do our customers like Ecom Capital succeed?
Looking at customers of ours like Ecom Capital, we see that some of the things that help them skyrocket their growth using cold emailing is a well-defined target and ICP, a solid lead qualification process, and confidence that goes along with a proven track record of being able to deliver on their promise.
When it comes to the cold emailing strategy and execution, a well-defined target and ICP are one of the first things you need to have figured out before you start.
Another is picking a cold email tool that's right for what you need. Automating the whole process is crucial if you want to grow. It will allow your team to save time that can be invested back into working with your prospect.
And what tool will do the job? Well, I might be biased… so try Woodpecker for yourself and see if it's the right cold email tool for you.
The link to the article has been copied.