This one's a biggy.
We've just launched a warm-up and recovery feature – included in price for our premium users.
That's right. As of now, you can warm up domains and email addresses automatically with Woodpecker.
And if your sender reputation goes downhill, you can also use this feature to recover it.
At no extra cost.
All you have to do is switch on the Domain, Email or Recovery mode – and that's it. Woodpecker does the rest behind the scenes.
What do you get? Better deliverability, safe sending, and time saved.
See how the feature works and how you can start using it.
What you gain with Woodpecker Warm-up & Recovery
You don't pay extra for the feature
The feature is included in your subscription. You get to warm up your email accounts or domain with no additional payment. The same goes for recovering your sender reputation.
If you're already a Woodpecker user, you just got a free warm-up & recovery system that you can use on all your mailboxes and domain – go check it out in the app.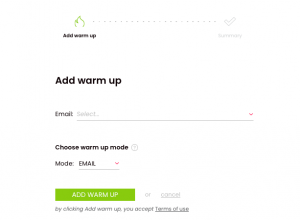 You can warm up both a domain and an email address
Yes, those are two different things. Domains and email addresses need to be warmed up differently, and Woodpecker's Warm-up feature offers two warm-up modes to best suit your needs.
You can also recover your sender reputation
As the name implies, Woodpecker Warm-up & Recovery is not only for warming up domains and email addresses. It also allows you to build your reputation back up if something went wrong, or to keep your deliverability levels on a high level if everything's going well.
You don't need to set up anything
All you need to do is plug in your mailbox to and turn on the mode you need – warm-up for email accounts or domains, or recovery. That's it. One click and Woodpecker handles your warm-up or recovery process.
No need to worry about finding optimal settings and a safe sending frequency. Woodpecker intelligently adjusts the warm-up settings to your mailbox.
You can trust that the warm-up process will be safe & effective
Woodpecker's warm-up is autonomous, which means it doesn't rely on other warm-upers correctly adjusting their mailbox settings.
Also, we keep an eye on all of the processes. Our deliverability experts constantly improve them.
What do you need to start using Woodpecker Warm-up & Recovery?
You need to be a paying Woodpecker customer, and have at least one mailbox plugged in.
And that's all. You can pick the mode you want to use.
The warm-up & recovery module is included in your subscription, no matter what add-ons you're using.
How does the Warm-up & Recovery work?
Here's a quick step-by-step. If you already have a mailbox connected to your Woodpecker account, start from step #3.
1. Get yourself a Woodpecker subscription – doesn't matter which add-ons you turn on.
2. Connect your mailbox to Woodpecker.
3. In the app, go to SETTINGS > ACCOUNTS > WARM-UP, and plug in your mailbox. You'll see you have a choice of three modes: a Domain or Email warm-up, and Recovery.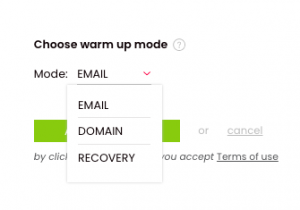 4. Turn on the mode you'd wish to use for the mailbox you've connected to Woodpecker.
5.
Woodpecker handles the process from now on
. You don't even have to think about it.
Want to try it? Log in to the app to start warming up mailboxes or a domain, or to bring your sender reputation back up with the recovery mode.
Not a Woodpecker customer yet, but want to join and begin to warm up your mailboxes?
Start here:
The link to the article has been copied.