Successful outreach takes time. The first, and very important step is to warm up your mailbox before using it for cold email campaigns.
Without a proper warm-up, your emails won't reach your prospects' inboxes.
That's why we released the Warm-up & Recovery feature – so you can take care of your deliverability. It's a fully automated process which you can launch with one click.
But there's also another approach you can take to warm up your mailbox – a manual warm-up.
Read on to decide which option is best for you.
Or if you already know…
What a manual email warm-up looks like
First, let's take a look at how you can warm up your email address in a manual way.
#1 Set up your email account
It's best to set up a mailbox on a separate domain for sending cold emails at scale. Cathy describes the "why" in detail in this blog post.
Make sure that you pick the right email provider for you. Different accounts from different providers offer different sending limits. And even though all providers' limits should be enough for the warming up process, you need to think ahead and consider the volume of your actual future campaigns.
Here you can check out the limits from the most popular email service providers:
What Are Email Sending Limits of Various Email Hosts?>>
#2 Set up the "from line" and signature
You can make your email account look more professional and credible by setting up a custom "from line" and signature.
Usually, you'd make sure to add information to your signature that would help your prospects to verify who you are on social media sites, like LinkedIn or Twitter.
But for the warm-up process, create a simple signature with no photo and no links. That way you're sure your signature won't mess with the deliverability.
#3 Set your SPF and DKIM records
Without correctly set up SPF and DKIM records, your emails won't make it to the prospect's inbox.
SPF is a sender authentication record. It tells your recipient's server that you are authorized to send from your domain, and it's not somebody impersonating you.
DKIM works differently, but has the same purpose. It's an additional way of letting the receivers know that it's really you who's sending the message.
Here's how to set them up.
#4 Send a couple of emails a day by hand
Now's when the actual warming up starts.
Note: this applies to new email accounts on domains that have already been warmed up. If you have a new domain, the domain warm-up process is different and takes a bit longer.
But if your domain is already warmed up, in the first weeks it's enough to write to contacts you already know (e.g. friends or colleagues). Send them some personal messages before you can start automating later.
Start with a couple emails a day, and gradually increase the number.
No cold emails allowed at this point! Only "human-like" messages with real communication and questions, so your recipients will reply.
Also, you want to be sure you collect a list of addresses from various hosts – Gmail, Outlook/Exchange, GoDaddy, 1&1, Yahoo, AOL. That's how your new email address will gain credibility in the eyes of different email providers.
#5 Collect a few responses and reply
The goal is to have a few casual conversations before you start automated cold email campaigns with your new email address.
Besides your friends and colleagues actually writing back to you, you can also send an email from one of your other addresses and reply.
Pros of the manual email warm-up
Algorithms see you as human
If you warm up a mailbox manually and you're making sure to do it correctly, AI algorithms will tag you as human and give you a good reputation. Having such a label gives you more chances of getting past the spam filters of various email service providers.
Cons of the manual email warm-up
Manual email warm-up and maintaining your domain reputation can be time-consuming and require consistency.
Email warm-up works just like warming up before exercise. You should increase the volume gradually. Taking long breaks between sending warm-up emails, such as weeks or months, means abandoning all past progress.
What an automated email warm-up looks like
Choosing the automated option for email warm-up doesn't mean you can skip certain steps.
You should still set up your email account on a separate domain (and be mindful of the domain warm-up), and rake care of the SPF and DKIM records.
The part you can automate is the process of sending emails to gain a good reputation.
For that, you can use tools that will send messages to and from your email account. The emails will have uniquely generated content and will imitate human behavior to give the impression to email providers that you are the one manually sending them.
Pros of the automated email warm-up
The automatic warm-up process is handled fully by the tool and usually doesn't require multiple steps to start.
In Woodpecker, all you need to do is to plug in your mailbox and choose the mode you want to use.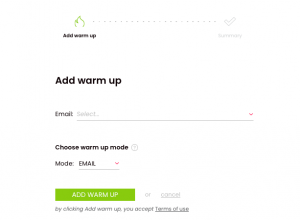 By having the warm-up process handled externally, you can spend more time preparing your campaigns or closing more sales.
Cons of the automated email warm-up
You have to trust the tool
Automating your email warm-up means you have to rely on the tool to handle this process for you. You have to trust it will mimic human behavior and act as well as if you were doing it yourself.
How to warm up your email and domain automatically in Woodpecker?
With Woodpecker Warm-up & Recovery, you can start warming up your email or domain (yup, those are two different processes) with a single click.
Besides email or domain warm-up, you can also use it to recover your sender reputation if your campaigns didn't go as planned and your reputation got harmed.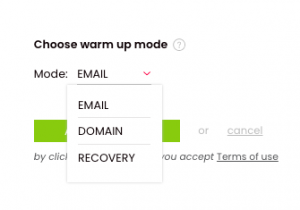 But since this article is on warm-up, I'll focus on that.
To start warming up, you just plug your mailbox in, pick the mode you need (besides email or domain warm-up, you can also use it for sender reputation recovery) and your email account or domain gets warmed up for you automatically.
You don't need to set up the sending frequency, the right number of emails to be sent, or worry about any other settings.
Woodpecker intelligently adjusts the warm-up process to your mailbox.
Woodpecker Warm-up & Recovery features and benefits
You can warm up not only email accounts, but also a domain
With Woodpecker Warm-up & Recovery, you can warm up a mailbox or a domain. These two processes are different and our new feature reflects that, as it's adjusted to suit them both.
It's not just a warm-up feature – you can also recover your sender reputation
If you've been using an email address for outreach for some time, and observed some deliverability problems, you can use the warm-up for reputation recovery.
Heck, even if everything's going well on the deliverability front, you can use the Recovery mode to keep it that way, e.g. when you're taking a break in between campaigns.
Warm-up scenarios are constantly being improved by our deliverability experts
All of the warm-up and recovery scenarios were prepared by our deliverability experts, who for years have been supporting our clients on their warm-up and recovery journeys.
These frameworks were converted into a smart algorithm that is being constantly improved.
Intelligent system that takes care of all the steps
The intelligent warm-up and recovery system automatically sends warm-up emails, pulls out messages from spam or "others" and places them inside the main inbox.
It also shows you the estimated time of how long it will take to fully warm up your mailbox or domain, so you know when you can start your cold email campaigns.
It's included for all premium Woodpecker users: no extra costs
Woodpecker Warm-up & Recovery is available to all premium subscribers at no additional cost.
You can hook up your mailbox and start warming up your email address or entire domain immediately.
No matter what add-ons you're using or what sending limit you've chosen. You can use this feature as an individual or an agency.
The link to the article has been copied.