Here's some good news for the Woodpecker users who work on Gmail. We've just launched the first version of the Woodpecker Chrome Extension which will allow you to get some notifications from Woodpecker directly in your Gmail inbox. But that's just a start. Keep reading to learn more about how you can get access to the first version, how it can help you in everyday work, and how you can help us develop the extension.
What is the Woodpecker Chrome Extension?
We know that many of our users work with Gmail on a daily basis. Many of them often find themselves jumping between Woodpecker and their Gmail inbox while managing the replies in their cold email campaigns. The Chrome Extension is meant to become a bridge between Woodpecker and the popular Gmail inbox.
The idea is that you can set up your email and follow-up sequence to be sent automatically from Woodpecker, and then go back to your email management in Gmail while still keeping the track of your automated campaigns.
What will the first version allow you to do?
Whenever Woodpecker detects an open or a reply to your cold email campaign, you'll get a notification in Gmail. This way, you'll be able to act immediately after you see some interested prospects' reactions to your campaign.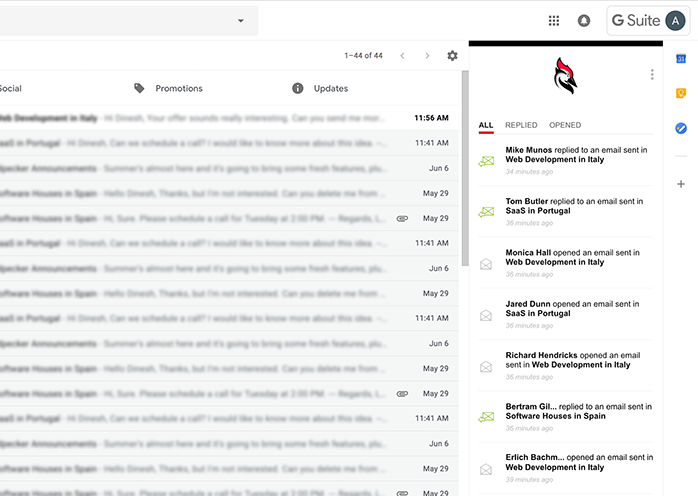 The first version is very simple because we wanted to start small and work together with the testers to find the best direction for further development. We have a list of ideas for the new functions of the extension, but before we start the development, we want to hear your voice and perhaps collect some fresh ideas, coming directly from the users.
Update 08.08.2018:
Now, you can hide the notification banner if you don't wish to see it.
Who is it for?
The extension will work on your Gmail only if you use Chrome.
For now, you won't be able to find the Woodpecker Chrome Extension just by searching the Chrome Web Store. It's only available for a selected group of testers with an exclusive link. We've already sent the link to a selected group of Woodpecker premium users. But…
How can you test it out?
The Woodpecker Gmail Extension is available in the Chrome Store for any Woodpecker user to download.
Click here: Woodpecker Email Tracking for Gmail >>
For more information on how to install the extension once you get it from us, check our help section.
What are we going to implement next?
We're working on marking interest levels in the extension without logging into Woodpecker.
The link to the article has been copied.