Do you have links in your cold emails? I bet you do. We often feel the need to add a link or two – either in the body of our email or in the signature. Moreover, we usually want to know if someone clicked the link or not. Ideally, we would like to know how many people clicked the link and who it was exactly.
There are many tools that allow us to track clicks on links in emails, but all of them use the same mechanism to do that. Unfortunately, the mechanism is not perfect, and it may cause spam alerts if we set up our links wrong.
That's why it's important to put the links properly into our message to not get into the spam folder. Or better yet – set a custom tracking domain, which is the route we encourage you to take when you're using Woodpecker.
Here's how to safely track your links.
Ground rules about links in cold email
Before we pass on to technical tips, there are some crucial rules about putting links to email messages. And those do not derive from technical limitations. They derive from logical and structural cold email assumptions and from our respect for the addressee.
Rule #1 Don't put too many links in one email
If you add a link in every sentence, the recipient of your email will not be able to decide what you want from them. Which link do you want them to click on? And why should they even click on anything? If you decide to put in a link, make sure it leads to a place from where they can take a next step – contact you back, find more useful information on your company, etc.

Rule #2 Don't expect a link to sell for you
It's not enough anymore to write a great pitch and put in a link to your website to get a new customer just like that. I've written this about a dozen times on this blog so far, but I'm going to write it again just to make sure we all keep it in our minds:
cold email is not about selling, it's about starting a valuable business relation (which may, but doesn't have to, result in a sale).
So if you give your prospects a link to your site and expect they will go there and simply buy what you're selling, you may be sorely disappointed with the results of your cold email campaign.
For more on that topic, see this post:
Rule #3 Make sure the link works before you send the email
That may sound trivial, but removing the last letter from your link address or pasting a hyperlink with space at the beginning is easier and more common than you may think. So do a double check before you hit send, because a link that doesn't work may affect your credibility as a sender.
Rule #4 Put a link to your website in the signature
It's important to allow your prospects to check you out as easily as possible. Adding a link in the signature is not a sign of aggressive sale attempt, but a sign of common courtesy.
You can also just give your website's address, and some email clients will display it as a clickable link, but not all of them. So some of your prospects will have to copy the address and paste it in their browser to get to your website. Adding a direct link you're making it as easy for them as possible. Be careful with tracking such links, though – more on that below.
That's it. Now we can move on to the technical details.
How does the email link-tracking mechanism work?
To check if someone clicked on your link, an email link-tracking software needs to redirect your recipient to a custom URL, where the tracking takes place, and from there redirect them to the destination page.
And that's how it works in every software that allows you to track clicks on links.
But tracking clicks on your website address in the email may be tricky. Read on to see why.
How to add links for safe tracking?
And by 'safe', I mean a way of click tracking that won't make you look like a spammer for anti-spam bots. Spam filters usually check if the text of your link does not include an address that is completely different than the URL the link is directing to.
So if the text of your link is WeRCuttingWebsites.com – which is an address, and your URL is a default tracking URL like click.52c.es/click?openIdUrl=4N6&url=WeRCuttingWebsites.com, the two are based on two different domains. And that is what may cause an alert for an automatic spam filter.
Why the anti-spam filters get alarmed by that? Long story short: because spammers used to give people nicely looking links that led to dangerous websites.
You can remove that risk, though, if you use custom tracking domains.
Why are custom tracking domains safer?
Woodpecker allows you to set a custom domain for tracking clicks, which means that the domain your recipients see before they land on your website, is one of your own.
Using a custom tracking domain brings you 3 huge advantages:
you get better control of your deliverability
you look more credible in the eyes of your recipients
your messages are consistent in terms of branding
See how to set up custom tracking domains in Woodpecker>>
How to track links in emails?
If you're using link tracking to check if someone clicked on the link in your email, make sure you add the link to a piece of text that is not an address itself.
So instead of tracking the clicks on WeRCuttingWebsites.com, track clicks on "Check our website".
If you take a look at any newsletter email of your choice, you'll see that the sender is usually hyperlinking a part of their message.
Newsletters are very much different than cold emails, but they use the same rules when it comes to tracking opens and clicks. Here's an example of a newsletter email from Bidsketch: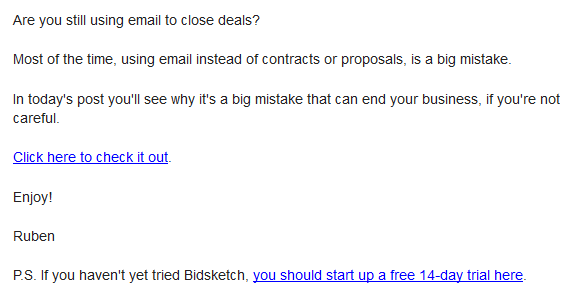 If you're new to all this click tracking, here's a little exercise for you. Go to your inbox now, and find a message from a newsletter. Open the message and hover with the mouse cursor over a chosen link given in the copy of the message. Check the address that will appear on the left at the bottom of the message window. Now click the link. Are the URL from the email and the destination URL the same? 🙂
How to track links in Woodpecker?
If you want to send your cold emails and follow-ups automatically, you can use Woodpecker to do so. You can track links in your emails and follow-ups, using our default or custom tracking domains. Here's a quick tutorial on how to do that right.
1) When creating/editing a copy of your cold
email
campaign, highlight a piece of text you want to add your tracking link to.
2) Use the 'link button' from the toolbar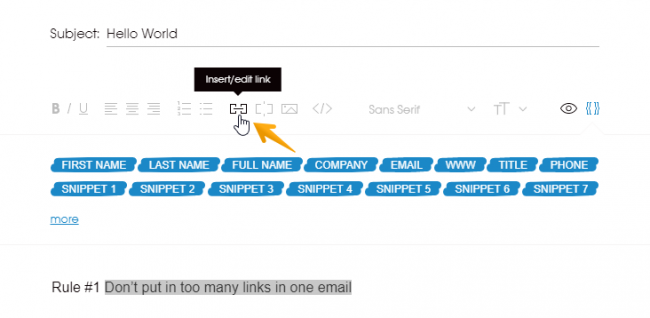 3) Paste the URL of the site you want your receivers to get to.
4) Make sure you've checked the 'Track clicks' checkbox.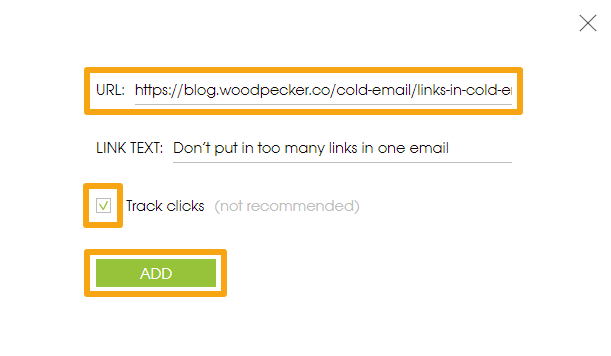 5) Click ADD and that's it.
Then, you can send your campaign, and observe the click rate in the STATS section.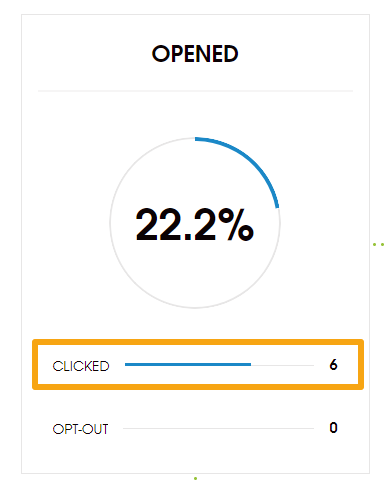 Stay safe with Woodpecker
Update June 2019
We added SSL to our link tracking mechanism in Woodpecker. Thanks to that you have a greater chance of staying safe while sending your email campaigns. Plus, a chance of getting your email delivered has increased too. Why is that? Some email accounts block messages that contain links to a domain without SSL. Since we have SSL, you're safe from getting blocked by those accounts.
To make sure your messages get delivered and you're protected, our tracking pixel isn't based on http:// but on https://. From now on, every piece that's tracked in Woodpecker, such as unsubscribe, email open or click is tracked with SSL.
To sum up
Remember the 4 rules when adding links to your cold emails:
don't add too many links,
don't expect the link to sell for you
make sure the link works
add a link to your website in the signature
If you decide to track clicks on your links:
don't use the website address as a link text

–

use a piece of text that is not an address
try out Woodpecker for tracking clicks in your cold emails and follow-ups
use custom tracking domains for better deliverability, to gain credibility in your recipients' eyes, and to keep your branding consistent
to make sure your messages get delivered and your reputation stays protected, every link that is tracked in Woodpecker has SSL
The link to the article has been copied.