A while back, we published a blog post about ways to find a prospect's email address from LinkedIn.
Today, we're following up with an extended list of tools you can use to do so.
Gaurav Sharma, the CEO of Attrock, a digital marketing company, shares his top picks. Over to you, Gaurav.
***
If you're looking for LinkedIn contact export tools, your social media marketing strategy is going in the right direction.
Why is this?
LinkedIn is one of the top social media platforms for lead generation.
Case in point — audiences exposed to brand and acquisition messages are six times more likely to convert on LinkedIn. And ad exposure on LinkedIn can lead to a thirty-three percent increase in purchase intent.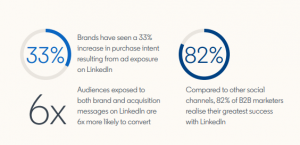 Image via LinkedIn
What does this mean?
Creating great content on LinkedIn and then following up with your audience using a well-planned cold email marketing strategy can help increase your sales significantly.
But with LinkedIn's strict policies on profile scraping, how can you get relevant email addresses? This is important, considering you need these emails to move your prospects down your funnel.
The answer lies in using LinkedIn contact export tools.
Let's take a look at them.
7 LinkedIn Contact Export Tools to Use in 2022
Using LinkedIn contact export tools is an efficient method, and it ensures that you get emails of all your desired contacts.
I've made things easy for you by rounding up seven LinkedIn contact export tools.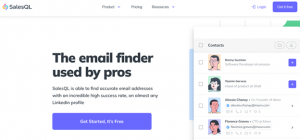 Image via SalesQL
SalesQL is one of the best LinkedIn contact export tools that helps you extract email addresses in large numbers.
You can extract the email addresses of your 1st, 2nd, and 3rd connections in bulk with it. SalesQL extracts both personal and work emails and organizes them separately on the dashboard.
And the best part is that it works as a browser extension.
To extract the email addresses:
Click on the SalesQL extension icon

Under the menu, choose the 'Download Connections' option

Select the number of contacts to download and export as a CSV
SalesQL also integrates with CRM tools like HubSpot and other outreach tools.
You can export the emails of over 10,000 LinkedIn users with SalesQL, so all you have to worry about is managing these leads properly.
Price
It has a free version where you get 100 credits per month.
Starter – $39/month

Advanced – $59/month

Pro – $89/month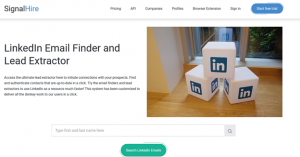 Image via SignalHire
SignalHire is one of the finest LinkedIn contact export tools that lets you find verified email addresses of up to one thousand people at a time.
You can get SignalHire as a Chrome or Firefox extension.
How does SignalHire work?
Go to the profile from which you want to extract an email address.

Click the SignalHire extension icon on the top right of the browser and tap the "Reveal Contacts"

button. You can also find email addresses in bulk.

Export the data as a CSV file or to a CRM tool of your choice.
Price
5 contact credits – Free

350 email credits/100 phone credits/100 contact credits – $49/month

750 credits – $99/month

1800 credits – $229/month

3500 credits – $399/month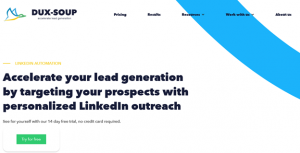 Image via Dux-Soup
Dux-Soup is among the most popular LinkedIn contact export tools.
You can get Dux-Soup as a browser extension. Once you download the extension, click on "My Network" on your profile. A pop-up from Dux-Soup will appear. Select "At Your Service" then "Visit profiles".
Dux-Soup scrapes the contact data of your 1st degree LinkedIn connections. To get contacts of 2nd and 3rd-degree connections, you need to buy Dux-Soup Points.
You can then export the contact records to HubSpot, Pipedrive, or Zapier. You can also export it as a CSV file.
And the best part about this LinkedIn contact export tool is that it lets you create cold drip campaigns. You can integrate it with Woodpecker via Zapier, and use the duo to supercharge your multichannel outreach.
Price
The free version doesn't support exporting data from LinkedIn.
Pro Dux – $14.99/month

Turbo Dux – $55/month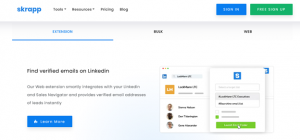 Image via Skrapp.io
Skrapp.io is available as a Chrome or Firefox extension and integrates with LinkedIn Sales Navigator seamlessly.
And why is it one of the most effective LinkedIn contact export tools?
Skrapp.io lets you create a verified email list. You can also save more than one page at a time and export the email addresses in CSV format using it.
Here's how to use this tool:
Launch the extension on your browser and do a LinkedIn search.

Click the Skrapp.io extension icon and choose how you want to export the contacts.

Select the number of search pages you want to save.

Select 'Search for Email Addresses' and 'Save Leads With Found Emails Only'.

Click 'Save Results in List'.
Price
Starter – $49 per month

Seeker – $99 per month

Enterprise – $199 per month

Global – $299 per month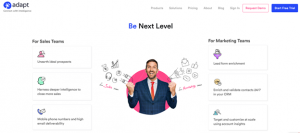 Image via Adapt.io
The Adapt Email Finder extension on Chrome is one of the best LinkedIn contact export tools that helps you export contacts directly to your CRM.
Once you install and launch the extension, go to any profile and click on the extension icon to get the business email address and phone number.
You can also extract email addresses from LinkedIn's search results page:
Select "Create New List"

Start selecting every contact you're interested in. They'll be added to the list.

Go to "My Leads" on Adapt.io, you'll find the list of contacts you've created.
You can now start sending your cold emails.
Price
Contact Adapt.io for a quote.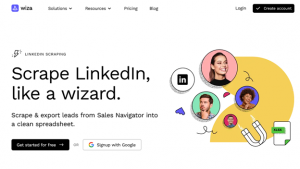 Image via Wiza
Wiza is one of the most helpful LinkedIn contact export tools that makes it possible to scrape up to 2,500 email addresses in one go and export them to a spreadsheet.
You can also send contacts to your CRM or sales automation platforms. And the best part is that Wiza cleans up your list. It replaces any outdated emails with the current email address.
And how does it work?
Wiza comes as a Chrome extension. Launch it and use your LinkedIn Sales Navigator to find prospects. Click "Export Contacts with Wiza."
You can also specify the kind of emails you want to extract, such as business emails only.
Price
Micro – $30/month

Pro – $50/month

Plus – $100/month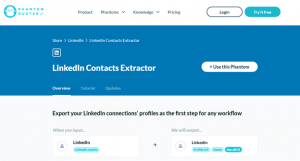 Image via Phantombuster
Phantombuster is a cloud-based data extraction software and a lead generation tool that uses "Phantoms".
Phantombuster's LinkedIn Phantom is among the top LinkedIn contact export tools that lets you export up to two thousand contacts from the platform into a CSV file.
To get the best results, you'll need to scrape your contacts' URLs using the LinkedIn Contacts Extractor Phantom. Once you have the URLs in a CSV file, use the LinkedIn Profile Scraper to extract the professional email address of each contact.
You can keep your contact file updated by setting the Phantom on repeat.
Price
You can get a 14-day trial without giving out your credit card info.
Starter – $59 per month

Pro – $139 per month

Team – $399 per month
Are you ready to use LinkedIn contact export tools?
LinkedIn is a rich source for lead generation, but only if you know how to use the right tools to maneuver its strict policies against data scraping.
These LinkedIn contact export tools are easy to use and will help you get the email addresses of relevant prospects in a few clicks. You'll thus have a high-quality email list to build successful drip campaigns and increase sales and conversions. Give them a try.
The link to the article has been copied.