Two weeks ago, I wrote here about the 65 interviews we've carried out among our customers. Today I want you to meet one of them. Doug Puccetti, Business Solutions Analyst at OBO Agency, has told me the story of how they found Woodpecker, fell in love with our Woodpecker Agency and became one of our most successful users. Read on to find out how they've managed to triple their clients pipelines using Woodpecker for email automation.
About OBO Agency
OBO is an account based marketing agency focusing on marketing and sales consulting. They're based in the United States, and more specifically Columbia, MD. They've been using Woodpecker, for almost a year now, to automate their clients' cold and warm email campaigns and thus generate new leads for them.
As a consulting business, they've tried a whole range of email automation solutions, but none of those systems matched their business needs as well as Woodpecker Agency.
Now they utilize it for mainly cold, but sometimes also warm, emails ranging from plain text to custom HTML ones.
I had a pleasure to talk with Doug Puccetti, who is a Business Solutions Analyst at OBO. Doug is a power user of Woodpecker, who's been responsible for adapting the tool to OBO's needs. He told me the story of how OBO discovered us in the first place, why they decided to switch from another system to Woodpecker, and how they are using email automation now.
How did OBO start?
'Our co-founders, Noah Berk and Rob Guinn, had worked together in the past and knew they wanted to start a company together.
They're the perfect partners, Noah's specialty is in sales, marketing and strategy while Rob is a master in technology and operations. They had a fortunate opportunity to launch OBO in January 2016 and have never looked back.'
How has your company developed since then?
'Currently, we have a team of 10 and we're growing! We've more doubled in revenue this year, increased our workforce, and in some cases, have more than tripled our clients' pipelines using Woodpecker.'

Who are your ideal customers?
'Currently we work with B2B companies that sell high ticket products & services, generate between $2M – $100M in revenue, and have on average 2-10 sales reps,' Doug says.
'But our ideal customer profile could be defined as B2B companies with $5M – $50M in revenue and less than 5 sales representatives who have a high value product with low target markets. We're on our way there.'
How do you get your prospect base?
'We mainly get lists for us and our clients through LinkedIn/custom research. The best research is done by hand,' Doug admits.
What does you average cold email campaign look like?
'Depends on the client, really. Some of our clients' campaigns have as little as 10-20 people; some upwards of 10K prospects.'
OBO takes a very good care of their clients' campaigns deliverability. Even in campaigns addressed to greater numbers of prospects, they schedule the delivery in a way that allows all the emails to be smoothluy sent and safely delivered to their destination.
'We always send follow-ups. Usually it's 3 messages in a sequence. We also use merge tags for personalization. Usually we refer to first name, company name, and sometimes custom merge tags based upon the campaign (e.g. specific software they're using.)'
Read: What Mail Merge Custom Fields Can I Use For Clever Outreach >>
What are your results?
'Our average campaign shows open rate on the level of above 60%, reply rate around 11-12% and, most importantly, positive reply rate of almost 8%.'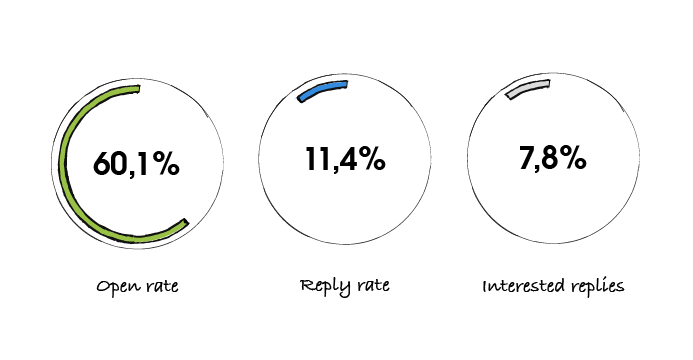 'Most clients we work with have generated 10-25 new conversations/leads per campaign.' – Doug sums up.
'We have seen some of our clients triple their revenue since starting outbound emailing with Woodpecker. We believe this could be attributed to the white label solutions and email cadence strategy Woodpecker allows us to implement.'
What do you think is the greatest power of Woodpecker?
'The team over at Woodpecker is amazing. Their support is phenomenal. Here at OBO, our main core value is "Raving Fan" Customer Service, and Woodpecker exemplifies that.'
To sum up, or what's in it for you?
The case of OBO Agency shows that a carefully adjusted set of tools combined with a well-thought-out strategy may be the recipe for growth – growth of your agency as well as growth of your clients.
You and your clients can also grow with Woodpecker. If you're running a lead generation agency, you can use Woodpecker Agency dedicated to the specific workflow of your business.
The link to the article has been copied.