In the renaissance of cold emailing, some companies made outbound lead generation the core of their business. We call them lead generation agencies, as they offer the service of generating B2B leads for the sales teams of their client companies.
The agencies send numerous emails and follow-ups on behalf of their clients. Managing so many cold email campaigns at the same time can be a real drag. That's why we've implemented a separate set of features dedicated to lead generation agencies in Woodpecker. Here's how you can handle all your clients' campaigns within Woodpecker Agency.
Why outreach in an agency is different?
The first major difference is that you don't send the emails on your own behalf, but on behalf of your clients. That means you usually use your clients' email addresses or aliases made for those addresses.
And that's what implies great responsibility. You become responsible for the reputation of the clients' company domain. Considering the specific relationship you create with your clients, you're required to know exactly:
how many emails you send,
what you write in the emails,
when you send them exactly,
and why you send them to the chosen groups of prospects.
That's a lot of information to track, especially if you're running cold email campaigns for several companies at the same time.
When you cold email on your own behalf, you just log in to your account within a sending system, and you operate from a single panel. When you cold email on behalf of many clients, usually you have to log in to many totally separate accounts. And that's where the mess begins.
What are the difficulties to overcome?
Log in and out
–

time and time again

First, you need to log in to a separate account each time you want to check on your clients' campaigns. That requires from you a lot of clicking and login/password remembering.
Constant wondering: what's being sent when
Second, sending multiple campaigns weekly, you start losing track of what is actually being sent on what days and hours. Each company has their specific target group. Some of the campaigns will be sent in the morning, some in the afternoon.
And what about the follow-up sequence – on what days will the follow-ups be sent, considering appropriate intervals between the messages and the delivery time settings?
As a result, you get confused and overwhelmed by the chaos of your numerous campaigns' schedules. You feel like you're out of control – which is unacceptable in the situation when a client entrusts you with their sender's identity and company domain reputation.
The struggle to keep all your marketers under control
If you have a team of marketers, you need to keep track of who's responsible for which clients. That's almost impossible if all your team members operate on separate accounts for each of their companies.
As admin, you have to log in to each of the accounts one by one in case you want to check how the campaigns are going. It eats hours of your time, and even then, you aren't in full control of what's going on.
What you gain using Woodpecker Agency
1. You have all your clients' companies under one roof
In Woodpecker's agency account, you get a list of all your client companies. You can log in to each of the companies' accounts by clicking 'Log in' directly on the list. No usernames and passwords to remember. As long as you're an admin or a user deliberately authorized to access a company profile, you just click once and you're in.
2. You can easily deactivate and activate client accounts
At a single glance, you see who's responsible for which client and which of the companies are currently 'active'.

You can have many clients. Some of them will want you to keep sending their campaigns constantly. But some will order a campaign, then take a break to take care of the newly acquired leads and customers, and then they will order a new campaign in a month or two.
If you don't send emails, or wait for replies, on behalf of a company, you can "switch off" such a client account. What's important, all the data and the settings that you've stored for the company will still be there safe and sound.
You can switch between the active and inactive modes with a single click. That means, if your client wants a break from your service, you don't have to cancel their company account. You can just put in on 'inactive' and turn it back to 'active', with all the settings saved, when they order another campaign.
3. You keep your clients' data safe
As admin or a company 'owner' in Woodpecker's agency panel, you can decide which marketers can access chosen companies' accounts.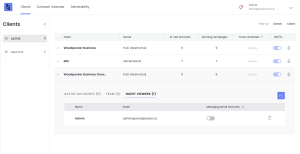 That means your clients' classified information is always safe, as no unauthorized users can access it. You decide who from your team becomes an admin and who is a regular user.
Only admins can give other users access to chosen companies, as well as add new users to your agency team.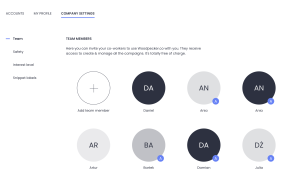 4. You control the whole agency's schedule on one dashboard
In the Daily sending tab of your agency panel, you see a weekly schedule for all campaigns of all clients. This way you can easily control the workflow of your whole team – you know what is going to be sent on what days and at what times.
To sum up
If you're still using a sending solution that is not adjusted to agency workflow…
Try out Woodpecker Agency and have:
All your client companies under one roof – separate databases, access from one agency panel.
All your team members in one agency account.
All your clients' data safe.
All your clients' campaigns under control.
All your emails planned in a clear schedule.
The link to the article has been copied.