This blog post is for you, dear recruiters, hope that you will find it helpful in organizing and keeping track of your email outreach to individual job seekers and employers in need of a new hire.
How to use cold email tool at a recruitment agency
Juggling between searching for new clients and serving the existing ones can be a difficult task for one recruiter. It gets tough to manually keep track of who and when you already contacted, who responded and who to follow up with.
When the number of clients and various recruitment campaigns gets bigger and bigger, it's impossible to manage the process without an email automation tool.
Here's how you can simplify your email communication process with Woodpecker.
Send automated recruitment follow-up emails
One message may not be enough to get a reply. Sometimes the addressee doesn't have a spare moment to write back straight away and they often forget to do it later. Or your email may get overlooked among hundreds of others. Either way, it's worth to follow up because according to my research just one follow-up email gets a 40% higher reply rate than the opening message alone.
You don't have to handle the responses and follow-ups in a spreadsheet anymore. Woodpecker detects the responses automatically.
Those who don't respond within the time you set, will be sent a pre-scheduled follow-up sequence. It's up to you when and how often to follow-up. Woodpecker only does the sending.
Manage your recruitment teamwork
Things get even simpler if one tool can be used by your whole recruitment team. Thanks to the Woodpecker Team View, you can see all the ongoing email campaigns that your team members have created to source candidates. It gives you full control of what's going on with your agency's process of contacting applicants.
Moreover, you're up to date on which recruiting lead opened the email or replied to it. That makes it easier to share the work between the whole team.
Control all your clients' campaigns from one spot
Managing the recruitment email campaigns for all your clients gets easier when you have everything under one roof, and you can effortlessly navigate without logging in and out over and over again. Having one dashboard for every sourcing client saves tons of time and makes the recruitment agency's workflow much smoother.
In Woodpecker, you can switch between your Company and Agency with just one click.
Woodpecker Agency allows you to review and manage all the active and inactive HR campaigns you have for your agency's clients.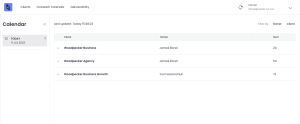 You can also log in and out between your client's accounts with one click.

Thanks to separate accounts for each client, you ensure their privacy and data safety. You can be sure that the data won't overlap between the clients and won't be accessed by unauthorized users.
However, if needed, you can grant access to a specific campaign for the chosen users as shown below: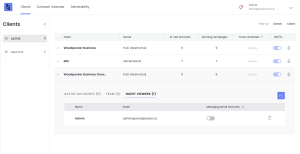 Get into direct contact with potential sourcing clients
Since email is a very direct yet scalable channel for getting new clients, it can be used as an alternative lead generation method at your staffing firm.
It's less competitive and can get you to companies you weren't able to reach with online advertising. You can expand to new markets to which you can offer a portfolio of new hires you've been collecting all this time.
You can, for instance, browse websites which aggregate job offers such as Remote Index, search for potential clients and reach out to them directly. If a company posts job offers regularly, this indicates that it might need outsourcing of recruitment processes. You can contact such a company with a proposal that your recruitment agency could support them in the hottest moments and this way gain new clients.
Before you get down to creating your first lead generation campaign to get new sourcing clients, though, make sure you know these 10 Golden Rules of Cold Email.
Use cold email tool to send a recruitment follow-up
Even if email is not a new communication channel for your agency, you can leverage your efforts and streamline the process with pre-scheduled follow-up sequences.
Leaving the tedious part of following-up to Woodpecker gives your team more time to engage in conversations with potential candidates and employers. Also, the personal and direct character of email communication makes it a good alternative to the current lead generation method for your agency.
It's up to you who you choose to start a new recruitment partnership with, which makes it a good way to explore new niches and markets.
Want to see Woodpecker Agency by yourself? Sign up for a demo and Sandra, Dawid or Vlad will reach out to you.
The link to the article has been copied.