Have you ever struggled with choosing the right tool for cold emailing? There are so many options and limited time to test all the solutions, compare them and choose the perfect one for your company.
You can save yourself hours of tedious comparison, because in this article I've answered a daunting question that many outbound sales professionals ask: Is using Mailchimp for cold emails the way to go? Let's take a look.
What is Mailchimp?
If you've arrived at this page, you probably know what Mailchimp is or maybe you've even used it, but for those still in confusion – Mailchimp is a tool for marketing communication with people who have opted in to receive advertising, custom postcards and newsletters.
It's a great solution for small and medium businesses taking their first steps in email marketing, but is it suitable for sending cold emails?
No, it's not – and here's why.
#1 Using MailChimp for cold emails is against their Terms of Use
As Mailchimp's legal page explains, any potential client you add to your Mailchimp account should give you their permission to send them content. It's logical, since Mailchimp was designed to send mainly newsletters. Have you ever received an advertisement or a brochure from a company you didn't sign up for? It's annoying, right? That is why Mailchimp allows sending emails only to subscribers.
So to send out cold emails you need a tool that allows you to do so, just like Woodpecker. If you send emails to contacts without their prior consent for data processing, make sure you follow the GDPR rules and target only these prospects who could potentially match your offer.
#2 Mailchimp's SMTP sends emails to the promotion tab
Simple Message Transfer Protocol (SMTP) is what your email provider (e.g. Gmail, Thunderbird, Outlook, etc.) uses to send emails. Imagine it's a bird that delivers your email to your prospect's inbox.
Mailchimp hosts their own SMTP servers, so continuing this comparison, they are using their own birds to deliver your messages. Your addressee will see your address but the server will recognise that you are using Mailchimp's bird to deliver the message. And because Mailchimp was designed to send newsletters, info about promotions, and updates, emails sent by this tool will get into the Promotions or Updates folders of your receivers' inboxes.
Woodpecker sends your messages using your own email SMTP address, meaning your own personal bird. Our server IPs initiate the sending, and your email provider's IPs send the emails. That means your messages appear as if they were sent manually and always arrive in the main inbox folder.
#3 Mailchimp sends all your emails in bulk
To ensure high email deliverability, it's critical to use an intelligent, human-like sending mechanism.
Mailchimp sends your messages in bulk even if there's a lot of them scheduled to be sent. This can not only cause your emails to end up in the spam folder, but can also get you blacklisted.
Woodpecker sends emails one at a time at a random frequency, just as if you were doing it manually. This way, your messages are more likely to be placed in the main inbox, alongside other business emails, rather than in the spam folder.
Also, Woodpecker's built-in email verification system verifies your prospects' email addresses just before sending, so no message is sent to a non-existent address, resulting in bounces. This extra security measure protects your domain and increases your deliverability.
#4 Mailchimp doesn't allow you to tailor-make your cold emails
Since Mailchimp is a tool designed for sending newsletters, it allows for fairly good personalization, but it's more suited to showing subscribers information pulled from signup forms. Cold emails require a customized approach to each contact so you can cut through the noise and capture the attention of potential customers.
Woodpecker allows you to personalize each email with the contact's information by using custom fields or, as we call them, snippets. You can decide on your own what specific information you wish to send to each prospect and just add it to the corresponding fields in your prospects' table.
So this way, in just a few extra minutes, instead of sending generic emails, you're delivering personalized, valuable messages that will get you lots of responses.
#5 Mailchimp doesn't support human-like follow-ups
Just like personalization, Mailchimp's follow-ups depend on subscriber activity. They tend to be tied to actions, such as customers buying your product or visiting certain pages.
In Woodpecker, you can schedule up to 7 automated follow-ups in the same thread to be automatically sent to contacts who haven't replied, increasing the response rate by as much as 40%.
You can add conditions to your follow-ups and send different emails to prospects, based on how engaged they were with your previous message.
And when your prospects reply or schedule a meeting with you via Calendly, Woodpecker pauses the campaign, so there is no worry that someone who wrote back to you will receive another email.
Also, Woodpecker lets you run complex split tests and experiment with 5 email versions, your subject lines and call to actions to see which one gives the best results.
Set up a cold email campaign in Woodpecker
Here's a step-by-step manual on how to set up your first cold email campaign in Woodpecker:

1. Connect your email account to Woodpecker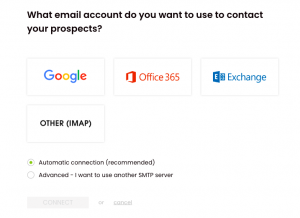 2. Set your from name and signature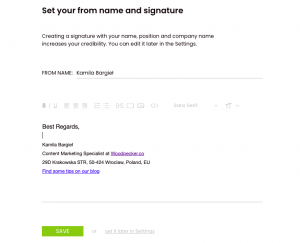 3. Create a campaign and choose the email address you want to send from

4. Start a path: add a subject line, write your email and add snippets to personalize the message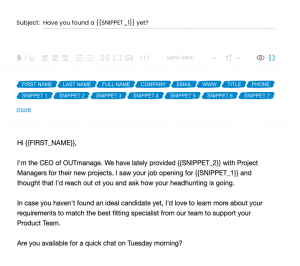 5. Add a B version of your email to test and see which one brings you better results. You can experiment with your subject line or the email content, and test up to 5 versions at once.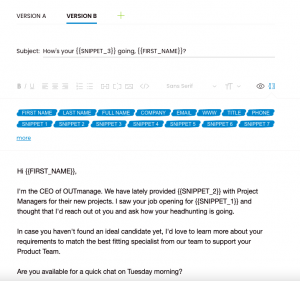 6. Set up the campaign sending limit and delivery time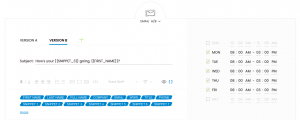 7. Add prospects (using one of our integrations with prospecting tools, manually, importing from a file or adding them from your database)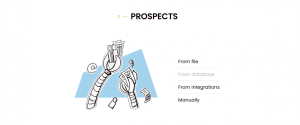 8. Review the summary of your campaign and hit "RUN"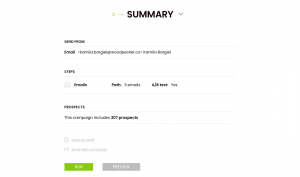 9. Monitor your results

Woodpecker vs Mailchimp
Mailchimp is a great tool for email marketing, but not cold emailing. You can use it to send visual content to your newsletter subscribers, to someone who downloaded your ebook or filled out an order form.
But if you want to create one-to-one conversations and build new B2B relationships with people who don't know your brand and product yet – then it needs a dedicated sending mechanism and features that a tool like Woodpecker has at its core.
The link to the article has been copied.