Using the right sales assistant tools can help you tick off tasks from your to-do-list faster and boost your sales conversions. That's why in this guest blog post, Gaurav Sharma, founder and CEO of Attrock runs you through 9 of the best sales assistant tools out there.
***
Sales assistant tools are platforms that can help you automate tasks and sales processes to improve your sales productivity. They also help increase the efficiency of sales prospecting.
But choosing the best sales assistant tools is not an easy task.
In this article, I'll highlight 9 of the best sales assistant software that will boost your sales.
Let's get started.
Best sales assistant tools to increase sales
Here are my top nine picks for the best sales assistant tools that you can use to boost sales.
1.
Salesforce
– Best sales CRM for enterprises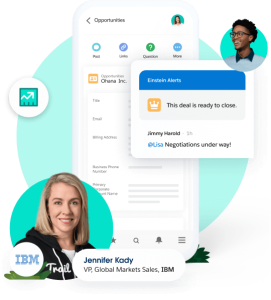 Image via Salesforce
If you're looking for a sales assistant tool to strengthen relationships with your customers and move them through the sales funnel until they make a purchase decision, look no further than Salesforce.
With this sales assistant platform, your sales teams can communicate with your current as well as potential customers. This helps strengthen customer relationships and makes this tool better than other tools like Salesforce.
Key Features
Here are the key features of Salesforce:
Contact and lead management

Opportunity and quotes management

Sales performance management

Customer data analytics

Reports and dashboards
Pros
Option to customize features to suit your needs

Integration capabilities via web service API
Cons
You have to purchase add-ons to get the most out of the software solution, which makes it costly for micro businesses.
2.
Pipedrive
– Best sales CRM for small and mid-sized businesses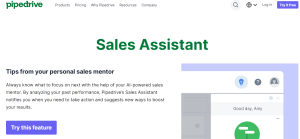 Image via Pipedrive
Another one of the best sales assistant tools to grow your business revenue is Pipedrive.
This user-friendly pipeline management tool and customer relationship management platform tracks emails and calls so that you don't miss any potential leads.
The best thing about this sales assistant tool is that it analyzes your past performance and notifies you when it's time to take action.
Key Features
Here are the key features of Pipedrive:
Visual sales pipeline

Lead qualification

Contact management

Sales pipeline and deals management

Task management
Here are the pros and cons of Pipedrive:
Pros
Allows sales teams to visualize the entire pipeline

It enables auto-tracking calls and emails
Cons
The sales assistant tool has limited reporting capabilities

It has a bit of a learning curve
3.
Woodpecker
–
A powerful tool for sending cold emails, generating leads, and agency outreach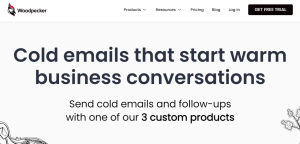 Image via Woodpecker
Woodpecker is a must-have tool that offers three customized, focused products for different kinds of users, including a cold email, sales assistant, and agency outreach tool.
Woodpecker Sales Assistant can help you scale and generate profitable results for your cold email campaigns.
You can also automate your LinkedIn campaigns (via integration with Dux-Soup) and expand your reach to create even more leads. Woodpecker also offers a dedicated Android app to help you add calls and SMS to your outreach strategy, increasing your reach and the number of touchpoints with a prospect.
This powerful multichannel outreach tool enables you to increase your reach while delivering personalized, tailored messages to your customers.
If you need help with composing your messages, good news – Woodpecker is integrated with OpenAI, and you can use it right in the app. The tool also allows you to create your own customizable email templates that you can store and reuse in the future to save time.
With Woodpecker Sales Assistant you get everything you need to design, run and manage cold outreach campaigns that get results.
Key Features
It comes with a user-friendly interface

Easy integration capabilities with tools like Pipedrive, HubSpot and Zapier

The tool offers

deliverability

features including unlimited email verification, bounce shield, deliverability monitor and more.

Combines email, LinkedIn outreach and phone calls

Integrated OpenAI in the campaign creation process to help with composing your message
Pros
A user-friendly interface makes it easy to use for both beginners and experts alike

The automated follow-up email sequences increase the chances of getting customers to respond to your emails

Combining email, LinkedIn and calls in one sequence is easy to set up, and can bring up your reply rate
Cons
Can be costly for small businesses that require multiple slots and add-ons
4.
UpLead
– B2B contacts database for sales teams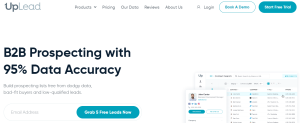 Image via UpLead
The platform comes with a host of sales prospecting products to help boost your sales.
For instance, the prospector provides an invaluable database of over 100 million contacts gathered from different multiple industries in over 200 countries.
You can also filter the database using more than 50 search filtering options, such as location, industry, job title, zip code, and more.
This means that you can select prospects that are suitable for your product and push them directly into your CRM. If you sell online courses, for example, you can use this tool to target the right students and increase enrollments.
Key Features
Email prospector

Real-time email verification

Email finder

50+ data points

Data coverage
Pros
The email verification feature allows sales teams to get accurate contact details of potential customers

The tool offers accurate filters that enable sales teams to reach out to targeted customers
Cons
The platform doesn't have a minimalistic menu

The tool lists the cell phone numbers of the corporate office instead of the true desk line cell phone numbers
5.
Drift
– Best conversational marketing platform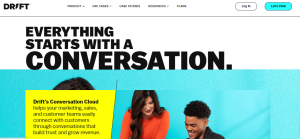 Image via Drift
Drift is a conversational marketing platform that can help you improve customer experiences.
It offers you AI-enabled features that help you have more intelligent, real-time conversations with your prospects and customers.
It helps you get better quality leads, enhance your marketing efforts, and close more sales.
Key Features
AI-powered live chat

Account-based marketing

Conversational AI

Drift meetings

Robust live chat
Pros
It enables efficient lead capture and nurturing

The tool facilitates real-time conversations with website visitors and prospects helping you to generate leads
Cons
Sometimes the information is not accurate

Integration capabilities can be improved further
6.
Troops
– Best revenue communications platform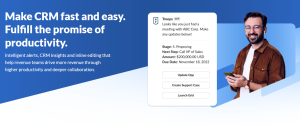 Image via Troops
Troops is a tool that ensures you never miss a revenue opportunity.
The tool integrates with Slack and Microsoft Teams to help you automate notifications and workflows thus improving efficiency in collaboration.
You can integrate it with other sales tools like Salesforce so that your sales team can work from an integrated dashboard.
Key Features
Workflow configuration

Collaboration

Task management

Business process automation
Pros
Easy to set up and use

Integration with other sales tools like Salesforce minimizes the need for sales teams to switch from one platform to the other
Cons
The constant notifications the tool delivers sometimes become a nuisance
7.
Clari
– Best sales forecasting tool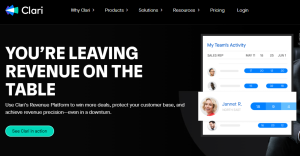 Image via Clari
How would you feel if, despite your sales and marketing efforts, you can't close a deal?
Disappointed, right? But that's a problem most sales teams face.
Enter Clari.
This tool allows sales teams to close more deals by enabling them to access valuable sales content, AI tools, and data-driven insights.
The platform analyzes actual deal data to continuously and automatically roll up sales forecasts.
Key Features
Data sourcing

Live pipeline management and inspection

Sales management
Pros
Delivers accurate revenue forecasting

Offers real-time visibility into your sales pipeline

Uses machine learning and advanced analytics to deliver practical insights into sales performance
Cons
Reports generated by the platform can be difficult interpret

Limited customization options
8.
People.ai
– Best for sales intelligence and pipeline management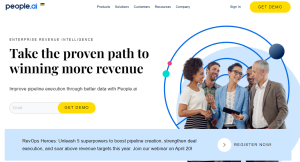 Image via People.ai
People.ai is a sales assistant tool that helps you automate your account engagement to enhance your pipeline processes and close more deals.
The tool analyzes data from past sales activities to uncover patterns and foresee which deals can easily close. This means that sales teams can focus their efforts on deals that are more likely to close and drive sales.
Key Features
Campaign management and tracking

Headless CMS

Collaboration tools

Enterprise content delivery and management

Contact and call management
Pros
You can track sales rep productivity, and see what's working and where you can improve

Provides detailed reports for emails, meetings, calls, and more to help you track your progress
Cons
Some customers complain about the interface requiring some bit of learning
9.
Kixie
– Best sales engagement platform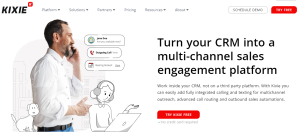 Image via Kixie
Last on our list of the best sales assistant tools is Kixie.
It uses super-reliable and easily-automated business calling and texting to enhance your sales team performance.
The sales assistant tool can be used for automated sales communications, remote work and home office communications, and customer relationship integration.
Key Features
Reporting dashboard

Real-time call monitoring

Call disposition logging

Text messaging
Pros
Simple UI

The tool integrates seamlessly with CRM software like Zoho.

The tool comes with a one-click dialing feature that offers fast calling
Cons
It has a learning curve

Some users have complained about poor call quality
Conclusion
Running a successful business is much more difficult when the sales team isn't empowered with the right tools.
The good news is that with the best sales assistant tools, you can automate, simplify and enhance your sales process thereby boosting your sales teams' performance.
Leveraging the tools mentioned above will help you improve your daily sales activities and productivity. All the best!
The link to the article has been copied.