Desktop cluttered with dozens of CSV files, their copies, and copies of their copies. Sending CSVs back and forth between your team members. Time wasted on finding a way to stay organized despite the chaos. Sounds like a nightmare, right? Indeed, for many salespeople, it is a daily struggle.
So why not ditch the CSVs for something easier to manage and more teamwork-friendly? For example, build your prospect list in Google Sheets and have it integrated with your follow-up automation tool? No more copying, importing and exporting.
Let me show you how to make your prospecting more productive with the new Google Sheets integration, we've just rolled out.
Step #1 Create a prospect list in Google Sheets
When collecting prospect data in a spreadsheet, have in mind the custom fields you're going to put in the email copy. Apart from first name and company name, devote a column or two to some extra information you may use to personalize your email, like in the example below:

These extra custom fields allow you to add a unique touch to each message, that cherry on top, which gives a cold message a 1-to-1 feel. Also, your email content gets more diversified, which translates into a better deliverability rate.
What info can be used for advanced personalization? For example, you can congratulate somebody on a recent promotion, refer to a conference you both attended or mention a mutual acquaintance. Look for something that could work as an ice-breaker, but isn't too private.
Step #2 Connect your Google Drive to Woodpecker
To start using the integration you need to allow Woodpecker access to your Google Drive by clicking the connect button and giving your consent.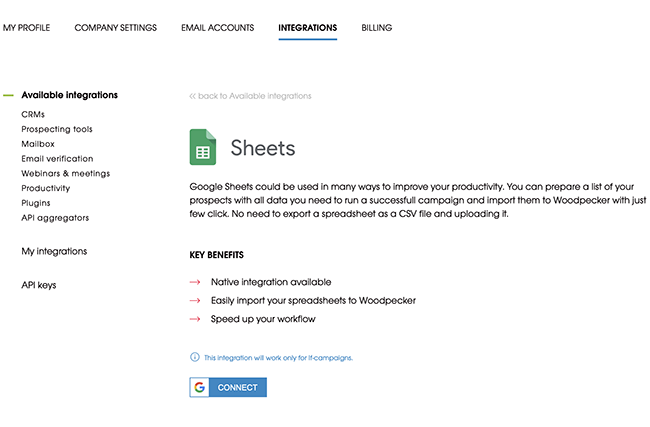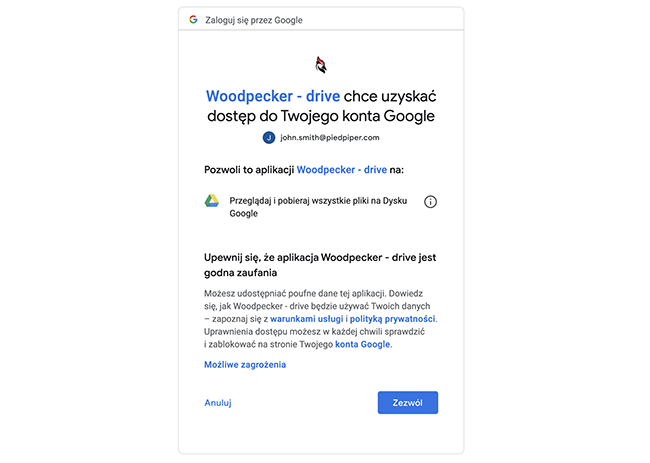 Step #3 Add prospects from your spreadsheet to Woodpecker database or to a specific campaign
Now you can move prospects from Google Sheets to your Woodpecker database or directly to a chosen campaign.
Keep in mind that each time you add new prospects to the spreadsheet, remove them or change their data, you need to repeat this step to have the data synced in Woodpecker.
Simplify your prospecting process
Doesn't it sound like a relief that you don't have to store all these CSVs on your desktop finally? Try the integration for yourself and let us know your feedback.
***
Looking for more handy Woodpecker integrations & features that support a lead generation agency's workflow? You can check them in our guide>>
The link to the article has been copied.