Sales and marketing teams have long known about the potential goldmine of contacts to be found on LinkedIn but many are just now discovering the shortcuts to success offered by LinkedIn automation tools. Read and discover just how much easier using LinkedIn can be thanks to these third-party platforms.
As with any successful platform that attracts millions of users, a large community of third-party applications has been built around LinkedIn, offering tools that save time and optimize workflows.
What are LinkedIn automation tools?
LinkedIn automation tools make it easy to perform various tasks on the platform, such as sending connection requests, messaging prospects, and even posting content. These tools can save you time and effort by automating repetitive tasks and allowing you to focus on other jobs.
Why you should consider using LinkedIn automation tools
Here are some of the reasons why LinkedIn automation tools have quickly become a "must" for anyone using the platform to make contacts, nurture leads and expand their network:
Time saver

— Automation means you don't have to do everything yourself

Scalability

— By automating your LinkedIn activities, you can scale up your outreach and lead generation efforts well beyond what you could do manually

Consistency

— Automation ensures that your outreach efforts are regular and in this way helps the prospect remember that they've seen your name pop up somewhere before. This also helps show your prospects that you're a real human being trying to get a hold of them specifically.

Analytics

— Some tools provide analytic insights into your activities, making it possible to further optimize your outreach efforts and measure success where possible
What to consider when choosing a LinkedIn automation tool
When considering the long list of tools for LinkedIn, you'll want to look at many of the same things you would have in mind when shopping for any digital tool:
Ease of use

. Some tools just feel right when you use them. You can find what you're looking for and accomplish what you're supposed to do without needing a team of computer engineers to help. Being comfortable using the tool is important — you will probably stop using something that you don't like.

Effectiveness

. You want results, right? You'll find that some tools work better than others, offer more features than others and are generally a greater value for what you pay. Spend some time reading reviews online to help here. And speaking of value for what you pay…

Cost

. It would be great if we could act as though price were no object, but here in the real world we all know that budget considerations often drive decisions. That's ok and you don't have to spend a fortune to get great LinkedIn message automation. Again, your research will help you compare the pros and cons of the options in your price range.

Support

. Whether you're the type to try to figure things out for yourself or you go straight to the "Contact us" page, sometimes everyone needs a little help. Good support — lots of online resources, video how-to's, a community forum and, of course, Customer Support — can make all the difference in the world in not only getting the job done but keeping you happy as well.
A reminder before we get to our list
Just as email service providers have rules about using their service to protect the privacy of account holders, LinkedIn also takes steps to ensure a consistent experience for everyone using their platform. Part of this is banning tools and applications that may be used to send spam. They have a policy regarding what kinds of tools can and cannot be used and violating this policy can lead to being banned from LinkedIn. Keep this in mind when choosing a tool.
An overview of 14 LinkedIn automation tools
Dux-Soup
What is it? Dux-Soup, a Chrome extension, stands out from a crowded field as one of the most commonly used LinkedIn automation tools available. Making it easy to connect and engage with prospects is just the start of what it does. It's simple to use and ideal for anyone just getting started with using LinkedIn as a source of prospects and leads. Dux-Soup should be the default starting point for beginners in this field. There's a reason why Dux-Soup has become so popular, so quickly when it comes to LinkedIn lead generation. It's accessible while providing all the tools you need to turn contacts into leads and leads into conversions.
User reviews are overwhelmingly positive and nearly always mention the ease of use and advanced features that are explained in a simple way. The learning curve is comfortable and even beginners will send campaigns like a pro in no time.
Key features
Prospect Manager – Leave notes and tags directly on the LinkedIn profiles you want to target and reach out to them automatically

Profile Detail Downloading – Easily find info from LinkedIn profiles and upload them into your CRM for easy lead management

Auto-visit profiles, send personalized messages, endorse connections and more

Outstanding Customer Support team

Extensive library of support materials to answer questions and provide inspiration on getting more out of your campaigns

Being browser-based makes it easier to use
Native Woodpecker + Dux-Soup integration
In addition to emails and calls, you can now add automatic LinkedIn actions to your campaigns in Woodpecker Sales Assistant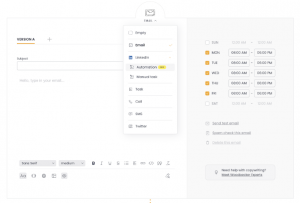 You can choose between 3 LinkedIn tasks as shown below:
And once you send out a campaign you'll be able to view how the individual steps of your sales cadence performed on a summary dashboard like here: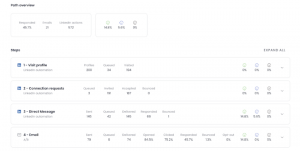 Pricing
Dux-Soup offers Individual, Team and Agency rates (and yearly discounts on top of that), but the plans you're most likely to be interested in are:
Pro – just under 10€ a month
Turbo – 36€ a month
Weconnect
What is it? WeConnect is a cloud-based automation tool for LinkedIn that helps you to, well, connect with prospects through the usual methods. It's easy to use and has some nice features, like a high-octane campaign management tool that makes it easy to identify opportunities for optimization.
You get some measure of extra security thanks to it being in the cloud and there are lots of advanced features. An all-around good choice for automated professional networking on LinkedIn but it could be a little too advanced for anyone who's not a power user.
Key features
Great Campaign Manager for controlling all of your outreach efforts

Reply Management puts all your conversations in one place, making it easy check, update and find new contacts

Monitor everything from one dashboard
Pricing
$49 per month per user with a 2-month discount for signing up for a year
Demand
What is it? Formerly called Saleshub, Demand puts personalization, automation and deliverability at the center of its LinkedIn automated messaging strategy. Each of these three pillars gets special, dedicated features that enhance your message and support your campaign in different ways. Definitely not one of the most budget-friendly options, but surely among the most effective.
Key features
Tracking feature that identifies visitors to your LinkedIn page and captures emails addresses

Email verification tools boost the deliverability of your outreach, making sure you land in prospect inboxes

Nice visual extras add an unexpected twist to the normal email format, gaining and keep attention

Replies to posts on LinkedIn are automatically moved to your integrated CRM

Slack integration that creates a special channel to notify you of activity
Pricing
Pricing for Demand starts at $49/user/month. In addition, there are four pricing suites available:
Starter Suite – $209/month.
Pro Suite – $659/month.
Enterprise Suite – $1599/mont
Wiza
What is it? Wiza mines LinkedIn for prospect data that matches what you're looking for. They promise to "export leads from LinkedIn with accurate contact info and connect directly with your audience." Definitely an enterprise-scale tool, Wiza won't be a good fit for many but is a perfect fit for some.
Key features
Wiza, a Chrome browser extension meant to integrate with Sales Navigator, making it easy to plug & play. Searches and campaigns are run from your Sales Navigator account.

Integration with Sales Navigator is deep and seamless, with Wiza smoothly feeding current contact data through Sales Navigator to your CRM.

An Individual Profile Finder automatically finds selected emails for the right LinkedIn profiles.

Salesforce integration available

Their claimed

deliverability rate

of 99.5% is a little hard to believe but, if it's anywhere near accurate, it's a great asset in any campaign
Pricing
Micro – $30/user/month
Pro – $50/user/month
Growth – $100/user/month
These rates come with a certain number of email "credits". If you send beyond a certain amount monthly (>750 emails for the $100 plan, for example) you will have to pay extra.
Dripify
What is it? Dripify uses LinkedIn to design and execute outreach campaigns to get conversations started with new prospects. It makes it easy to set up sales funnels and drip campaigns aimed at your contact list. Easy and intuitive to use, Dripify is a good point of entry for newcomers to LinkedIn automation tools. Dripify says they want "to help your sales team improve LinkedIn prospecting and close more deals — all on complete autopilot."
Key features
Deep analytics that make it possible to follow campaign performance, conversion rates and more.

Team Management tools that allow you to easily onboard new users and track their activities and progress.

Download your prospect data, including email addresses and phone numbers.

Set up and send automated responses to incoming messages using various preset paths.

Extra measures to keep your LinkedIn account safe.
Pricing
A free trial lets you test drive everything to see how you like it. If you're ready to close the deal, the pricing plan for Dripify looks like this, with all plans offering a 35% discount for a yearly registration:
Basic – $59/month
Pro – $79/month
Advanced – $99/month
Meet Alfred
What is it? A tool for LinkedIn that helps build LinkedIn campaigns, automate the elements of those campaigns and nurture prospects through personalized content at scale. Meet Alfred also sends outreach campaigns through email and Twitter in addition to LinkedIn and offers a massive library of templates for every occasion to help you get started. Meet Alfred is a good, broad-based tool for managing LinkedIn outreach, particularly thanks to its built-in CRM.
Key features
Email campaign sequences to compliment your LinkedIn outreach

Puts cold email outreach on equal footing with LinkedIn campaigns

Manage leads and funnel progress with its own built-in LinkedIn CRM

Real-time analytics to track progress and get an early warning on potential issues

Unique ability to set up multi-channel sales pipelines

Fast and easy onboarding for new team members
Pricing
A 14-day free trial lets you get to know Meet Alfred up close. If you like what you see, these are the price plans:
Personal – $29/month
Business – $59/month
Enterprise – $119/month
Phantombuster
What is it? The "phantoms" in Phantombuster are bots that extract data that can be used to create, nurture and advance connections on LinkedIn and other platforms. It's a comprehensive tool meant for gathering large numbers of contacts and immediately using automation to get your word out. Strictly speaking, Phantombuster works with a LinkedIn automation tool and is not really one itself. It gets the contact data you need and from there you turn it over to another tool that does the outreach.
Key features
Network Booster – Automatically sends invitations and connects to a list of LinkedIn users

Profile Scraper – Collects contact data (name, title, position, etc.) from LinkedIn profiles

Message Sender – Automatically sends personalized messages to LinkedIn contacts

LinkedIn Auto Commenter/Liker – Automatically engages with selected posts from your contacts and other LinkedIn users

Phantombuster works on LinkedIn, Sales Navigator, Instagram, Google, and Twitter

A LinkedIn automation tool makes life easier for you by automating functions like sending connection requests, liking and commenting on posts, sending customized messages, and much more
Pricing
Pricing plans for Phantombuster are largely based on the amount of hours you spend using it monthly. Exceeding monthly limits means extra charges. A 14-day trial is available with 2 hours of "execution time" included. These are the available paid plans (figures are for monthly paid for annual subscription, a 20% discount):
Starter – $48/month
Pro – $112/month
Team – $320/month
Zopto
What is it? Zopto boosts lead-gen campaigns on LinkedIn and increases sales and conversions based on data it gathers there. Zopto works together with other tools, like Hyperise or Sales Navigator, to take advantage of opportunities on LinkedIn. Zopto also makes it a point to emphasize that they are LinkedIn-"compliant" in the sense that using it is not a violation of the terms of service, as we referenced in the introduction.
Key features
Customer Filtering – Filtering tools that search by location, industry, company size, position and more

Levels of Engagement – Set the target level of engagement and turn on the relevant features like connection invites, message sequences and more

Managing Leads – Track your leads on your live dashboard and get detailed information and statistics related to your LinkedIn campaign

Essential LinkedIn automation features and unique ones like Twitter engagement, InMail messages, advanced reporting and others

Simple A/B testing tool for better campaign results
Pricing
Prices given are monthly subscription fees. A 30% discount is available if you pay for the quarter in advance. Get your first month for just $95.
Personal – $215/month
Grow – $344/month
Agency – $860/month
Expandi
What is it? Expandi calls itself the "safest LinkedIn tool on the market" and no one seems to really challenge this boast. One of Expandi's selling points is that its customers can be safe in the knowledge that they're playing by all the rules and don't need to worry about crossing any lines. Expandi was built with the needs of people managing multiple LinkedIn accounts at once in mind, so it's especially popular with agencies.
Key features
Webhooks – Integrating Expandi with other marketing tools is super-easy

Smart Inbox – Expandi has an intuitive, well-designed smart inbox that makes it easy to keep up with every customer conversation and boost engagement across the board

Personalization options – You've never seen so many personalized fields you can use to create custom communications at scale

Safety – Returning to the safety angle, Expandi assigns you a dedicated and local IP address when using it, helping you to safely use LinkedIn features without fear of being banned

Message delay – This built-in feature mimics real human behavior by randomly placing delays between different activities, as a person would, instead of running everything on a regular schedule, like a machine

Dashboard – All the tools on this list have a Dashboard but Expandi's stands out, with a great user interface and the ability to manage multiple accounts at once

Message limiter – Automatically limits your outreach to 100 connection requests or messages per day, which keeps you safe from the LinkedIn enforcement police
Pricing
Expandi's pricing is straightforward. You can try a 7-day free trial and if you want to continue it's $99/seat per month. There are discounted rates for certain numbers of seats but you have to contact them to find out where that discount starts and how much it is.
UpLead
What is it? UpLead is a tool for finding and leveraging contact data to create B2B connections. It places a premium on its search capabilities for finding prospect data, filtering to match you with just the right contacts and verification of all collected data. UpLead gives you a head start with the quality of any list of prospects you get from it, boosting engagement right from the beginning and moving your replies and other metrics in the right direction.
Ps. We're integrated
Key features
Email verification –

Be sure your contact information is valid

and keep your delivery rates high

Integrations – Works well with most common CRMs for expanded functionality

Advanced Filtering – Automatic searching for prospects using filters by location, industry, management level, revenue, and more to find the best matches for your search criteria

Account-Based Search – Build lead generation and outreach campaigns by identifying particular accounts to target

Real-Time Verification – Automatic real-time email verification, which boosts deliverability and response rates

Bulk Processing – Upload and process large amounts of campaign data

Data accuracy – Reliable data produced by filters, verification and more give you a great start to any campaign
Pricing
UpLead offers a free trial with access to lots of features but with just five credits for sending messages. If you want to upgrade to a regular plan, prices look like this, with more features unlocked with each step up:
Essentials – $74/month.
Plus – $149/month.
Professional – $299/month.
TexAu
What is it? Combine Text and Automation and what do you get? TexAu, of course. It's a platform for building your visibility and making professional contacts from sources across the web. In their own words, TexAu helps you "connect automations together, build powerful workflows, grab the data or generate leads in minutes." In our words, TexAu is great if data scraping is a central part of building your list of cold prospects.
Key features
Automation across platforms – In addition to LinkedIn, use TexAu on Facebook, Twitter, Instagram, Quora, and 6 more services

Multi-platform campaigns – Put these different touchpoints together in unified campaigns

Email scraper – Get email addresses from LinkedIn accounts, including members of LinkedIn groups you're a part of, and then set up different automations for them

Automated endorsing, liking, commenting and messaging

Email verification – Be sure that the data you're collecting is valid and up-to-date
Pricing
TexAu offers a free two-week trial to let you explore everything that it does. If you want to make things official after that, TexAu has three plans:
Cloud Starter $290/year
Cloud Growth $790/year
Cloud Agency $1990/year
LiProspect
What is it? LiProspect is a mix of B2B sales tools, marketing strategies and LinkedIn automation tools. It works efficiently and delivers the results you need for great LinkedIn cold outreach campaigns. Plenty of integrations and data import options open the door to complex multichannel campaigns and smart use of AI and ML result in some impressive functionalities. Quick setup and easy operation — LiProspect is a great starting point for anyone looking to get started with LinkedIn automation.
Key features
Smart Inbox – There are lots of good inboxes on this list but LiProspect stands out, with easy management features and clear organization

Dedicated 4G Mobile Proxy – Assigns a specific 4g mobile proxy for each given account, providing high-level security protection

Cloud-Based Capabilities – You don't need to install LiProspect on your computer or use it as a browser extension since everything is stored and powered in the cloud

Accessible – LiProspect has a reputation for being beginner-friendly without compromising on features and functionalities

Automated follow-ups – Set up message sequences and let LiProspect take care of the rest
Pricing
Not sure if LiProspect is for you? Use their 15-day free trial to learn if it is. If you want to keep going, you have two choices, the difference being that the higher plan comes with the Sales Navigator tool. Pay for a year in advance and get about 20% off:
Personal Plan $89/month
Personal SalesNav Plan $109/month
LinkedRadar
What is it? LinkedRadar, like a couple of LinkedIn automation tools on this list, stakes its reputation on being among the safest lead gen and messaging automation tools. Remember what we mentioned earlier about the uneasy relationship between LinkedIn and the tools we're describing here? LinkedRadar works hard to make sure you stay in the safe zone.
Key features
LinkedRadar works differently than other products on this list. First of all, it starts as a free extension for Chrome, available in the Chrome Web Store. It's part of a suite of free tools for LinkedIn, including Auto Connect Tool for automating invitations to connect on LinkedIn, LinkedIn Video Downloader and others designed to take care of other areas of your activities, like email finders and trackers.

The upgraded, paid plans raise the limits on the number of connections, messages and campaigns you have at once.
Pricing
Linked Radar comes with a 30-day free trial. To increase the number of connections and messages allowed in your account, these are the fees:
Start – $14.90/month
Biz – 24.90/month
Unilm – $69.90/month
Salesflow
What is it? Salesflow is a LinkedIn automation platform to generate quality leads for prospecting campaigns. Salesflow is built to grow your network and connect with the right people, generate more leads with follow-up message sequences, get more out of Sales Navigator and generally build more brand awareness.
Key features
Safe – Fully-compliant with LinkedIn's rules, with a near 0% ban rate

Centralized activity monitoring – Control and monitor different campaigns and activities with a single, intuitive dashboard

Easy CRM integration – Integrate our tool into your existing workflow easily with a simple integration process

Automatic invite sending – Finds the best prospects for the outbound process, uses advanced filtering, and automatically sends invites to them

Follow-up messaging – Unlimited follow-ups let keep conversations going

Advanced reporting and statistics – Get insights into your campaign performance
Pricing
Depending on the features you need and how many people you want working on your end using Salesflow, you can pay different amounts.
For Business $99/user/month
For Teams starting at $79/user/month
Done for You $499/month
Summary
As many choices as there are on this list of LinkedIn automation tools, it's not even close to being complete. And as LinkedIn continues to become even more established, as a rich mine of information for B2B sales, even more tools based on it will join in the near future.
For anyone who has made the smart decision to make LinkedIn a foundation of their cold outreach efforts, the features and functionalities listed above are absolute must-haves. They make your work faster, easier and more effective, while allowing you to gain a reach you could never otherwise achieve.
As with any software tool these days, you have lots of choices but the best choice is always the one that you enjoy using, while getting the results you want.
The link to the article has been copied.