Are you a Pipedrive user? Or are you looking for a CRM to connect your Woodpecker account with? Here's the first native integration of Woodpecker with the most popular CRM among our users. Continue reading to learn how you can connect Woodpecker to Pipedrive.
Why did we choose to integrate Woodpecker with Pipedrive?
Pipedrive is a CRM of choice for a significant part of our premium users. They use it to manage their sales pipeline. Plus, they manually transfer all of the leads they generated through a Woodpecker campaign into Pipedrive.
Until now, Pipedrive users were forced to integrate Woodpecker with their CRM via Zapier or a smart BCC option. However, convenient as Zapier is, we wanted a native Pipedrive sync for a more extensive integration.
And we've since developed the integration, adding a two-way sync, OAuth access and the option to map more fields.
See how you can benefit from this integration.
What can a native Pipedrive integration do for you?
Here's how combining Woodpecker and Pipedrive can help you.
Synchronizing data
Now you have 3 synchronization options to choose from:
Pipedrive to Woodpecker

Woodpecker to Pipedrive

a two-way sync
One-way synchronization
You can choose a one-way sync option, which means the data will be updated in one direction, either from Woodpecker to Pipedrive or from Pipedrive to Woodpecker.
The native sync integrates contacts and email click/opens between Woodpecker and Pipedrive for you. To put it simply, prospect data and email clicks/opens from one platform are immediately synced with the other. As soon as you add or modify data in Woodpecker, the same data will be updated or created as a contact in Pipedrive.
The same goes for activity in the Woodpecker campaign. Sent emails, clicks, opens and replies, including auto-replies, are all pushed to Pipedrive. All those things are added as 'Activities' in Pipedrive. They are marked as done by default so they don't disrupt your workflow.
So when you add prospects to Woodpecker, their data will be pushed to Pipedrive too. And what follows is that new contacts are added to Pipedrive. Similarly, if you include a company name in the prospect list that you upload into Woodpecker, the company profile will be created in Pipedrive. You don't need to do it manually anymore.
The native integration does more than syncing prospect data. If something happens within an email campaign in Woodpecker, such as you mark a prospect as interested, that kind of activity will get transferred to Pipedrive.
Two-way synchronization
Recently, however, we've also added a two-way synchronization option, which you'll find in the General settings tab.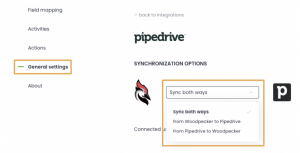 What benefits you get with a two-way synchronization:
consistent data between Pipedrive and Woodpecker, without any additional effort

automatic synchronization and updates of new contacts between both accounts, which saves you precious time

a more efficient and streamlined process
Automatic actions
Thanks to the Pipedrive + Woodpecker integration from now on you can now set up automatic actions straight from your Woodpecker account.

You no longer need to do it via Zapier or similar automation tools that allow you to set up automatic actions based on your prospect's changing situation.
Triggers:
Prospect interested (in Woodpecker campaign)

Prospect replied (in Woodpecker campaign)
You can select to synchronize data from one specific campaign or all at once. For specific campaigns there will be separate actions you will need to create.
Action available right now: Create deal in Pipedrive.
More incoming soon. Do let us know at [email protected] of actions you would like to see here, so we can develop these first.
What benefits you get with automatic actions:
a streamlined workflow by creating automatic sequences, based on set criteria

you don't have to worry about or remember to add a deal manually after initial setup
Field mapping
You are now able to completely customize a field by clicking 'add new field'. Previously, the fields you could fill in were already predetermined.
Meaning you can now transfer all kinds of data between Woodpecker and Pipedrive and adjust this integration to satisfy your specific needs.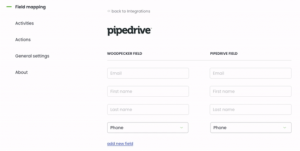 Authorization
We've transferred from using API Key to OAuth (short for Open Authorization), as it is much safer and secure for our users.
You can now connect Woodpecker with Pipedrive via the Woodpecker App or from Pipedrive's Marketplace.
Who is the Pipedrive integration for?
The integration is for Woodpecker users who would love to synchronize their Pipedrive account with Woodpecker.
How does the Pipedrive and Woodpecker integration work?
In order to integrate Pipedrive with Woodpecker, follow the steps below.
First, click on the Marketplace icon, which is displayed as a bag with a '$' sign in the upper right corner.

Next, click on 'Integrations' and select 'Pipedrive', which should appear towards the top of the list.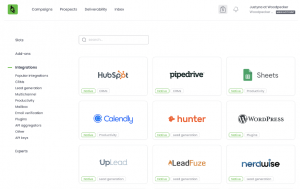 In case it doesn't, search for 'Pipedrive' manually via the search box provided. Then, click 'Connect'.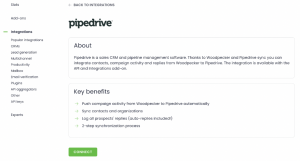 You'll then be directed to a new window, where you'll be asked to log in to your Pipedrive account. There's also an option to log in via Google, LinkedIn or SSO.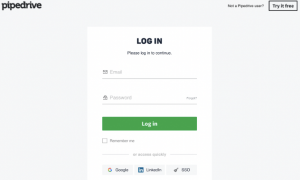 Once you successfully log in, click the 'Allow and Install' button so Pipedrive can access your account.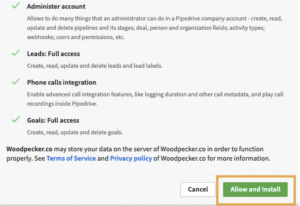 Congrats, you did it! Your Woodpecker Pipedrive integration is now working.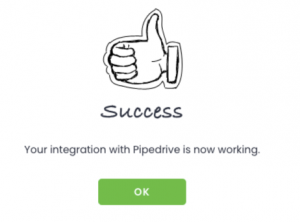 Remember, you can turn it on/off via the button displayed below.

Keep in mind that when you turn off your Woodpecker + Pipedrive integration, any new activities will no longer be synchronized. However, your configuration will be left intact.
If you're going on vacation or temporarily don't need data synchronization between your accounts, you can simply pause the integration with one click. This helps you avoid losing the entire configuration.
What it looks like in Pipedrive
Now, let's see how it will look in your Pipedrive account.
In Company settings, there's a set of new activities, such as 'Campaign email', 'Open', 'Auto reply' and 'Status'.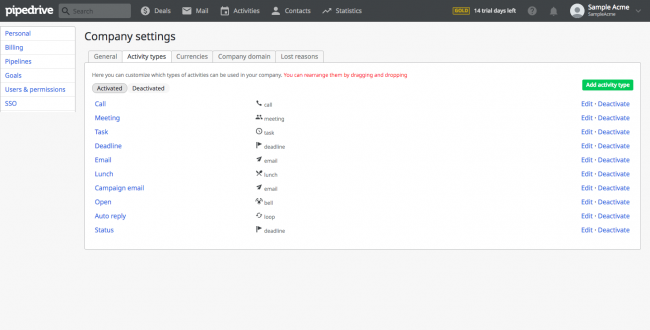 Here's how it looks like when you click on 'Contact'.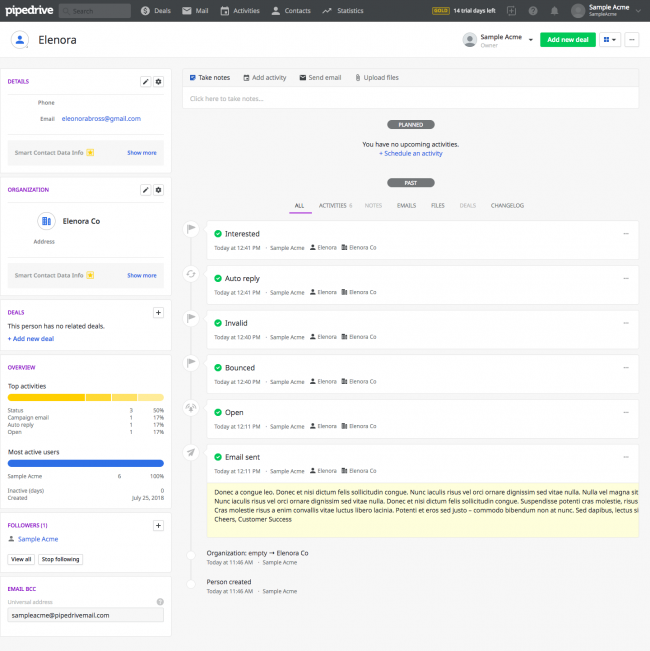 As you can see, the details of your Woodpecker campaign performance are automatically transferred to Pipedrive. You can see when an email was sent to a prospect and what was inside of it. You can also see whether they opened the email, replied to it, etc. Bounces, auto-replies, and statuses are transferred too.
Here's a different example of what it could look like.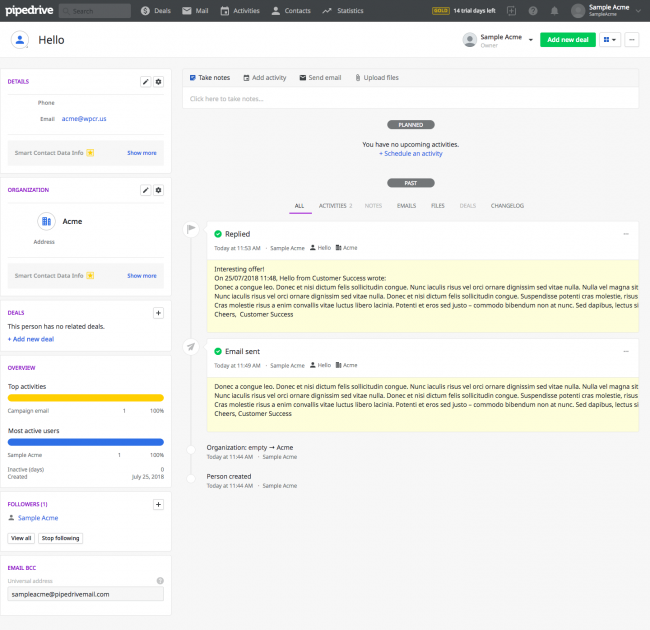 Would you like to share your feedback?
If so, let us know at [email protected]. We'll help you set up the integration and talk about your experience.
Do you want to see other apps Woodpecker integrates with? Go to our integrations tab on the main Woodpecker website.

The link to the article has been copied.