This week, Woodpecker successfully finalized integration with PieSync. As our users, you've just got the ability to effortlessly sync your CRM contact base (or contacts you store in other cloud applications) with your prospect base in Woodpecker. In other words, you can now regain all the time spent on importing prospects and exporting leads back and forth between Woodpecker and other apps that you are using to manage your sales processes.
What is PieSync?
PieSync synchronizes contact bases between various cloud applications. That means two things. To start with, PieSync can start an action in one app, when a condition is met in the other app. To put it simply, "IF" something happens in one app, "THEN" something happens in the other app. This is the first option you have when syncing apps via PieSync.
How does the one-way sync work?
It's pretty intuitive. Choose apps you want to integrate, for example, Woodpecker and MailChimp. Then, choose the direction of the sync and set up sync's conditions. For example, if something happens in MailChimp, you want a specific action to happen in Woodpecker. Or the other way around, if a condition takes place in Woodpecker, MailChimp runs an action.
Is there another way to sync apps via PieSync?
The other option you have is establishing a two-way sync between two apps. When you add a new contact or update an existing contact in one place, the same contact will be automatically added to/updated in the other app. This eliminates the constant need to export contacts from one place and import them in another. You just set the sync once, and you have only one constantly updated database across all your apps.
You can start your sync here:
How does the two-way sync work?
Say, you add a new contact to your CRM, and it automatically gets into a chosen campaign in Woodpecker. Or you import some prospects to Woodpecker, and you don't have to manually import them to your CRM afterwards. You make a change in a customer's profile within your CRM, and the change is automatically made in Woodpecker's prospect base as well. And the other way round.
The real power of the two-way integration is that it takes place in real time. That means you don't have to push any button to perform the sync, or wait till the end of the day for the data to upload. You make a change in the database, and it's automatically done in all integrated apps right away.
What if you don't want to sync all the data?
You are in charge of all the sync settings. You can change the sync direction (e.g. from Woodpecker to your CRM, or from your CRM to Woodpecker). You can add filters to manage subsets of your contacts, for instance set the sync only for contacts tagged in a specific way. If you're syncing more than two apps (yes, that's possible as well), one of your apps can be chosen as the central database. And, just in case, you can pause the sync whenever you want and resume it later.
What apps can you integrate with Woodpecker through PieSync?
There's over 80 cloud apps you can sync with Woodpecker thanks to PieSync. Most importantly, you can sync Woodpecker's prospect base with your CRM. But there are also some other integration options.
See the full list of apps you can integrate via PieSync.
Sync your CRM database
CRM is often the center of work for sales, SDRs and customer success team. Now you can manage all your contacts in your CRM, and make sure the changes will be made in Woodpecker at the same time. Or the other way round – you can manage your outbound campaigns in Woodpecker and stop spending hours on updating your prospects profiles in the CRM.
PieSync allows you to integrate Woodpecker with great and popular pieces of software like:
Salesforce,
Base,
Pipedrive,
Sugar CRM,
Nimble,
or Highrise,
among many others.
Sync marketing automation apps
You always want to keep all inbound leads in the loop, but you sometimes might want to start individual relations with some of them. That's what Woodpecker can help you with.
Let's say you're using MailChimp to send your newsletter and Woodpecker to contact individually chosen leads. You can sync Woodpecker with MailChimp using PieSync, and tag the leads on your MailChimp lists who you want to contact more personally. PieSync will make sure that all the tagged leads will be automatically and immediately imported to Woodpecker's prospect list.
This way you don't have to export and import any contacts manually. You set it up once and it's just taking place all by itself. Then you just filter all the contacts with a specific tag and set up a new campaign for them.
Except for Mailchimp, you can also sync other marketing automation apps including:
HubSpot
Infusionsoft
Emma
and more.
Sync your help desk
If you handle your support tickets and sales inquiries in a help desk, you can now sync it with Woodpecker as well.
Let's say you want to keep all people who asked a question about price or available features in one place to contact them in a few months and see where they are – check if they're closer to buying decision. You can tag them in your help desk and have their contact details copied to a the prospect list in Woodpecker. When the time comes, you'll just create a campaign for them and reach out.
Currently, you can integrate Woodpecker with Help Scout, but Groove is also in PieSync's pipeline and will be available soon.
Are you using another help desk? Check if it's on the list of connections.
What's in it for you?
You've just gained an opportunity to merge all your contact bases into one. Think about it: no more export to .csv, import to .csv. No more wondering, if you (or your teammates) have updated prospect's profile in your CRM.
Oh, and almost forgot about the most important thing: you don't need to bother your IT crew to make that happen! You can integrate the apps by yourself. Without a single line of code.
You just set up an account in PieSync, and click your way through to fully working database synchronization between Woodpecker and your favorite apps.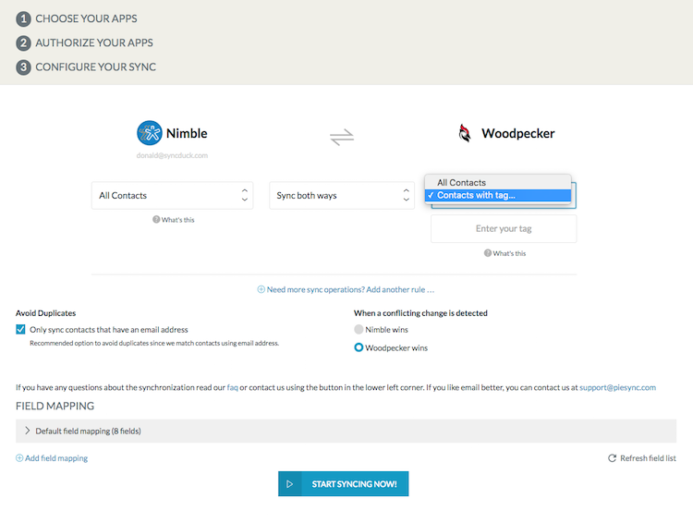 The guys at PieSync did a great job designing the setup process. So even such noobs as yours truly can link it all by themselves. 😉
Here's the whole setup process explained step by step:
PieSync just like Woodpecker offers a free 14-day trial, so you can just give it a spin and see how much time and nerves it's going to save you.
The integration will be available in Woodpecker's Team PRO Plan.
If you have questions about Woodpecker<>PieSync integration, drop us a line at [email protected].
The link to the article has been copied.