A couple of weeks ago Cathy, our CGO and founder of the Woodpecker blog, got a cold email.
Big news, right? She gets lots of cold emails.
Well, she gets lots of bad cold emails.
This one was good.
As were the follow-ups.
In fact, Cathy liked them so much that she asked the sender, Nick from Linkio, if he wanted to collect his tips for writing effective follow-ups in a guest post.
So, ladies and gentlemen, here it is – a collection of practical tips and real-life examples for how to write a follow-up if you haven't heard back, courtesy of Nick Campbell.
***
Like it or not, but it's natural to end up with a few replies after sending the first pitch. People live their lives on the other side of your outreach funnel. With work schedules mapped out a month ahead, they find it hard to squeeze you in. Especially since you're not the only one who sneaked in their inbox.
There's nothing wrong to follow up with nonrespondents and remind them about yourself. But what if you did it once or twice, and the silence of the lambs is still there?
How come? Time and time again, outreach gurus report that follow-ups should increase response rates…
Here's the thing – following up is quite a slippery slope. One false move, and you'll burn your bridges even with people who wouldn't mind writing you back but didn't due to time constraints.
Learn how to write a follow-up email that will pull the trigger for more responses.
How to start a follow-up email tactfully?
As an email marketer, I know what you feel. With a deadline around the corner, you're so embarrassed to report the miserable results you have. On top of that, your manager is already looking at you as if you borrowed a couple grand from them last year and never returned. I am sorry, but your prospects don't feel sorry for you.
No matter how frustrated you are, you can't start your follow-up like a complaint, or worse still, an accusation of them ignoring your pitch. I once received an email where a guy emphasized that I kept him waiting for two weeks. It's just a bad tone, especially since I didn't owe him anything.

Try to come up with a tactful way to phrase your reminder. For example, you can ask nonrespondents if they need more time to consider your offer. Since everyone is busy like hell, you'll show respect for their time. And most importantly, you'll drop a hint that you aren't going to rush them, even if you really are 🙂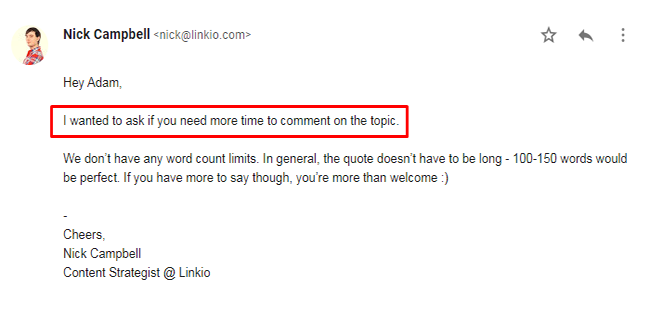 What also brings me replies is telling people that I'm ready to play by their rules. Make it clear that you'll adapt yourself to their schedules, not vice versa. This is an important step towards possible cross-promotion.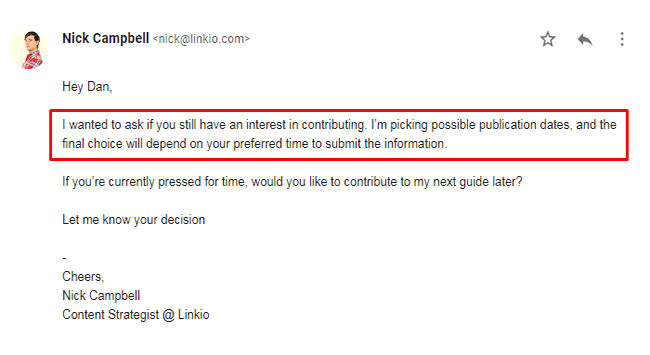 What to say in a follow-up email to sound credible?
There's no way you can know for sure why people ignored you. Some prospects were probably busy, but thinking that of everyone is rather naive. Most of them didn't find you credible enough to get hooked on further collaboration. Without adding anything new to the original message, you'll basically waste your second chance. Instead, try to present yourself as a known and trusted player in your niche.
Today, there are so many dodgy enterprises that came out of nowhere yesterday and will go up in smoke tomorrow. People are skeptical about dealing with every stranger who shows up in the inbox.
Use your follow-up to set a tone of authority for your brand. For example, you can mention a few big names, both people and companies, that worked with you earlier.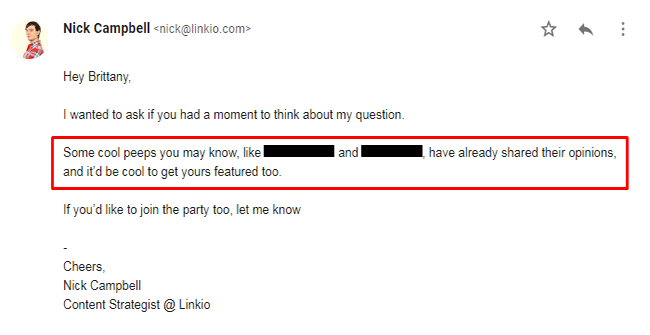 Wondering how to write a follow-up email if you don't have a single well-known partner? No worries! You can always shift focus to the benefits they reaped of your work or at least some feedback they shared.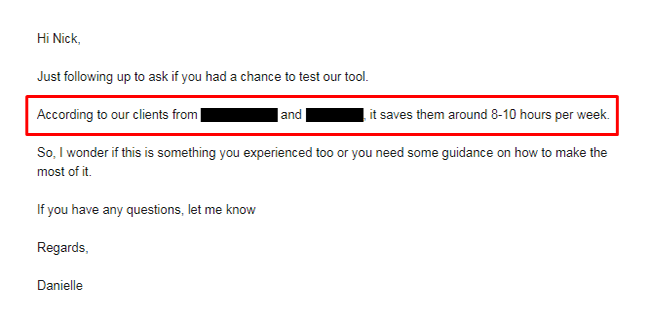 How can follow-ups increase your pitch in value?
The alpha and omega of your outreach is the value proposition in your original pitch. The dead silence often means it was not enough for your prospects. You have no choice but to offer extra perks to get them on your side. This trick will put you above lots of other email marketers who never go the extra mile.
The question is, what else could you offer?
First, I'd like to draw your attention to pseudo values that some gurus advocate for blogger outreach. I bet you've all heard about them.
From pointing out misspellings to broken links, the value of these minor things is not even close to what you're trying to get from your prospects. I'll be damned if that's not true. Once in a while, such tricks may work with newbies or those who don't know a thing about SEO. But don't comfort yourself thinking that influential bloggers will buy that.
Instead, think about what you'd appreciate if you were in their shoes. For inspiration, here are outreach values that people often say yes to, according to Rand Fishkin from Sparktoro.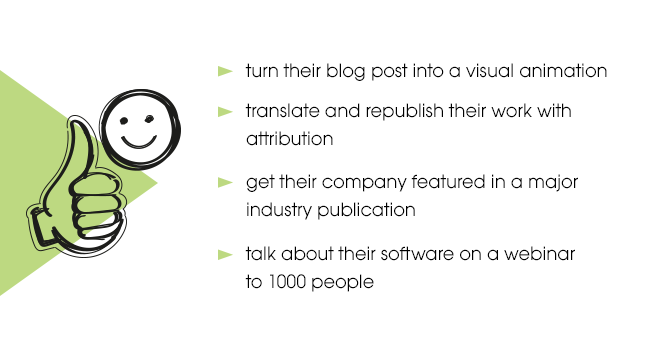 For my part, I also check my prospects' LinkedIn profiles to see if they have fresh projects that need promotion. Running a blog, you could also offer it for their product review or as a platform for a giveaway.
How to end a follow-up email to get a second chance?
Excited about the outreach idea you came up with? Calm down a bit. What you find brilliant won't always seem that way to your prospects. But by no means, it's a dead end. Ask them if they have a different vision of how you could collaborate or offer an alternative yourself. That will be a solid ending to your follow-up.
Let's imagine you want to interview influencers for your blog. Some of them may dislike the topic or have no time to answer your questions. Don't nip this in the bud. Suggest a different topic or reserve a place for them in your upcoming posts.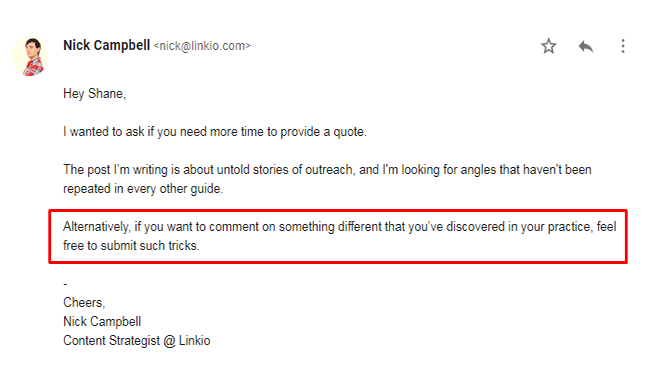 How to follow up with someone who hasn't replied to multiple emails?
Following up isn't the practice you can abuse and get away clean. Do you see that recipients opened all of your three follow-ups? It's safe to assume they aren't interested for now. Keep sending more, and in the heat of the moment, they'll mark them all as spam. It'll harm your domain reputation, which will lead to your new emails landing in every marketer's worst nightmare – a spam folder.
You'd better stop for a while.
No, you don't need to cross nonrespondents off your list for good. Just give them some rest. Then, in a few months, you can start over. Since they ignored you earlier, it makes no sense to send them a rephrased pitch about the same again. Here's how Brian Dean, a cofounder of Exploding Topics, suggests following up over time.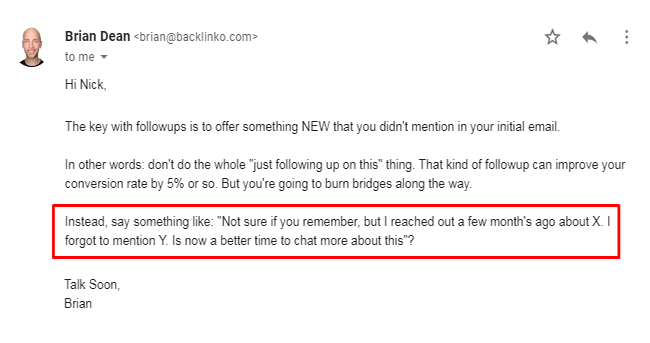 Is it safe to use all follow-up email templates shared online?
There's no shortage of free follow-up templates that will ease the job for you. But not all of them are worth a try. I occasionally stumble upon the so-called "break-up email," e.g. #5 here. It's like an unsubscribe button – you contact nonrespondents one last time and request their permission to remove them from your prospecting list 🙂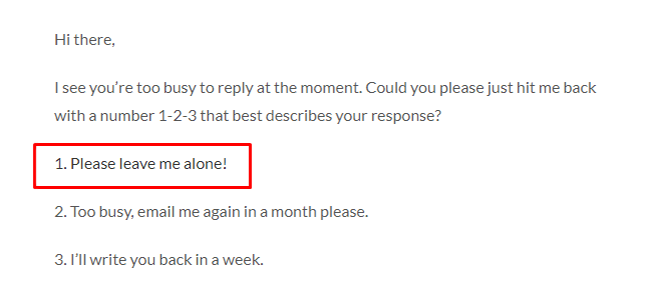 On the one hand, it lets you weed out people who wouldn't accept your offer anyway and would only take your time. But here comes the downside. If someone tells you not to bother them anymore, that's the end of the line. You can't email them with new offers later, at a better time for them.
Things can also change for you. If you do sales outreach, your software can get new features that other similar tools on the market lack. As for link outreach, your domain authority can grow over time, and influencers will be more willing to deal with you then.
I sent this breakup email to a few prospects once, and here's what I got when I followed up with one of them in half a year.

You'd better use a lite version of this breakup email. Instead of telling people you'll remove them from your list, ask them if they don't mind you resending your offer elsewhere. That way, your outreach show will stop on a cliffhanger until the next season rather than get canceled at all.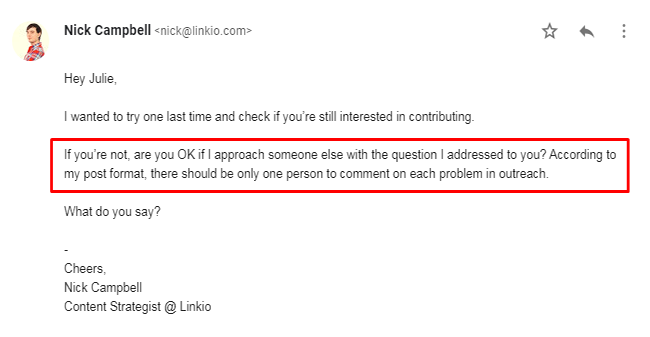 Afterword
Now that you know how to write a follow-up email, do some A/B testing. These tricks brought me 24.49% of replies during my last outreach, but things can differ for you. Based on my advice and your tests, try to come up with a winning follow-up formula for peeps in your niche.
Note that I shared screenshots of my follow-ups to illustrate my line of thought. Don't re-use them as is, word for word, changing your prospect's name only. If people start receiving identical follow-ups, it won't take long for these tricks to stop working. Try to at least rephrase and personalize them to your case and prospect.
***
Want to see how to send a follow-up email after getting no response? Go here>>
The link to the article has been copied.