We are pleased to announce that Woodpecker Academy is now live! We've released our first online course.
After 6 years of creating content focused on cold emailing, we've decided to merge all the knowledge we've shared so far into a step-by-step workflow that will help you launch successful cold email campaigns.
With the course, you'll learn how to build and optimize cold email campaigns that will finally get you the results you've always wanted.
Once you complete all the lessons, you get a personalized certificate of completion.
Sign up to start:
Join a free live sales workshop with Josh Braun Apply by May 31
Find out more
Keep reading to see how the Academy works and what you'll get from our very first course.
What is Woodpecker Academy?
For years we've been helping customers all over the world succeed with their cold email outreach. But it hasn't always been an easy road. Email algorithms change, so we've had to constantly study the performance of our clients' campaigns, test new ideas, and adapt to the changing market. We're proud to say we know how to avoid issues with spam folders or write custom email copy that generates positive responses.
We share this expertise every day when working directly with our clients, as well as on our blog and YouTube channel. Now we want to make that knowledge even more accessible. So if you're looking for a crash course on building an effective cold email strategy – Woodpecker Academy will help you out.
What will you find in the Academy?
Our first course is much more than a simple introduction to cold emailing – these 5 lessons will show you how to create a solid cold email strategy that is properly set up, but also gets you a lot of responses. From building a high-quality prospect list to creating your first campaigns to taking care of the deliverability of your emails. With 29 videos and 50 additional resources included in this course, we've made it as simple as possible.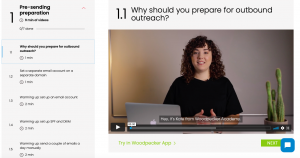 After going through the lessons, you'll understand how to improve your cold email outreach and get more responses. Once you complete the course, you'll receive a personalized certificate that you can share on your social media. It's always a good move to have your skills validated and impress your colleagues or future employers. Linkedin is a great place to do that!
This course is perfect for cold emailing beginners so they can start from scratch and avoid rookie mistakes, but also for sales professionals who want to brush up on their knowledge of email deliverability, prospecting or effective follow-ups.
Join a free live sales workshop with Josh Braun Apply by May 31
Find out more
So let's go through the details of the Woodpecker Academy.
The course is designed to be easy to follow step by step. Once you hit the sign up button, you can watch all 5 lessons in less than an hour.
What you'll learn:
Lesson 01
In this class, you'll learn how to take charge of your email deliverability even before you create your first campaign. We'll focus on 5 steps that will save you from many mishaps later on. After this lesson, you'll know how to:
Choose a separate domain dedicated to outbound outreach

Set up an email account

Set up SPF and DKIM

Send emails manually to warm up your email

Verify the reputation of your domain and IP
Lesson 02
After you've made sure all the technical aspects of setting up your email account are ready, we'll focus on your prospects so you can build a high-quality list. We walk you through:
Defining your ICP

Finding places online where your prospects hang out

Planning your email copy

Collecting your prospects' data

Finding their email addresses
Lesson 03
Once you know what you need to do to make sure your emails get delivered and how to find your prospects' email addresses, we'll move on to writing a cold email that actually works. We'll show you how to:
Start a conversation that eventually leads to closing a deal,

Avoid spam-triggering words,

Personalize your message to increase deliverability and get more replies.
Lesson 04
In this lesson, we're moving to follow-ups to make sure that when you knock on the door more than once, you do it with quality. We're going to talk about:
What to incorporate into your follow-ups to spotlight your expertise,

How many emails in a sequence will bring your best results,

And how to adjust email content to recipient's engagement.
Lesson 05
Last but not least, you'll learn how to optimize and constantly improve your campaigns. We'll show you how to:
A/B test your campaigns to optimize your results,

Rethink your targets,

And apply a human-first approach to get more responses for your campaigns
Practice in the Woodpecker app for free
We believe it's best to test your knowledge in practice as you go.
That's why we've decided to give Woodpecker Academy users access to the Woodpecker app free for 7 days (unless you've already tried Woodpecker before).
You can use the same data to log in to both platforms.
If you're already a Woodpecker user, you can enter the Academy with your login info for the Woodpecker app.
Get your certificate now
Sign up for the Woodpecker Academy and improve your cold emailing skills. And while you're at it, put what you're learning in practice in the Woodpecker app to get the most out of it.
Join a free live sales workshop with Josh Braun Apply by May 31
Find out more
Feel free to share your feedback of the platform at [email protected] We'd love to hear your thoughts!
Turn knowledge into results
Send follow-ups that make a business thrive
The link to the article has been copied.