Instagram is more than a must-have touchpoint for engaging with millions of potential fans of your brand. Read our guest post written by Val Razo on how to use Instagram to get prospect email addresses and turn it into a lead generation machine.
***
You already know that Instagram is an excellent platform for growing brand awareness, engaging with your followers, and even collecting user-generated content. However, because it's more popular for B2C businesses, not many B2B businesses and marketers realize it's also great for collecting emails for cold outreach.
While social media can boost email outreach and there are other more popular platforms for growing your email list, don't make the mistake of overlooking Instagram. In this article, you'll learn the value of Instagram as an email collection tool and how to utilize its features to gather valuable emails.
Why should you get prospect emails with Instagram?
Instagram has over two billion monthly active users, 90% of whom follow at least one business. This means you have an audience that's willing to engage. In addition, the social media platform is slated to grow by 3.7% in 2024 and continue growing for the next couple of years—you'll have no shortage of prospects.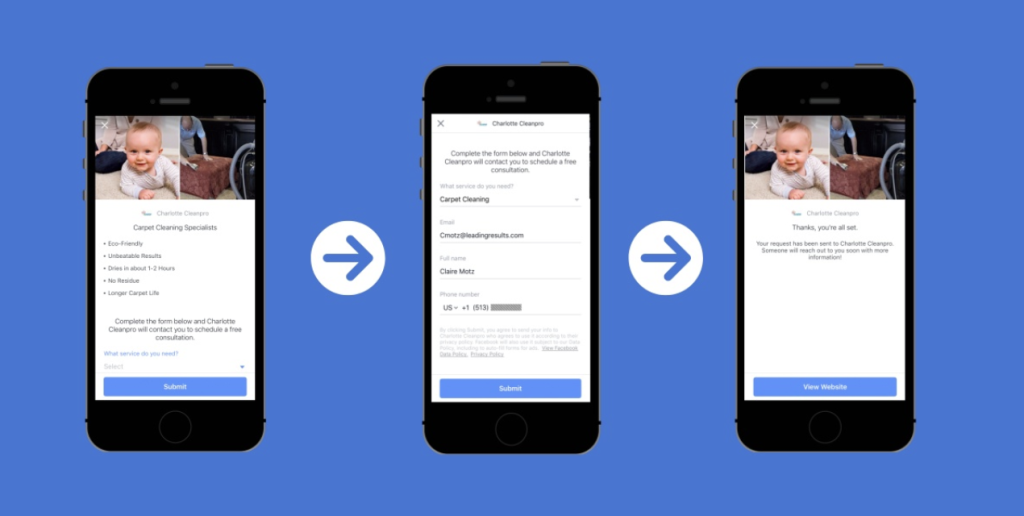 Here are more reasons why you should use Instagram to collect emails:
Your prospects are definitely active on the platform.

Instagram is no longer geared toward teenagers like when it first started. The same people who used the platform when it launched in 2010 are likely the same people who are active in it today. People aged 25-34 make

31.5%

of Instagram's users, but Instagram has captured a broad user base. Think about it: you hardly know anyone who doesn't have an Instagram account. Your prospects are most definitely on the platform.

People spend a ton of time on Instagram.

Reach your prospects where they're most active. As of this year, Instagram users spend an average of 29 minutes scrolling through the app—that's double what it was just four years ago.

The platform collects and stores email addresses.

Whenever you click on "accept" or "agree to terms of use" after downloading an app like Instagram, one of the information collected is your location and contact details, which includes your email address. While the

internet law

will protect you from Instagram divulging your private information, they keep your data to help advertisers and businesses run more effective campaigns.

Instagram has in-built features for collecting emails.

There are many ways you can use Instagram to collect emails. The link in the bio tool—which now allows you to add multiple links—can be used as a sign-up link to collect email addresses. You also have the option to add links to your Instagram Stories and add a contact button to your profile so prospects can easily reach you. You can launch a lead ad that lets you collect information from prospects without having them leave the platform.
Now that you realize the potential of Instagram for cold email outreach and collecting prospects' emails, let's find out six effective ways to do it right.
1. Collect prospect names and surnames
While not everyone will have their emails posted on their social media accounts, most are likely to include their first names and surnames on their Instagram profile.
For example, when B2B companies announce podcasts or master classes and tag speakers like in the example below, you pay attention to their names and surnames or just tap on their profiles to collect that data.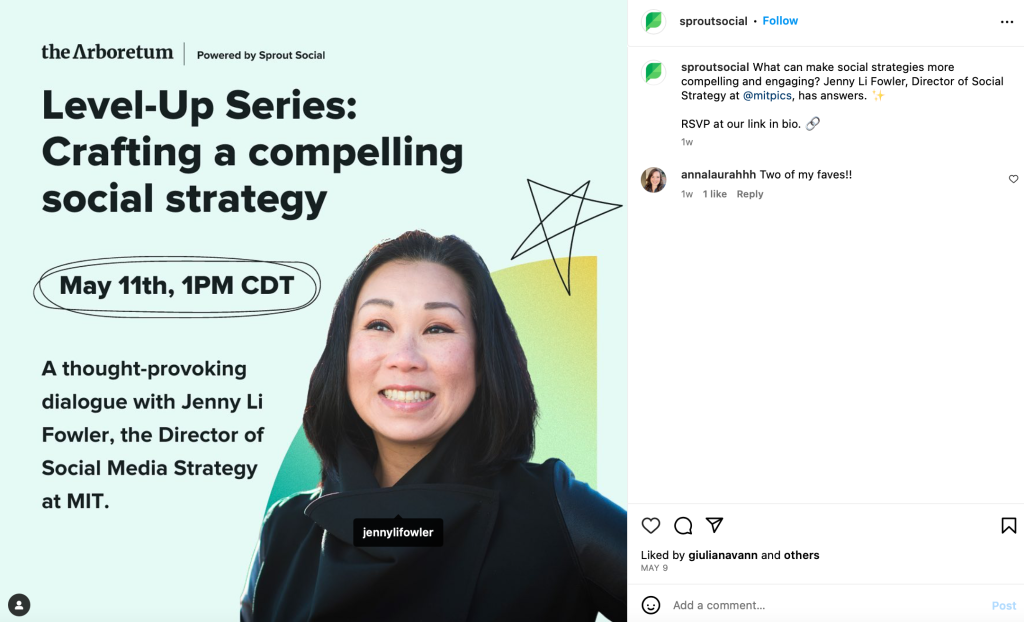 Here's what you can get:

Knowing your prospects' complete names makes it easier to find their email address through a simple Google search or other tools. If their email address isn't publicly available, you can work with a combination of their first name + surname and try your luck. Most people will have Gmail, Yahoo, or Outlook, so once you have their full names, it's easier to get it right.
But if guessing emails isn't your option, use an email finder tool like Signalhire to use search filters and find email addresses by prospect's full name. Here's how it works in action: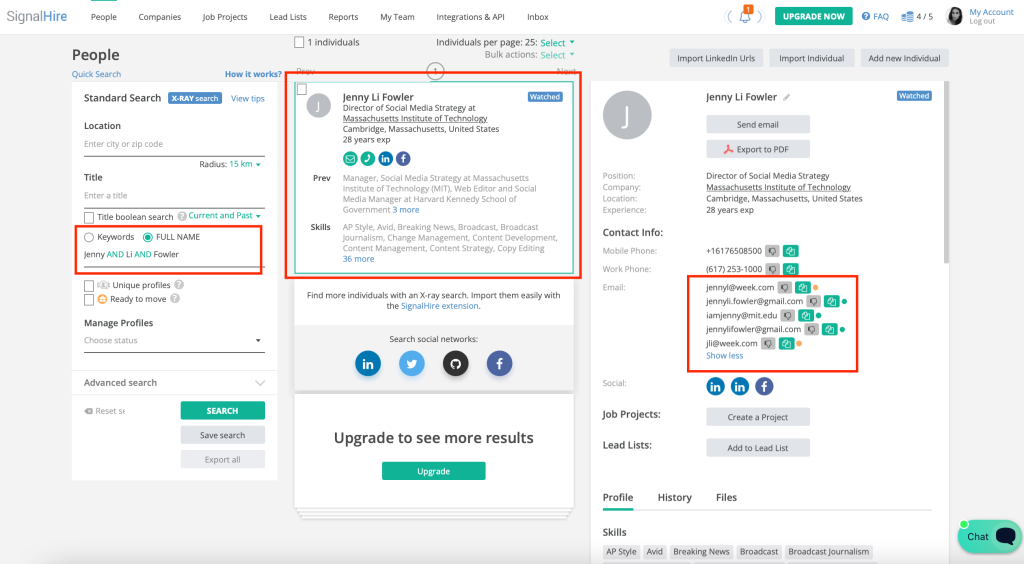 2. Check out your prospect's Instagram bio
If your prospect is a business owner or someone who offers professional services, they are likely to post their emails on their profiles. You can usually find contact information like their email address or mobile number on their bio.
If their contact information is publicly available on Instagram, they may be more responsive to cold outreach.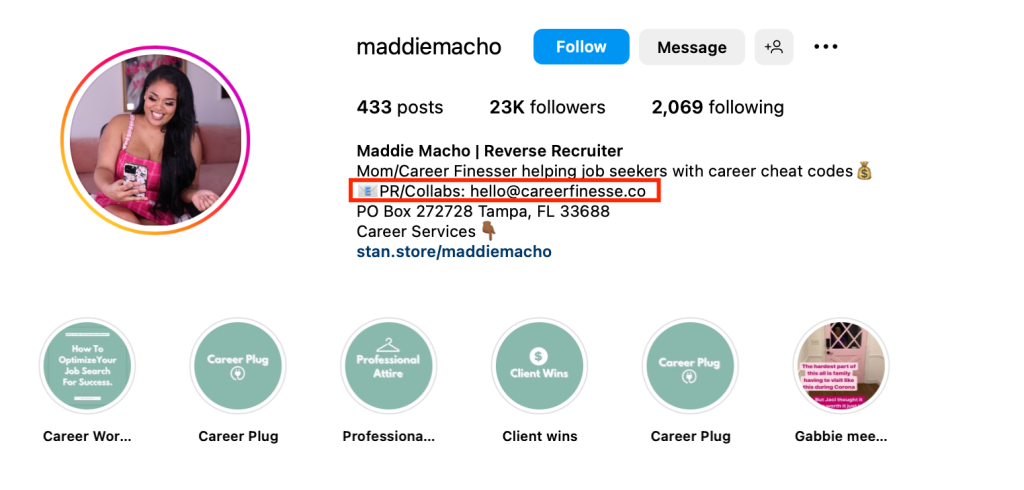 3. Tap on contact buttons
Anyone with a professional or business account can add contact buttons on their Instagram profiles. This makes it easier for customers and people like you to reach out.
Tapping on an "email" contact button will automatically open a pop-up of your email client with the "To" section already filled up with your prospects' email addresses.
Atlassian, a software company, makes it easier for buyers and potential collaborators to reach her by adding an Email contact button on the profile.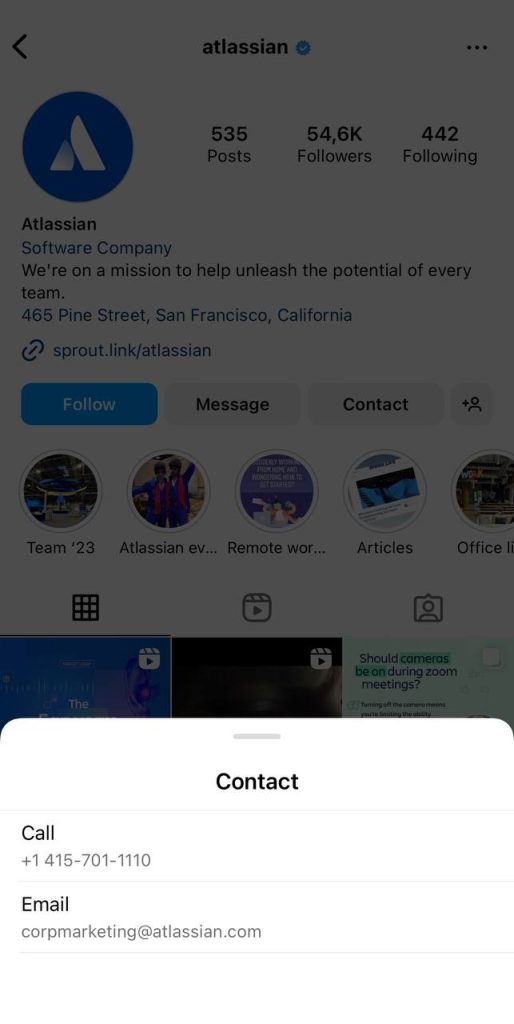 Someone with an Email contact button on their profile is likely responsive via email and open to cold outreach, so your chance of receiving a response is higher versus collecting emails through other means.
Pro tip: If you don't have time or desire to collect that data, you can always rely on IT outsourcing to find the right person for this task.
4. Use Instagram email finder tools
If your prospects' email isn't publicly available on their Instagram profiles, your next best option is an email finder tool.
With an email finder tool, you can simply enter your prospect's first and last name plus other important information (depending on the tool), and it will find their email address for you.

For example, Voila Norbert's email lookup only asks for your prospect's name and website of the company they work for. The tool will then use a verifying tool to validate the email's accuracy, boasting a 98% accuracy rate and boosting email sender reputation. Voila Norbert allows you to create different contact lists, add notes, and send bulk outreach emails within the platform.
5. Sign up for prospect newsletters
If you can't find your prospects' working email, a great way to connect with them is by subscribing to their newsletter. This is especially useful if your prospect runs the newsletter themself or is part of the team behind it. Most independently run newsletters allow subscribers to respond directly. If not, a separate email address will be included for anyone wanting to reach out.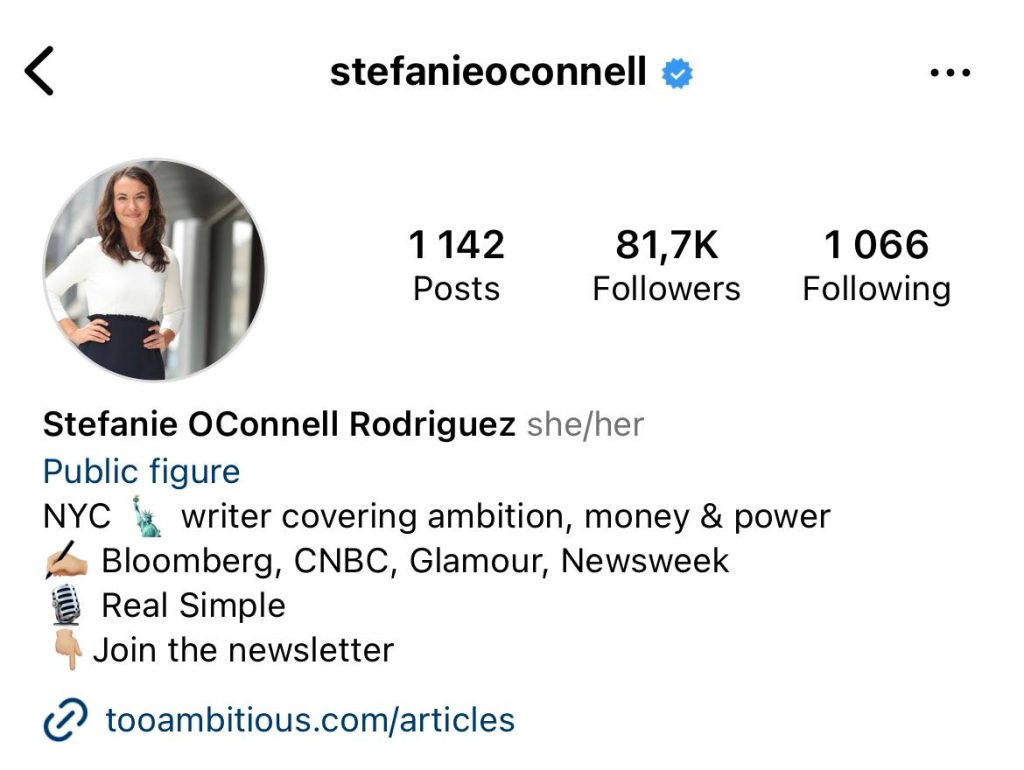 For instance, anyone who wants to connect with influencer and creator Isabel Klee can sign up for her newsletter and build a relationship from there.
Being a subscriber can also give you leverage as you show genuine interest in your prospects' business rather than jumping right into cold outreach.
6. Ask Instagrammers to sign up for your list
One way to collect more emails through Instagram is to get people to sign up for your email list. But, of course you'll have to lure anyone in with high-quality content on your Instagram page before you ask anyone to sign up. This means using Instagram more than just a place to lurk on your prospects, but actually provide value to them.
For example, if you want to reach out to prospects to invest in your business or for a possible collaboration, then your Instagram page should be able to communicate the advantages of working with you.
Your page should be good enough to follow before anyone will consider signing up for your email list. You must always coordinate social media and email marketing.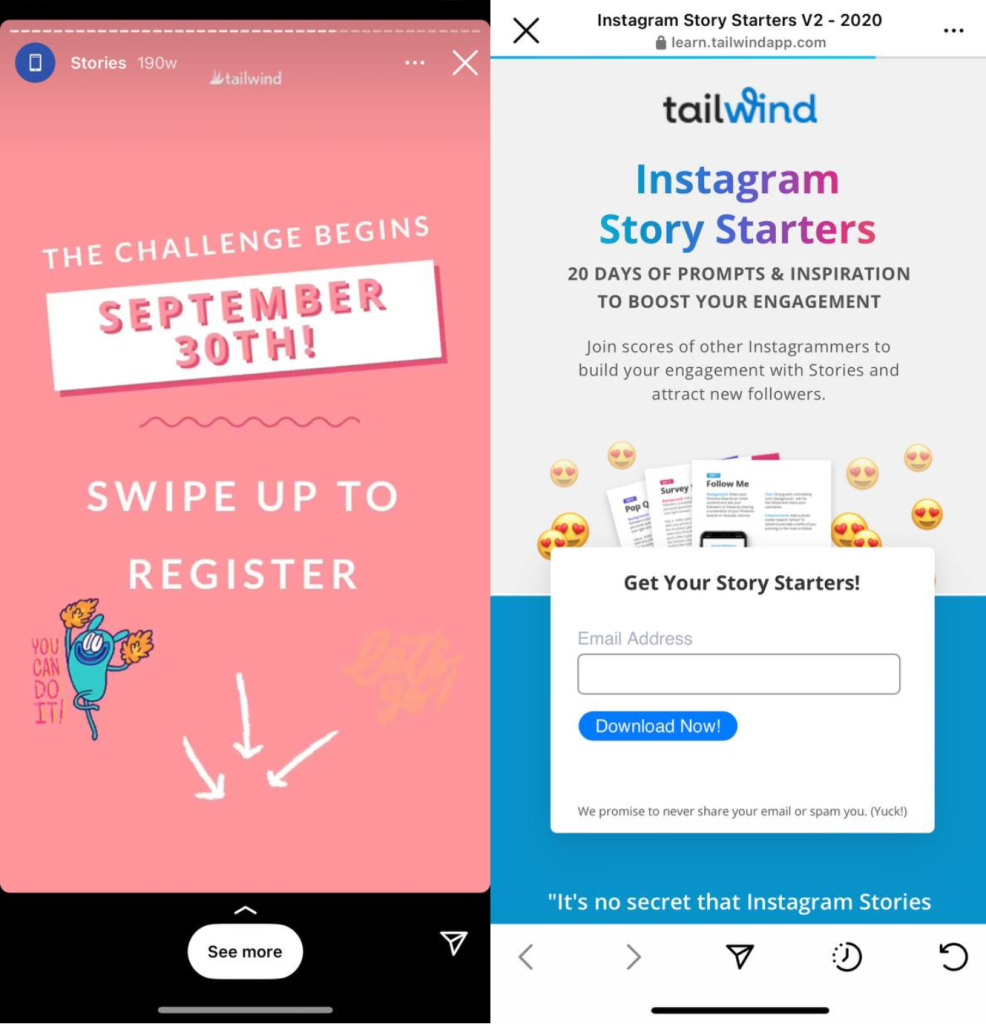 Here's how you can get your followers to sign up for your email list:
Add a call-to-action (CTA) and link in your bio.

Your bio is the first thing anyone sees when they land on your Instagram profile. If you want people to take action the moment they land on your profile, include a CTA in your bio. If character count permits, tell them why they should sign up.

Add an action button to your profile

. If you have a business or professional account, you can add an action button to your profile. Instead of choosing the "Email" action button, you can use the "Add lead form" button. Using Instagram's standard lead form will gather full names, email addresses, and contact numbers for you. You also have the option to create a custom lead form and customize it for your specific needs.
Create an Instagram lead ad.

Instagram collects

70% of all available data

so you can target the right person with your ad campaign.

To get more prospects to sign up, you'll need to run a lead generation ad. Otherwise, you're limiting your audience to your existing audience and organic page visitors. Lead ads allow you to collect more information, including email addresses, from your prospects.
To create a lead ad, you'll need to use Facebook Ads Manager and select Lead Generation as your objective.
Pro tip: Add pre-filled sections to your forms to get higher completion rates.
After you get your prospects to sign up for your list, they become warmer leads. This means they will be more responsive to you versus finding their email through other means.
Conclusion
But with the proper techniques and a little bit of persistence, it can be a powerful tool to gather valuable email addresses.
Best case, your prospects' email addresses are displayed on their profiles. Worst case, you'll have to dig deeper and use other tools to help you. In a platform like Instagram, where users value engagement, you can probably start your cold outreach via a direct message and ask for their email address directly.
The link to the article has been copied.