Here comes the 8th part of our Prospect List Building Tools series. But it's a first one this year. This time I gave a spin to HeadReach – a product made by two co-founders in Bulgaria. I had a pleasure to interview one of them – Kalo Yankulov. He told me little a bit about their story and described the prospect list building tool they are developing at the moment. Meet Kalo and discover HeadReach that allows you to prospect directly in the app dashboard instead of LinkedIn.
Update: HeadReach was acquired by LeadFuze in July 2018. More info here >>

About HeadReach
HeadReach is a small bootstrapped team of two, located in the beautiful city of Sofia, Bulgaria. Kaloyan Yankulov takes care of the business side of HeadReach, and his co-founder Daniel codes. Kalo's also in charge of marketing and design – pretty much everything non-technical.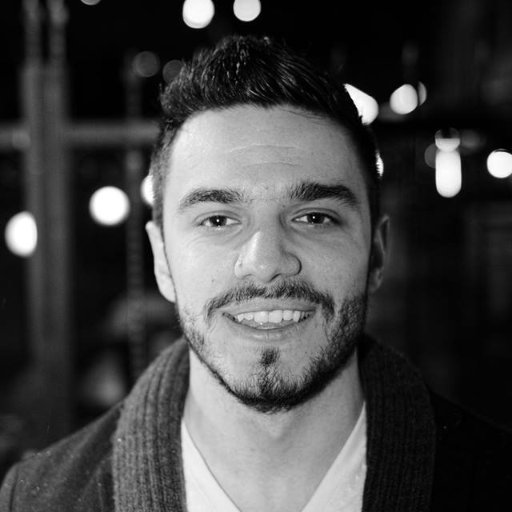 'The first version of HeadReach was very different,' Kalo explains. 'Being an online marketer, I had this idea to create a tool that generates automated content promotion strategies with a single click.
Unfortunately, this idea came out to be way too ambitious for our bootstrapped resources, and we had to ditch it to something more pragmatical. After doing a number of customer development interviews, we pivoted HeadReach to being a lead generation tool.
We knew we're late to the party, and the market is very saturated, but we believe we have unique selling points in the faces of our easy to use interface and in-app prospecting.'
Kalo has answered my set of questions considering their product. You'll find his answers below. Hope this will allow you to take a closer look on HeadReach, understand how it works and determine if it could help you in the process of outbound prospect list building.
How would you describe HeadReach in 4-5 sentences?
Kalo: HeadReach is an online prospecting tool designed to help sales, marketing, and data research people find valuable business contacts. With our tool, you can find targeted leads with their real emails, social profiles, and contextual data right inside our app without the use of additional tools or services.
What is the greatest benefit of using HeadReach?
K: Our simple to use interface allows for a quick and effortless search inside our app, which saves a lot of time prospecting.
For me, one of the hardest things in sales and outreach marketing is not reaching out to people but finding the right people to reach out to in the first place.
Before HeadReach I was using a plethora of different tools including LinkedIn Premium, email finding Chrome extensions, and an email verification tool. While I still use different prospecting tools, most of the time I simply rely on HeadReach.
We're using our proprietary lead searching algorithm along with a combination of Premium APIs like FullContact to automate the whole email finding process. The tool could easily save up to 20 minutes of prospecting per contact.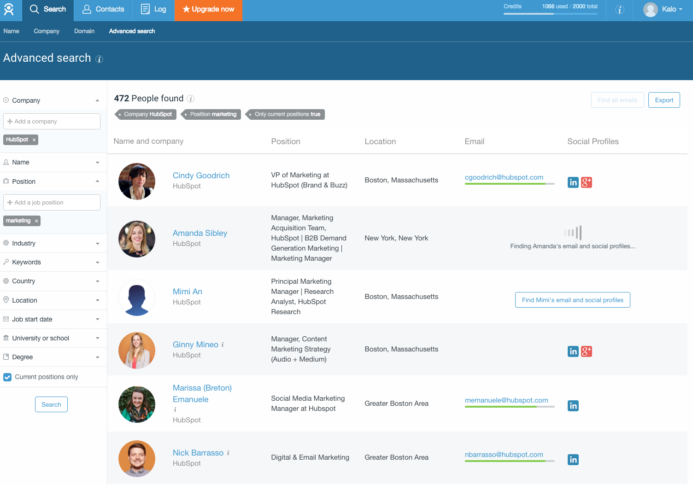 Another great benefit is our manual Email Finding Concierge service which helps you find seemingly impossible to find emails.
How does the process of building database look with HeadReach?
K: The process can be divided into 4 steps:
Simply search by name, company name, website or use the Advanced Search. Our Advanced Search has over 10 different filters, including position, industry, location, and degree.

All results appear right inside our app. You don't have to leave the website to find someone's

email address

. Just click on "Find

email

and social profiles."
All

emails

are automatically saved in a section of your account called "Contacts". We're currently working on a lists feature which will be live next month and will allow our customers to create targeted lists of prospects.

You can Export your contacts as a CSV file to import into Woodpecker and start your outreach.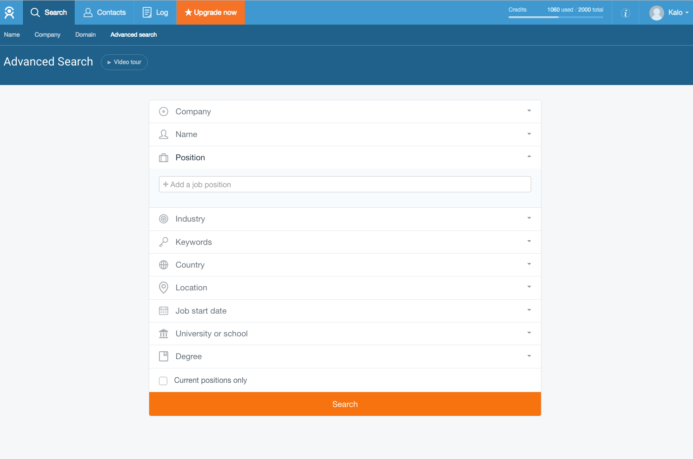 Do I need any additional tools/add-ons to use HeadReach efficiently?
K: By using our in-app Advanced Search, no additional tools are needed.
This is a great benefit for most of our customers as this allows for a more streamlined prospecting process without jumping between LinkedIn and the prospecting tool. Also, helps them save a few bucks on a LinkedIn Premium account.
Now as LinkedIn are taking off the Advanced Search for free accounts, and limiting it to Sales Navigator only, resorting to prospecting without LinkedIn would make even more sense if you don't want to break the bank. You can read more on the topic on Irina's blog for recruiters which is an excellent source for all things related to prospecting on LinkedIn or the recent TechCrunch announcement.
What kind of information can I actually collect using HeadReach?
K: We help you prepare yourself by understanding your prospects better. We provide contextual person and company data like current position, industry, location, social links, a number of followers, other relevant websites, interests or topics.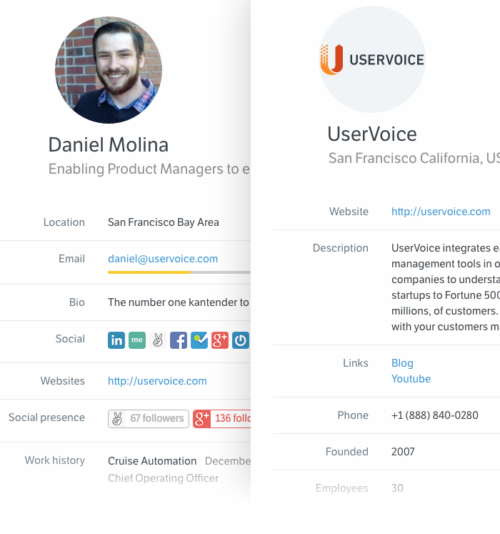 How many contacts can I have per month?
K: As many or as little as you like. Our plans start at just 100 contacts per month and could scale up to thousands, as we offer custom Enterprise plans.
How much is it?
K: At the moment, we have 3 plans available:
$19/month for 100 contacts or $0.19 per

email

credit
$39/month for 250 credits
$79 for 500 credits or just $0.15 per

email

lead
You can read more about our pricing plans here.
However, as we add more features and our tool matures more in terms of data quality and functions, we plan to increase that price.
Is there a free trial?
K: Yes. We offer 10 free email credits which is usually enough to test out the tool, but we're also happy to provide more to the folks that need more time trying our tool.
Our experience with HeadReach
THINGS WE LOVED
The in-app advanced search
The advanced search is the real power of HeadReach. You have all kinds of criteria you can filter by including position, industry, location and many more. The "Current positions only" checkbox allows you to narrow your search only to the people who match your ICP at the very moment. All this provides you with a convenient way to look for prospects who match a set of carefully chosen criteria. You can watch this video later to see a demo of the Advanced Search.
Effectiveness of email address search
During my tests, a great majority of the emails found by HeadReach were marked in green – which means there's a very high probability the emails are valid and correct. That's important, because in HeadReach, you get charged for every found email address, not only for the 100% verified emails. The effectiveness of email search was satisfactory to me, although I was testing on a quite small group of prospects.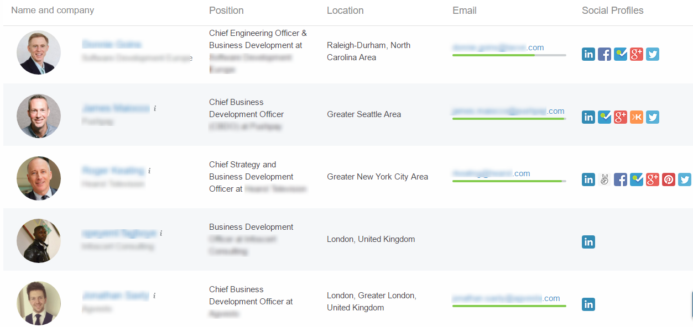 Easy jumping to social profiles
A button to quickly jump to social media profiles of your prospects is not an obvious advantage, but may be really helpful if you want to check for some more information on the prospect. Additionally, you can warm up your prospects before sending them an email, for instance by visiting their LinkedIn profile or following them on Twitter right after you add them to your list. And HeadReach matches that workflow very well.
The log of previously used search criteria
This is a feature I've seen for the first time in a prospecting tool, and I think it's very useful if you experiment and look for prospects from different groups or matching different keywords. Even after you change your search criteria, you can go back to previous settings in the Log tab. If many prospects match your profile, you can split the search even for a couple of days and make sure you won't miss anybody who's the right person to contact.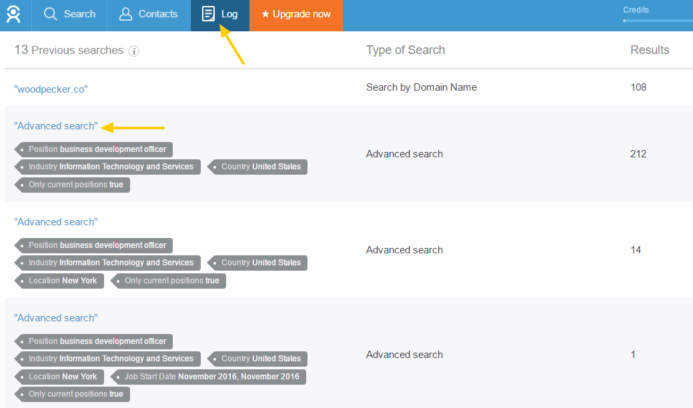 Easily available help section
If at some point of using HeadReach you have a question, you can easily jump to the Help docs section straight from the panel. You'll find there a conveniently categorized set of short articles that will help you find your way out. And if you don't find the answer in there, you'll get it from HeadReach's team in a matter of minutes after you drop them a line via email. An instantenous support is something we greatly value at Woodpecker, and it's so great to see the same approach in other companies. HeadReach is one of them for sure.
Reasonable price per contact
In the smaller plan, which offers the highest price per one contact the price of one credit is $0.19, which is lower than those offered by competitors. Reasonable pricing can be definitely seen as an advantage of HeadReach.
THINGS THAT STILL CAN BE IMPROVED
Charging for email addresseses whose validity estimation is below 60%
I wasn't charged when there was no email address found at all – which is great and should obviously work like that. But one of my prospects' email addresses was evaluated for 59% chance that it's valid. The address was marked with yellow, not green. Still, one of my credits were used for that address.
It would be great to have an option to avoid emails with low validity estimation. I would see it like a checkbox somewhere in the settings section "show me only 90%+ verified emails". With such a checkbox marked, I wouldn't see the yellow addresses and I wouldn't loose my credits for emails that are not-so-sure to be valid.
Lack of company size info in advanced search filters
As awesome as the Advanced Search feature is, it lacks one important filter: company size. This is a factor that many B2B companies see as crucial while defining their ICP. So it would be great to add some kind of limited options to choose from, like 1-10, 11-50, 51-100, etc.
Accuracy of search by domain
It's great that there's an option to look for contacts linked to a certain domain. Especially within the ABSD model, when you want to contact more than just one person at a signle company. But when I was trying to find someone by company domain, I was getting much more results than I was supposed to. For instance, there were over 100 contacts somehow connected to our domain woodpecker.co, whereas we don't even have 20 people in our team yet.
No separate lists on the main contact list
There's just one general list of contacts in HeadReach. There's no option to make a few smaller lists. That's a bummer if you work with the tool for a longer time and you want to organize your prospects in batches. Each time you need to export the entire list of contacts, and then go through it to get rid of the contacts you've already used. Unless, you're uploading the contacts to Woodpecker, which allows you to filter out duplicates automatically at the moment of import.
Unused credits don't roll over to the next month
I totally get that from the business point of view. But as a user, I would definitely want my credits to roll over to the next month if I didn't manage to use them all. Sorry, but that's the way it is. 😉
To sum up
HeadReach is a list building tool that offers in-app search of prospects. It is not a Chrome extension, but an independent application with it's own dashboard.
Its Advanced Search allows you to search for prospects meeting some specified criteria, like position, location, industry, etc. You can also look for specific prospects at a chosen domain.
HeadReach will find the email addresses of your prospects and show you an estimation of the address validity. It won't verify the addresses though.
The address finding efficiency is satisfactory. Most of the addresses will be provided with the probability of being valid close to 100%. A minor part of email addresses found by HeadReach will score lower than 60%, though, and your credits will be taken for that emails as well. But you won't be charged if no email is found at all.
The price per contact is reasonable, lower than the prices offered by most competitors. It's $0.19 per found address, or lower depending on the pricing plan you choose. However, if you don't use all of your credits over a month, the unused ones will not roll over to the next month and will be lost.
The guys at HeadReach team provide you with immediate support and are very communicative. They've also prepared a collection of help docs and some videos to help you find your way in the dashboard, which in fact is really simple and user friendly.
Hope this will help you build a bigger picture of how HeadReach works. It's definitely worth taking a closer look at. Luckily enough, there's a free trial, so if you liked what you saw here, it's a good idea to give it a spin yourself.
See also:
The link to the article has been copied.