In the second part of our Prospect List Building Tools series, we're presenting the interview with Gerard Compte from FindThatLead – a plugin for building prospects lists using LinkedIn and Twitter. We're currently testing the plugin and we're sharing our experience below.

About FindThatLead
I had a pleasure to talk to Gerard Compte, CEO and Co-Founder of FindThatLead. Gerard is a salesman, who used to work building list of prospects in a lead generation company. At that time, he was struggling with three major problems: finding the correct emails of his prospects, confirming that the found emails are correct, and high bounce rate.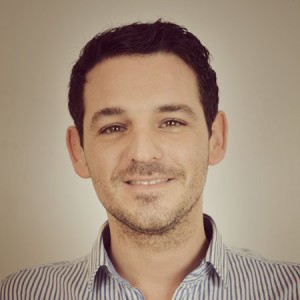 FindThatLead was designed especially for Gerard as a solution for those problems. It was an internal tools for some time before Gerard and Cristian (the current CTO) decided to make it an openly available product that helps salespeople connect with their prospects. The tool has been developed in Barcelona for a year and a half now, and it currently has over 11,000 users of the Chrome extension.
Although the app isn't very popular yet, considering the benefits it can bring its users, it's going to get popularity soon enough. It has already gained great companies as its clients including Salesforce and HubSpot. I asked Gerard 8 questions about the FindThatLead, and here are the answers.
How would you describe FindThatLead in 4-5 sentences?
Gerard: FindThatLead is a simple and affordable tool helping entrepreneurs and salespeople find email addresses while prospecting on social platforms like LinkedIn and Twitter. It involves a free Chrome extension and access to the dashboard. It uses data openly available on the web to generate emails based on the name, surname and domain of the prospect. Then, it confirms that the found email is correct, to reduce bounce rates. FTL has been created to empower online lead generation based on Predictable Revenue.
What is the greatest benefit of using FindThatLead?
G: The greatest benefit is that you can get your prospect's email with just two clicks. That broadens your prospecting perspective and creates almost unlimited contact opportunities.
We believe that if you have a quality product, it's your duty to let people know about it. We want to help entrepreneurs to find emails of their best prospective clients – and that's why we created FTL.
Inbound is great, but you need time to start off before you gain some leads from it. On the other hand, outbound marketing and sales allows you to start generating leads form day one and see results almost immediately.
What does the process of building database look with FindThatLead?
G: That's quite simple:
Install FindThatLead Chrome extension – it's free.
Go to a social network (LinkedIn or Twitter).
Look for your perfect

prospects

' profiles.
Once you're on the profile of a chosen person, click on the the Chrome extension: it'll show you name, surname and company domain fields automatically filled up for you.
Click to add them to your database and automatic search for their

email

.
Finally, when your database is ready, you can export it to an

email

sending tool like

Woodpecker

to contact your

prospects

.
After your first test search, you'll be asked to log in to FindThatLead. You can do this via LinkedIn with just one click.
Do I need any additional tools/add-ons to use FindThatLead efficiently?
G: FTL has been designed to help you collect email addresses while prospecting on social platforms like LinkedIn or Twitter, but you don't have to use those to still get email addresses of the prospects in your database. If have a list of prospects with names, surnames and company domains, you can import the list to FTL in the dashboard, and the emails will be found for you.
It's important to remember that FindThatLead, like Woodpecker, is just a tool. It is you who needs to find your ideal customers, and it is you who needs to answer the emails. The tools are made to help you in the selling process, but they won't sell for you.
What kind of information can I actually collect using FindThatLead?
G: The main function of FindThatLead is finding and confirming email addresses. But in the dashboard, you can access Twitter followers of your prospects, that is: you will see how your ideal prospects' social network looks on Twitter. You also have free WHOIS information for the prospects in your database. We're integrated with Salesforce, so you can import or export leads in and out.
How many contacts can I have per month?
G: The Large package allows you to perform up to 18,000 searches a month.
Yes, you have to be super-organized, and look for prospects reguarly on a daily basis – but that's how we built our business, and we recommend the prospect-focused search process because it actually brings new clients. We gain 80% leads for our business via outbound based on Predictable Revenue methodology.
Currently we have 43% efficiency rate, which means that for every 100 searches, 43 emails will be found on average. But we keep improving the algorithm.
How much is it?
G: In the Large package at $90/month (for maximum of 4 users) the cost of one email address search is as low as $0.01. But there are also smaller packages (at $30 and $15/month) with smaller limits, so you can find a plan appropriate for your needs, depending on the number of leads you need for your company.
See FindThatLead's full pricing >>
Is there a free trial?
G: FindThatLead operates in the freemium model. You can add the plugin to Chrome and use 10 credits (find 10 addresses) for free per week to test the tool out. You can also access the dashbord after signing up with LinkedIn.

Our experience with FindThatLead
THINGS WE LOVED
Chrome extension
The chrome extension is the root of FTL and it's very helpful if you're digging over social profiles looking for ideal prospects. It works not only on LinkedIn, but also on Twitter.
Yes, it's not always effective (as Gerard mentioned, the average efficiency of FTL is 43%), but if it generates an email address that has not been 100% proven to be right, you'll be informed about that – which allows you to decide if you want to take risk and use the email address or not.
Twitter followers tracking
That is a great feature and we haven't seen it anywhere else yet. How does it work? Basically, if you have someone's Twitter username, you can use it to see all their followers in FTLs dashboard, and you can try to collect their email with a single click.

The feature is not perfect yet, for instance it could allow the user to edit the website address imported from Twitter (like the Chrome extension does). Plus it would be great to see a bigger photo and the whole description from the profile in FTLs dashboard to decide if a follower is our prospect or not. Nonetheless, the feature is an awesome idea and it has a great potential.
Import from .CSV
If you have a contact base including names, surnames and company domains of your prospects, you can upload it to FindThatLead's dashboard for bulk collecting emails. That's a simple feature, yet it may be very useful one in some prospecting workflows.
THINGS THAT STILL CAN BE IMPROVED
User interface
FindThatLead is a young company, and as many other young companies (including Woodpecker), they still need to spend some time improving not only their technology and algorithims, but also their interface and user experience. The dashboard is quite new and it may feel a little rough, especially if you're used to complete and shiny products. But it's fully usable and functional, which definitely should be appreciated.
WHOIS information download
The WHOIS information search embedded in the dashboard would be invaluable help in finding email addresses, although we found it to fail in providing information many times. We cross-checked the same domains on WHOIS searches outside FTL, and they provided us with information that FTL was unable to show in the dashboard. Nonetheless, the feature seems useful, and it's worth improving.
Charging for a search attempt, not for a found email
The pricing seems very attractive and I know that Gerard and his team want their product to be affordable. However, you need to be aware that using FTL you'll be charged for the searching of the email address, even if it's not found. In short, if you have a base of 100 contacts and you want to find emails for all of them, it may appear that FTL will find only 43 valid addresses, but you get charged 100 credits anyway for the very process of searching the emails.
Our FindThatLead review
FindThatLead

is especially helpful if you're prospecting digging over LinkedIn and Twitter profiles.

It's designed mainly for collecting email addresses.

It has a handy Chrome extension that makes the prospecting process faster and more convenient.

The price per contact is low, nonetheless keep in mind that you'll be charged for each search attempt, not for a found valid email address.

You need to realize that FTL finds on average 43 email addresses/100 searches. Nonetheless, you will be informed which addresses on your list are 100% valid, and which aren't.

It's a young product created by a creative team at the beginning of their entrepreneurial road. The product is not polished yet, but it's going to offer some unique features which may become extremely useful in the prospecting process.
That's it for the Vol. 2 of our prospect list building tools review series. More tools and platforms for prospecting are coming soon on our blog, so stay tuned. Hope the series will help you discover tools that'll fit into your prospecting process and cold emailing needs.
See also:
The link to the article has been copied.