Last week we announced 500+ companies on board with Woodpecker. This week we'd like to introduce to you one of them. They are called Lead Pal and they are a lead generation agency who provide their clients with full service outbound lead generation as well as custom-made prospect lists. I've had a great pleasure to talk to George Fironov – the founder of Lead Pal, who told me the story of how he started his business and how he's been developing it with cold email outreach.
About Lead Pal
Lead Pal's core expertise is identifying and creating prospects based on criteria specified by you and outreaching them with highly personalized email campaigns. They are based in Wexford, Ireland with office in Kropyvnickyi, Ukraine, one of the prime destinations for outsourcing in Europe.
They've been observing over 20% reply rates in their Woodpecker campaigns. Outbound sales has been their main source of new business.
How did Lead Pal start?
George has been in sales and customer support service in various industries both in Ireland and abroad for more than 20 years, developing and implementing marketing strategies that convert prospects to customers.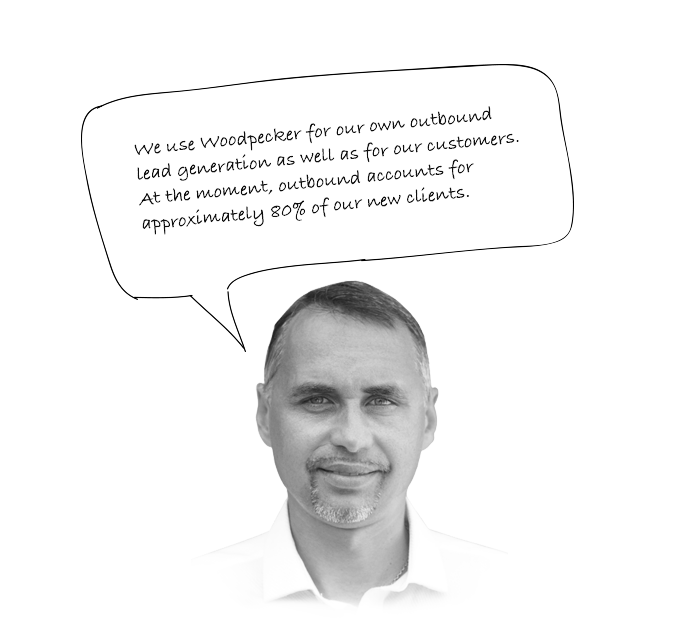 'Lead Pal started as a side project and soon after our first outbound campaign executed via Woodpecker, positive replies started coming into my inbox.' George says. 'It was in June 2016. I started to realize that outsourced B2B lead generation services delivered via the internet, has huge potential as an independent line of business.
How has your company developed since then?
'Currently, we have a team of 6 people, plus project-based engaged specialists. We use Woodpecker for our own outbound lead generation as well as for our customers. At the moment, outbound accounts for approximately 80% of our new clients.'
Who are your ideal customers?
'We target internet software houses, SaaS companies and services such as IT development studios, digital marketing agencies, B2B marketplaces,' George says, 'but we're really open-minded when it comes to new business opportunities,' he adds.
How do you get your prospect base?
Since the prospect list building is also part of the service stock Lead Pal is offering to their clients, the process has been really well-thought-out and is constantly improved.
'Our process is human-intellect driven with multiple points of data verification resulting in highly targeted leads. We are not an automated tool. The data we provide is all hand-picked, 24h old and 98% verified.' George points out. 'We are building a prospect list ONLY with the companies meeting our client's specified criteria and we look for contact details of the right decision-makers.'
What does your average cold email campaign look like?
'We usually create campaigns with 50-70prospects. We send from 3 to 5 follow-ups per campaign. We use some basic personalization like first name, last name, company name, source (found you on Linkedin, AngelList, Clutch, Conference site). Sometimes we add some more advanced custom fields, for example, we mention the prospects' latest work.'
What are your results?
Usually, we get 87% open rate, 23% overall reply rate, and 5% positive response rate – from people who are interested in talking about more details.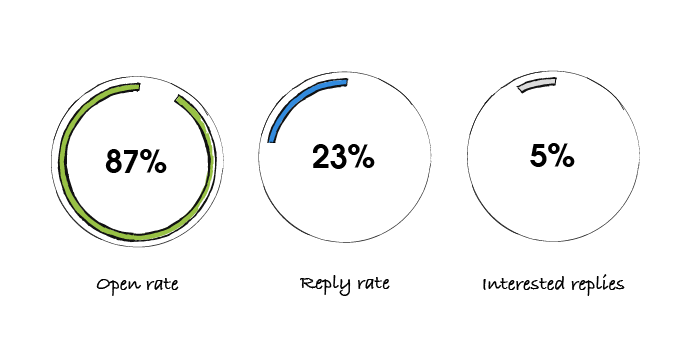 'So far, we've started 15+ valuable B2B relationships with companies who are our potential customers. We've actually closed over 10 deals from cold email campaigns sent from Woodpecker. Some of the companies became our loyal loyal returning customers,' George sums up.
What do you think is the greatest power of Woodpecker?
'Once you set up your campaign it works on autopilot. No need to lose valuable time on follow-ups. You can just concentrate on managing replies.'
To sum up, or what's in it for you?
A well-targeted prospect base and high-quality campaigns allow our users to start B2B relations and gain new clients each month. Lead Pal is an example of how you can grow a small business with outbound sales. As a lead generation agency, they help their customers get quality prospects and advise them on email campaigns.
You can also grow with Woodpecker. And if you're running a lead generation agency, you can use the Woodpecker Agency dedicated to the specific workflow of your business.
The link to the article has been copied.