I'm excited to share that Woodpecker is now natively integrated with Calendly! It's a very simple integration, but in this case little sure does go a long way.
What is Calendly?
Calendly is a widely popular appointment scheduling software. It allows your prospects to set meetings with you with a couple of clicks, avoiding the back-and-forth messages.
Integrating it with a tool like Woodpecker, you can better manage your leads in campaigns.
Since the two apps are now natively integrated, there's no need for hard coding. All you have to do is connect them in the Marketplace (you need to have the API Keys & Integrations add-on for this).
On Calendly's end, you need to be either a premium or trial user of the app to use the integration.
How Woodpecker + Calendly native integration works
How does this simple but powerful integration work?
When a prospect picks a date to meet with you, they see the time slots

adjusted to their timezone

, which makes setting appointments as easy as it gets.

Woodpecker will

automatically stop further follow-ups

for that prospect when they schedule a meeting using a Calendly link. They'll get a RESPONDED

status assigned to them.

You

see the meeting in your calendar right away.

You're never double booked.
There's no back and forth when trying to schedule a call with a prospect — and no unnecessary fuss when setting up the integration.
How to integrate Calendly with Woodpecker
Take these 5 easy steps:
2. In the app, go to Marketplace > Integrations.

3. Choose the Calendly icon.
4. Click Connect.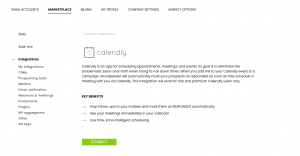 5. And confirm by clicking Connect to Calendly.
And you're done! Woodpecker will connect the Calendly account you're currently logged into.
Do you have questions about this integration? Check our Help section or shoot us a line at [email protected].
The link to the article has been copied.