Where do you get first-hand knowledge on sales and growing a business? Blogs, YouTube and various courses are probably the Top 3. And how about podcasts? They've gained huge popularity these years. No wonder, you can drive your car or train at the gym and learn new things at the same time.
I asked Vovik, the Head of Inbound Sales at Woodpecker, and Yuri, the Head of Outbound Sales, to recommend the examples of their favorite sales & business-related podcasts. Here's the list.
Inbound Success Podcast
Have you been wondering what do the most successful inbound marketers do to get great results? You can get these insights from the Inbound Success Podcast. Every week a different marketing expert shares his know-how and actionable tips to achieve success in inbound marketing.
"I started the Inbound Success Podcast to scratch my own itch. I was going to a lot of marketing conferences and attending talks by marketers who were supposedly crushing it, but finding that while those talks were inspirational, they were rarely actionable. I created the podcast to ask top-performing marketers about what they exactly did to get great results. "

Kathleen Booth
What topics are discussed?
The scope of the podcast is very broad. Among a plethora of topics, you will find advice on how to use data science to make better marketing decisions and grow your marketing ROI, tips on developing a product launch marketing plan, social media advertising, or B2B influencer marketing. And many, many more.
Who is the host?
Kathleen Booth is the VP of Marketing at Attila Security. She has extensive experience in the marketing industry. She also worked as a startup mentor teaching marketing to startup founders who were looking to raise their first round of venture capital funding.
Listen to the Inbound Success Podcast here >>
Startup Chat Podcast
This show is full of valuable insights and actionable advice based on real business cases that the hosts have faced during their careers. Everybody who owns or plans to build a startup company will find it a real mine of information (and inspiration).
What topics are discussed?
A bit of everything connected to being a startup founder: how to build a healthy business and achieve your goals, how to solve business-related problems, or tips to become an inspirational leader.
Who are the hosts?
Steli Efti is the co-founder and CEO of Close.io. He's also been working as an advisor to several startups and entrepreneurs.
Hiten Shah founded three SaaS companies: KISSmetrics, Crazy Egg, and FYI. He has hands-on experience in growing a business from scratch.
Listen to the Startup Chat Podcast here >>
How I built this?
This is a podcast about the greatest innovators, entrepreneurs, and idealists, and the stories behind the movements they built. In each episode, the founders of some of the world's best-known companies and brands talk about their triumphs, failures, and insights. In 2016 it was named the podcast of the year by iTunes.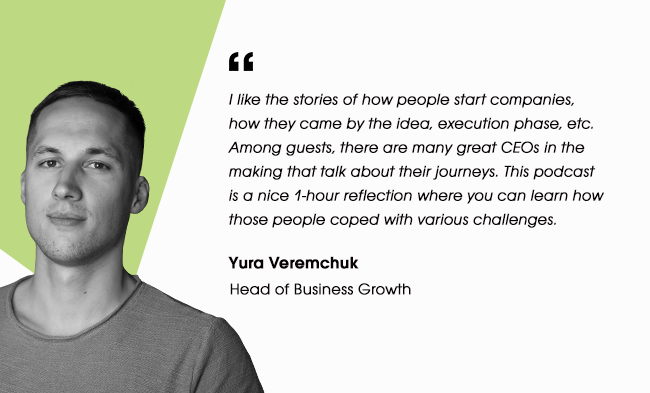 What topics are discussed?
Each episode is an interview with a different world-famous entrepreneur who shares their history of success, business viewpoints and advice for people who want to go in their footsteps and build a million-dollar company. Among the guests are the founders of Instagram, Airbnb, LinkedIn or Slack.
Who is the host?
Guy Raz is a journalist, radio host and a co-creator of three podcasts and shows. He was titled "one of the best podcasters in history" by The New York Times.
The B2B Sales Podcast
It's a bi-weekly show where Ara Escobedo & Thibaut Souyris interview thought leaders, experts and top-performers in B2B sales from various corners of the world.
What topics are discussed?
Among many interesting topics, you can learn how to run a SaaS demo online, how to find triggers in cold outreach and build rapport with prospects from around the world, how to lead a sales team or lead your career path in sales.
Who are the hosts?
Ara Escobedo has broad knowledge and experience in inside sales and enterprise sales. She's been helping US-based companies find the right customers, start a strong work relationship with them and make sure they renew their contracts.
Thibaut Souyris is the CEO & Founder of SalesLabs and works also as a sales coach. He uses his experience to train salespeople on generating more opportunities and closing deals faster.
Listen to the B2B Sales Podcast here >>
30 Minutes to President's Club Podcast
"No academia. No theory. No nonsense. 30 minutes of sales tactics you can actually use." That's the tagline you can read on 30MPC Podcast's homepage, which sums up the show perfectly. Each episode follows a similar structure – with three actionable tactics introduced at the beginning – and never exceeds 30 minutes. Subscribers also get a summary email at the end with the most important info highlighted.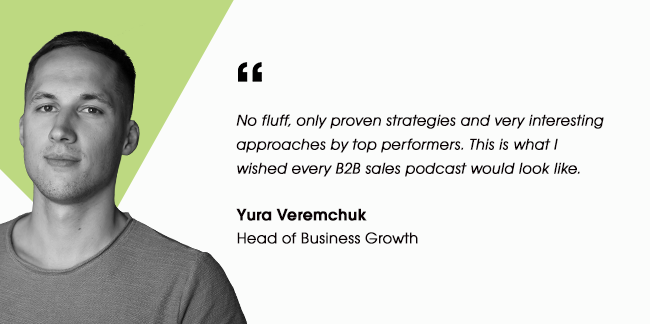 What topics are discussed?
The podcast covers a wide range of topics, such as prospecting methods, cold emailing & cold calling tactics, and selling strategy presented from two different perspectives, since each host has a different work background and experience.
Who are the hosts?
Armand Farrokh is Director of Sales at Carta. He also has experience as a startup Founder and CEO. He specializes in strategy and investments.
Nick Cegelski works as an Account Executive at SurePoint Technologies, the fastest growing legal tech firm in the U.S. He has an entrepreneurial spirit and a passion for winning.
Listen to the 30MPC Podcast here >>
The John Maxwell Leadership podcast
Want to learn about what it means to be a transformational leader who people follow? This podcast will teach you the principles, practices, and process of becoming one.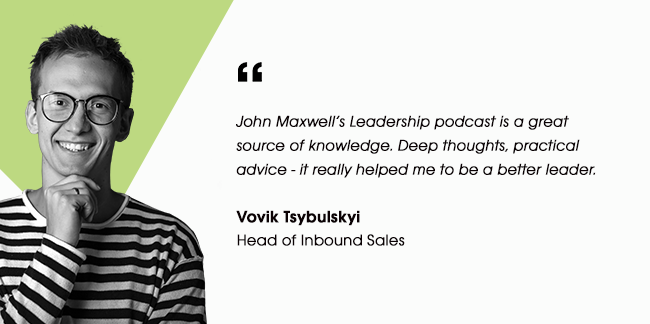 What topics are discussed?
Each episode serves a great dose of inspiration. You can learn about emotional intelligence, communicating your visions and values, or ways to better connect with your team.
Who is the host?
According to Inc. Magazine John Maxwell is #1 expert in leadership and team management. He's also a speaker, pastor and the author of The 21 Irrefutable Laws of Leadership and The 21 Indispensable Qualities of a Leader. Both books have sold in million of copies and became bestsellers in many countries across the world.
Listen to the John Maxwell Leadership podcast >>
What are your favorite sales & business podcasts?
Can you think of any podcasts worth recommending to fellow salespeople and startupers? Let us know.
The link to the article has been copied.