I've noticed that I'm more likely to respond to a cold email if I had a chance to see the sender's name or photo somewhere else before. That allows me to suppose that there's a way to boost open and reply rates of my cold email campaigns by making a warm basis for my cold emails. I've came up with a list of ways to warm up prospects' list before sending them cold emails and follow-ups. These simple actions may seriously increase your open and reply rates. Check them out, give them a try.
Twitter
Twitter is great for some warm-up action. It's not as personal as Facebook and it's a place where businesses promote their content and communicate with their customers and marketing partners. There are at least 5 actions perfect for pre-outreach warm-up activities.
Follow
This one's quite self-explanatory if you've been on Twitter. The result is that your prospect will be notified that you followed them not only in Twitter notifications, but also via email (unless they've switched off the email notifications). In other words, they can see your name and face right after you click the 'Follow' button on their profile.
Retweet
This one requires more work, because you're not supposed to tweet whatever there is on their profile. You should retweet something business-related, not a personal tweet for sure. Ideally, it should be something connected to the topic that you're going to refer to in your cold email. Just like in the case of the follow, the notification about the retweet is the point you're counting on.
Like
You can like your prospects' tweets. This is even a more subtle action than the retweet, because their tweets are not displayed on your profile, but they still get a notification that you liked their content.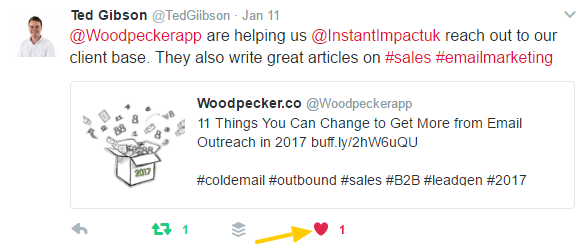 Tweet with a mention
Be careful with this one, don't overuse it. It makes sense only if you have the right context and you can write something customized. That's because many automation tools on Twitter use it, so the users learned to ignore totally generic messages including a direct mention of their username.
Add to a list
Twitter allows you to add other user's profiles to Lists. Once you do that, the user gets a notification that they've been added to your list, along with the name of the list you created – so you can get creative here, don't name the list "List#3", use the name to flatter the recipient or catch their attention, as in "Marketing Experts". Ideally, the name of the list could somehow refer to the context of the email that you're going to send later.

LinkedIn
LinkedIn is a powerful tool in sales. I know sales people who base their entire process on the platform. But using LinkedIn activities in combination with emails can be even more powerful. Here's a few ideas on the warm-up actions to perform there before launching your cold email campaign.
Visit their profile
If your prospects are active LinkedIn users, they probably have a premium account which allows them to check who has viewed their profile without limits. So first, make sure your profile on LinkedIn is complete and makes you look reliable – let them like what they see. And next, visit your prospects' profiles and let them see your name and face before you send them an email.
Like, share, or comment on their update
If you find out that they posted on LinkedIn an update related to your topic, you can like or share it, or even add a comment under it. Make sure you don't write anything worthless and generic. Be specific. Try to come up with a short commentary that will show them that you actually found something interesting in their post.
Comment on an article they've published
This is an interesting way to build up a context for your cold email intro. Read an article your prospect published on LinkedIn, and leave a comment under it. But again, avoid generic one-liners like "Great article!". Everyone can post a comment like that without reading anything more than just the title. Show them that you did read the article and that it had some impact on you. By being specific, you show them that you did your homework.
Answer their question in a group
LinkedIn groups allow you to find people with certain interests or field of expertise. If you are a member of the same groups as your prospects, you may comment on their posts in the groups. That's not the easiest way of warming up, but if you manage to perform this kind of warm-up, you may be able to start a valuable conversation with them even before you decide to move on to the email.
Invite them to Connections
Yes, I've listed this at the end of the LinkedIn warm-up activities. And I did it on purpose. I'm getting many request to add someone to my connections. I believe, however, that I'm not getting even a half of the number the "big fish" LinkedIn users are getting. I'm not accepting all of mine, so I don't suppose my prospects will accept, or even check out, all of theirs.
So yes, it is a way to show up to your prospect before you reach out to them. But if you're sending such a request, make sure you add a custom message giving them a reason to actually notice your invitation and accept it.
For me, that's a begining of direct messaging. And I'm not sure this should be done before sending your prospects your first email. But I think this may work, if only you keep the invitation message relevant and valuable. If you decide to go for that, make sure you won't actually scare your prospects off instead of attracting their attention.
Their blog posts
If your prospect has written a blog post, you can show them that you got interested in their content and that you appreciate their hard work. Because writing blog posts is a hard work. And everyone appreciates a little act of appreciation when it comes to their blog posts. 😉 Appreciation builds positive attitude, which is gold in outbound outreach.
Comment on their blog post
So the first thing you can do is obviously comment on their post. And, for the third time, don't leave them a "Great post! That's it." kind of comment. If you learned something new from the post, let them know what it was. If you have a question to one of the issues mentioned in the post, ask them the question. Just point to the part you liked the most in the post. Just be specific and use the comment to show them that you actually read their piece and that it really brought something to you.
Share the blog post on social with a direct mention on social
You can also combine the blog and social media to share their post directly from their blog. Most bloggers use plugins to enable their readers easy sharing on social. So use the plugins if they're embedded on the blog. And if they aren't, which is really rare, but sometimes does happen, you can use a Chrome extension like Buffer to make a quick share on your own, directly from their site.
The important thing in sharing blog posts via social media is that you directly mention the author in your share. This way, they'll get a notification from the social platform that you shared their content. And remember it's about them noticing you.
Write your own post and refer to theirs
This isn't something that will give you a chance to directly ping your prospects before sending them an email. But you can lay a solid foundation for your cold email introduction. Every blogger will appreciate a free backlink. So this may be the first reason for them to get interested in you and what you have to say. In cold email, it's important to give something before you expect to receive somethig in return. Mentioning their work in your own content is a good way of giving from the very beginning.
Angel
Angel List is not such a popular place for building first B2B relations as LinkedIn, but that may be just the reason you can use the platform to draw your prospects' attention. Think about it: how many invites do they get on LinkedIn? And how many invites do they get on Angel?
Follow their company
If you're prospecting on Angel List you can follow the companies who match your ideal customer profiles. This won't trigger a direct email notification, but they will see your face and name on the list of their followers.

Ask for adding to connections
Just like on LinkedIn, you can invite your prospects to join your list of connections. There is no space for customized message here, but you optionally can specify the type of your relation. Depending on their notification settings, the prospect will get an email notification about your invitation instantly, at the end of the day, or at the end of the week.
Product Hunt
Just like Angel, Product Hunt probably wouldn't be your first idea of a platform for starting B2B relations. But that may be its advantage if you aim at being noticed. What can you do on ProductHunt as a warm-up?
Follow them
On ProductHunt, you can search not only for awesome products, but also for people. Moreover, you can follow the people. Unless they haven't switched off ProductHunt notifications, they will get an email directly to their mailbox showing them your face, name and giving them a convenient way to jump directly to your ProductHunt profile.
Here's how to follow them: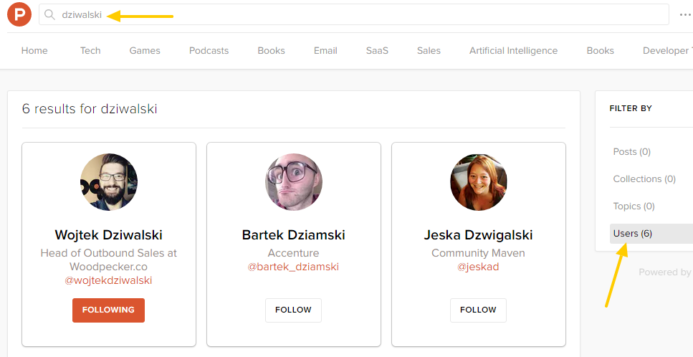 And here's what they get: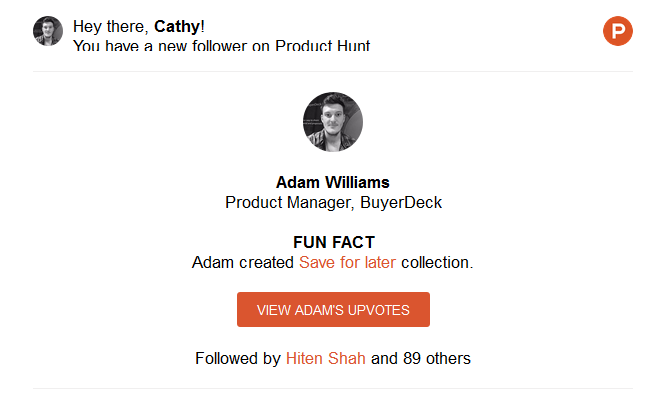 Upvote their products and add a comment or a question
If your prospect has featured their product, you can upvote it or even go further than that and post a comment or a question considering their product. Some honest interest will definitely draw their attention. Plus, they will definitely get notified about your comment, so if you ask a smart question, you can start a conversation even before jumping to email.
Facebook
Facebook seems quite a personal platform to me, but maybe that's because of the way I use it. Many companies, freelancers and influencers use Facebook for marketing and creating new business, though. So if your prospects operate on Facebook, there's no reason why you shouldn't follow them there. Here's a few ideas on pre-outreach warm-up actions on Facebook.
Like their fanpage
If they have a company fanpage, or a content fanpage where they share some business related news and ideas, you can go there and like the page. They will be notified that you did that, and they will see your name and profile photo.
Join their group and contribute to it
Facebook groups are a powerful tool to smoothly start new business relations. You can join a group your prospect set up, or is a member of to show up to them before you drop them a line. You can also ask questions and add comments to other members' posts in the group, and use that to start a conversation on Facebook before taking it over to email.
Display pre-targeting ads to them
This is not my idea. I wish it was. I found it some time ago on the karmaCRM blog and I found it absolutely brilliant and worth trying (haven't tried it yet, but I'm definitely going to soon). Here's what the action looked like in short: basically, their idea was to display ads on Facebook to a very narrow and specific audience who were their previously collected list of prospects for outbound outreach.
They've construced ads that weren't supposed to encourage the prospects to click on them, but only get familiar with the karmaCRM brand. This Facebook pre-targeting campaign brought them amazing results in the outreach campaigns (75% open rates, 21% reply rates). You can read about the details in the original post.
What's in it for you
Those simple actions, done in a smart way and at the right time, can be really powerful boost for your outreach results. I'm not saying it's a good idea to perform all of them for each of your prospects. If you did that, you would probably look a like a stalker. And you definitely don't want that to happen.
The key is to discover where your prospect group hangs out, and be there to show up to them naturally. And to take it into another level, remember to keep your social media accounts active.
I know it seems like a lot of work to do before you send your campaign. And it is indeed. But you can actually weave those action into your list building process and warm up your prospects while collecting the data you'll later use in your cold email campaign.
Hope this helps. Once you have your list collected and your prospects warmed-up, you can upload your list to Woodpecker and send them not-so-cold emails with automated follow-ups.
The link to the article has been copied.