Well-run social media accounts can boost your lead generation. This is a premise our guest writer for today argues. And rightly so, Twitter positions well in Google, so prospects who google your brand stumble on your Twitter account too, as I've written before. Then, it's powerful as a prospect warm-up method. But how to boost your lead generation organically?
Meet Ashley, an all-round marketing specialist, who contributes her business insights at Lucky Assignments and Gum Essays. She will tell you about lead generation on Twitter and creating a sales funnel for our Twitter audience.
How to Ramp Up Lead Generation on Twitter
Twitter still has an incredible reach. Even the President of the United States continues using it as means of communication with his electorate. But besides its power of making anyone accessible, it's good to have a Twitter account as a brand.
A Twitter feed can give you much more exposure, but converting that exposure to something tangible needs to be a defined strategy, with a step-by-step approach that is well-considered and executed. In short, you can't just send out the same old Tweets and expect this to work.
Here, then, is how you can actually take advantage of Twitter so that it becomes an amazing means of generating leads for your business.
Post relevant and useful content
Content is, of course, key. There are so many options when it comes to what you can include in a Tweet, from images, video, quotes, and links to hashtags and so on. Tweets with images are considerably more eye-popping than those that don't contain them (but it's important that the image is relevant and interesting.)
Have a look at the examples below to get my point: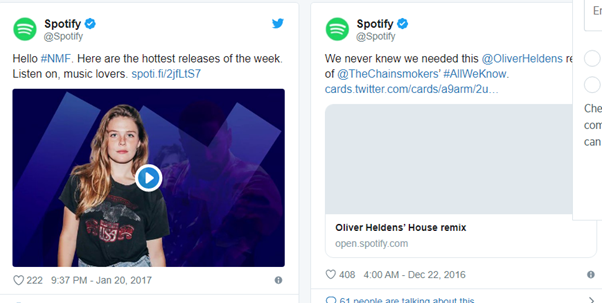 I believe that the best lead generators maintain a varied balance between all these different content types, always giving the impression of fresh content that is on point. Link it to what is trending at that time and you really have the type of content that makes a difference on Twitter.
Nevertheless, content alone is not what sells. It needs to be relevant and useful. Then, it will invite the number of clicks you wish for. I always go back to a piece of advice from Nigel DeMarco, a social media manager at LastMinuteWriting, to remind myself about the importance of relevancy and usefulness of the things I post:
What I always suggest here is keeping the Tweet on point, which means that if it is for lead generation purposes, then you need to tilt your content accordingly. Provide something impactful and ultimately useful, and in that way those all-important click-throughs can be secured
There's one thing I haven't covered yet. Your link's placement matters.
Since images work best, include one, but then you should also include a link. Be careful not to crowd your Tweet and insert ample space between the two, though. You want people to be able to distinguish the link after all.
And then don't drown it with hashtags either, because it just looks too loud and your link gets lost in the noise. The design and layout of your Tweet can be as important and influential as the content itself, so pay attention to what others are doing and remember these pointers to ensure you are delivering the best-looking Tweet possible.
I can sum up my advice this way:
Give your tweets a human side by keeping your content varied and relevant
Keep things simple, so no overcrowding with unnecessary additional links or hashtags.
Any hashtags you include need to be on the money in terms of relevance
Put a link that takes a user back to your

business

to drive lead generation
The right combination of all these factors will significantly bump up your click-through chances.
Consistency is important, how to get that?
There's an incredible amount of research on the days and times that work best for your Twitter posts, as well as the number of posts you should send per day and so on.
Sure, you could check out all of these research findings and draw your own conclusions, but like in cold emailing, you need to put yourself in the shoes of those you want to connect with. Posting consistently is more important than anything else, and if you can stay consistent with the time that you Tweet, users can start to predict when your Tweet will arrive and start thinking more about what you will say.
Automation software, such as Buffer or Social Oomph is great here because you can pre-enter a posting schedule that works to your specification. That frees you or your team members up for more productive activities.
Use a specific landing page
Your Twitter account allows you to enter a single URL, of course, and most people think their company homepage is the right address to enter here, for the obvious reason that it's there that a user can learn everything they need to know about your company.
But what then? Now they need to do something to ultimately become a lead – just visiting your site is not nearly enough. Read what Brent Davidson, a marketer at ResearchPapersUK, says about creating landing pages for the Twitter audience,
Many successful enterprises have developed specific Twitter landing pages, meaning a page that includes the precise call to action that they are looking for from their users who are engaged on Twitter. This could be sign up, for example, or a host of other actions. This forms part of your greater strategy, of course, so I cannot tell you exactly what to do here, but the point is that you may be missing a trick by not using this URL opportunity wisely, meaning you are not getting those users to do precisely what you want them to do.
Create a personalized landing page. Tag a prospect who signs up using that page and send them a personalized cold email campaign, as you would after they filled out a contact form. Then, it will be easier to push your user through a funnel and eventually, sell your offering to them.
Implement Twitter Cards
Twitter Direct Message Cards can be an effective strategy if you have already built a sizable following on Twitter. You need to be a Twitter Advertiser though, which means you need to have provided your bank card details. As you can imagine, they are great for B2B advertising in particular.
That's because with Twitter Cards you can break free from the standard 140-character messages and include calls to action directly from the Twitter feed, saving users from having to click-through onto your site or landing page first. The less the user has to do the better it is for you.
There are up to eight different Twitter Cards that you can take advantage of, and they are easy to set up too which is always a bonus.
Engage with those who engage with you
It's really important that you try to engage as much as you can with those who like and share your content, or mention it in some way. Who knows how much engagement they need to convert?
Then you have your target leads who you can seek to connect with too. This is all time-consuming stuff, of course, so prioritize the users you are looking for, but remember that engagement is very much a two-way street, and you need to give as much as you would like to receive.
Analyze your tweets' performance
This is an obvious point, but keep tabs on how your Tweets are performing by utilizing your stats on the Twitter homepage portal. Included here are engagements per Tweet (likes, shares and comments), clicks and then your cost per engagement too. Maximization and optimization are your key consideration.
Takeaway
And there it is, the steps you need to follow to start generating more leads and getting those conversions on Twitter. In many ways Twitter is the ultimate marketing took because unlike Facebook and Instagram, for example, you can start a conversation with absolutely anyone – there are no firewalls between you and anyone else (including the President).
But you need to get noticed with quality content and then engage effectively to divert users down your sales funnel. And when you've cracked it with your Twitter marketing, your business is going to be in a great place.
The link to the article has been copied.