It's been a while since our last news about a new feature, so here we go: presenting the brand new Inbox at Woodpecker.co. Read on to find out how it works, why we added it, and most importantly, what you gain using it. Plus, we've got some screens and heads up on the upcoming improvements.
Why we added the inbox
Many of our users have more than one email address connected with Woodpecker. Most of them are running more than one cold email campaign within the same email address. They are testing different versions of copy and different settings.
They needed a place which would be a kind of headquarters for reply management. A place where they could see all replies, read the replies and sort them somehow. So, Inbox is the headquarters for reply management.
What you can do in the Inbox?
See all the replies to all your campaigns, as mentioned above
Switch between all your

email addresses

connected with Woodpecker
Filter by status and change the status of each of the prospects who replied to you
Mark the prospects as interested/maybe later/not interested

–

on the basis of their reply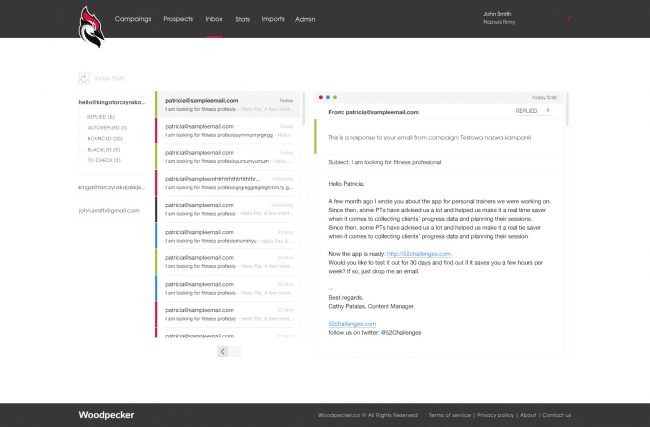 Sending from more than one email address?
If you use more than one mailbox for your cold email campaigns, you will love the inbox. As you can see in the screen above, we wanted the inbox to look very similar to the inboxes of various email clients. That's why we divided it into three columns.
In the left column on the inbox, you can see all the emails you connected with Woodpecker, and switch between them to access all replies from one place.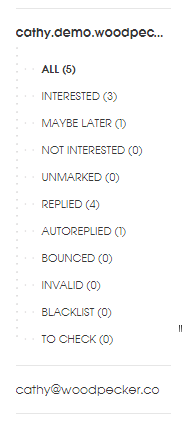 Sending several campaigns from the same address?
Upcoming update: Soon in the Inbox, you'll be able to filter by Campaign within your inbox. So for instance, if you send 4 different campaigns from [email protected], you'll be able to filter the replies so to see only the replies from, say, Campaign A.
Someone asked not to contact them again?
It's important to keep your prospect base updated. If someone requested no further contact, and you want to make sure they won't be bothered again by any person from your team, you can change their status into BLACKLIST.
Before the Inbox was available, you needed to go to Campaigns -> a chosen campaign -> Prospects to change the status manually, say from REPLIED to BLACKLIST. And now, you can change a prospect's status directly from the inbox.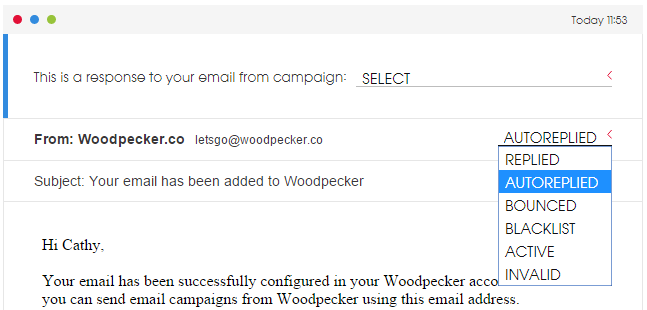 Thanks to the Inbox, you control all the statuses of the prospects who replied across all campaigns.
Wondering how many replies are positive?
The Inbox is the place where you can mark your replies as:
interested,
maybe later, or
not interested.


If you got a positive reply from a person who would like to hear more about what your have to offer, you can mark them as interested in Woodpecker.
If they told you they want to talk, but in two months from now, you can mark them as 'maybe later'.
And if they told you they don't need your solution, you can mark them as 'not interested'.

All replies are important, but we should focus on the positive ones, as that is the real number of leads we generated in the campaign.
Newest update: You can reply to a prospect right in Woodpecker.
Check the inbox & let us know your thoughts
Sign up now to check out Woodpecker and its new Inbox. We'd love to hear your opinion, as the feature is still work in progress and it's going to be improved in the nearest future. Your feedback would help us an awful lot. Let us know your thoughts!
The link to the article has been copied.