We might not like to admit it, but the truth is we're all influenced by the power of brands. The coffee we drink, the shoes we wear, the electronics we buy and a million other things are all determined by the brand names that we prefer. And there's nothing wrong with that. Brands are a kind of shorthand that tell you what you can expect when you interact with them and what kind of value they deliver.
We're used to mega-corpos investing in their brand to attract customers, but what about scaling way down, all the way to individual level? Can individual people have a brand?
A brand of one
Sure they can! And in today's marketplace for talent, branding yourself is exactly what can make you stand out from the crowd and get attention. And just as businesses invest in building their brands, there are things you can do to create and develop your brand as a top sales professional.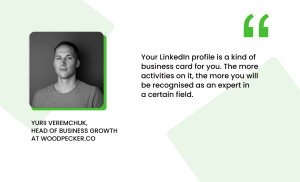 Specifically, you can use the number-one platform for sharing your accomplishments and promoting yourself as a business asset — LinkedIn. Millions of people have already discovered how to boost their profiles and make an instant impact by optimizing their activities on LinkedIn and building a personal brand there.
What do they get for it? The benefits of cultivating a personal brand on LinkedIn include:
Standing out from a crowded field

Having a degree in this or a certification in that doesn't impress anymore everyone has them. Experience is nice but, again, you're not the only one with an impressive professional history. But when you focus on personal branding on LinkedIn, you get that extra something that recruiters, HR pros and others remember. On top of your qualifications and experience, you show that you're willing to go the extra mile to be the best you can be.
Instant trust and credibility

I will cover all the little extra things you can do on your LinkedIn page in a minute but for now it's enough to point out that a detailed LinkedIn profile full of content, comments and connections is more impressive than a profile with a simple work history. Filling out your LinkedIn page gives visitors a chance to follow what you've done professionally, and the more you share, the more impressive it is. When you're using your LinkedIn profile to support your personal brand, you build trust and credibility with people you haven't even met yet.

Opportunities

Following on from the previous point, when your LinkedIn page comes up in any conversation about job opportunities, you're already ahead of the crowd. You've already made a good impression on decision-makers, who always want the best talent for their team. Investing in your personal branding on LinkedIn is investing in your financial future.
Personal branding is essential for high-level success in any industry but especially in sales, where extra effort, outgoing personalities and attention to detail are musts.
So what do you need to do to transform your LinkedIn profile into a personal brand machine? Let's go through the basics.
Optimize your profile
LinkedIn profiles mostly follow a set template and there's not a lot of room for customization but there are still a few things that you can change for the better. Here's a list of things to check to make sure the basics of your LinkedIn profile are ready to support your personal branding.
A professional profile pic

This is no place for a vacation photo or a close-up of your cat. Get a proper, professionally-made profile pic for your LinkedIn profile. Absolutely no compromising on this one. Oh, and smile for the camera!

A good headline/title

There's no one magic template to follow here, but there are lots of ways to disappoint. Don't be a "Sales Professional", be a "Sales Leader". Remember that this doesn't have to be your position in a company, but more about who you are. It's also a good place to use keywords in job descriptions.

A compelling, flattering (and short) summary

This is your chance to attach some energy to your name and include your greatest skills and what you can bring to a sales team. Resist the temptation to write your life story here — two paragraphs is enough.

Work history

Everything that comes before this is about getting attention but this is where the real substance of your profile is. Take the reader on a journey starting with your current or most recent job on the professional path that got you here. Emphasize accomplishments, development and responsibility.

Skill & endorsements

This section is unlikely to make or break you, but more is always better. Choose from the options provided by LinkedIn for skills and be sure you have at least some endorsements. How does it look if a sales pro has no one endorsing them after years in the job?
Expand your network
LinkedIn is more than just your combined digital business card and CV. It's a platform for networking and connecting with other business professionals. If Facebook is for your personal life, LinkedIn is for the people you meet in your professional life. On LinkedIn, expanding your network can be done for selfish reasons, like getting more job or business opportunities, but simply reaching out to be a better professional can be very rewarding too.
The bigger your network, the stronger your personal brand will be, especially if you also have a high level of interaction with your contacts (more on that soon). Here are some tips on building, keeping and benefiting from your LinkedIn network.
Stay engaged with your network

Making the connection is just the start, you can stay engaged by reacting to their posts with likes or comments and mentioning other contacts and their content when appropriate.
Join groups focused on your industry

This is a no-brainer for lots of reasons. After all, this is your natural audience. Also, still using the example of sales, be sure to follow groups focused on sales and the industry you work in. Sales is sales but the different industries that have sales pros, from automobiles to houses to IT, have their own groups too. This is a great chance to keep your finger on the pulse of what's going on in your field and keep you up to date.

Take part in online events

LinkedIn is an increasingly popular forum for webinars and other online meetings. Joining them is not only great for networking but for your professional development and branding as well.

You're never done with your contact list

There is no point where you have 'enough' contacts on LinkedIn. You can remove old, inactive ones but there will always be new contacts to make.

Don't just connect with anyone

Just because you find someone who is willing to connect doesn't mean you're a good fit. Try to keep your contacts consistent with your industry, interests and goals. Contacts outside of your field — sales, for example — are unlikely to follow and engage with content that you share.
Create and share content
Building your personal brand on LinkedIn means regularly adding content to your page. Your thoughts on industry trends, tips on how to be a better salesperson, something interesting from your recent professional life – there's a long list of subjects that can serve as a good addition to your profile.
Creating content shows that you not only have something to share, but you want to help improve others in your network by making them better pros at whatever they do. Content is key for creating a personal brand on LinkedIn — it's a great chance to stand up in the virtual arena and say "Look at me!" while offering advice or your take on the issues of the day.
Post consistently

You don't have to keep a regular schedule and it's ok if there are sometimes longer intervals between posts but always be working on your next one. What kind of impression does it give when someone notices you haven't shared anything in three years?

Be authentic

Sure, you can talk about your successes but everyone in business has their ups and downs. Talking about those 'downs' and sharing bad experiences helps you come across as more authentic, more human and more believable. Humble people learn from mistakes and we like people who have the self-confidence to share more than just news about their achievements.

Create content that engages your ideal customer profile

Don't forget about the SEO value of your LinkedIn profile. Addressing common pain points in your posts can bring unexpected traffic in your direction and set you up as just the expert that a company should hire to help them solve a problem.
Repost material that can help others

Try to create original content as much as possible but there's nothing wrong with reposting something that can be useful to your network along with your own thoughts.

Go beyond the simple written word

LinkedIn makes it easy to add multimedia elements to your profile, so mix things up from time to time with a video, infographic or image.

Join & add to conversations

Participate in discussions that appear in your feed, and in groups that you belong to. Share your expertise and opinions while respecting others' perspectives. Always respond to comments and questions placed on content in your own feed, even if it's a simple "Thank you".
Ask for and give recommendations
Social proof works and even the toughest recruiter will be impressed by both the quality and quantity of your recommendations. Extend and deepen your network while enhancing your own personal brand on LinkedIn by cultivating recommendations.
Give recommendations

Offer recommendations to your connections when you genuinely appreciate their work. It helps build goodwill and may encourage them to reciprocate.

Ask for recommendations

Request recommendations from colleagues, clients, or supervisors who will vouch for your skills and expertise. Be specific in your request to receive personalized and meaningful recommendations.

Highlight the best recommendations

Let's be honest, some recommendations are better than others and some have more impressive sources than others. If you have a really convincing recommendation or one from a "wow" source, be sure to highlight it on your profile.
Be active in professional groups
No one is saying that you have to join all ten million sales-oriented groups on LinkedIn. Pick a few that look good to you and focus on those.
Participate, don't just be a stalker

Watching everyone else start conversations is the easy way out but you want to be a leader. Be the one to initiate conversations and engage with others in the group in a positive way.

Volunteer where you can

People are always asking for help or advice. Put yourself forward and offer that help or advice if it's aligned with your expertise.

List group memberships on your profile

Choose the top three professional groups where you have a footprint and list them on your profile.
Over to you
LinkedIn presents tons of opportunities for individuals looking to establish or strengthen their personal brand. By optimizing your profile, expanding your network, sharing valuable content, seeking recommendations, and engaging in thoughtful networking, you can establish yourself as a thought leader and expand your professional influence. Embrace the power of LinkedIn to unlock new career opportunities, establish credibility, and enhance your personal brand in the digital landscape. Start leveraging this powerful platform today, and watch your personal brand do the talking for you.
The link to the article has been copied.