In 2021, we're still using webinars to connect with our prospects. They're an economical and scalable way of filling our pipelines with fresh leads. You've probably hosted several ones yourself and fell in love with this format.
You may be wondering how to squeeze even more juice from your online events. Even if you provide excellent value for your participants, you need to do webinar marketing to gather a decent audience. All in all, your prospects need to know that you're holding an online event.
If you're not satisfied with the ROI of promoting webinars with PPC campaigns or organic social media activity, joint ventures may be an excellent alternative. With higher conversion rates at zero or minimal cost, they are a great webinar promotion hack for 2021.
In this article, I explain why joint ventures are more effective than standard event promotion techniques and how to promote a webinar step by step using them. Let's dive deep!
Higher conversion at lower cost
We talked about webinar promotion with Jon Schumacher, a webinar expert for the B2B sector (watch the full talk here). His experience proves what we've suspected long before: PPC campaigns are not as effective for promoting webinars as they used to be.
Even if you achieve a high number of registrations, says Jon, these people are likely not to show up. Especially if you target those that don't know your brand yet—they treat your webinar as another freebie and eventually don't join. As a result, the attendance rate may be as low as 15%.
Joint ventures can be an effective alternative way of promoting webinars. By a joint venture I mean inviting another company or influencer to join your online event as a co-host or guest. But not any company or influencer: these should be the ones that already have your prospects within their community. When promoting your joint event, you're using their marketing channels to reach exactly the people you're looking for.
Including a joint venture in your webinar marketing plan is a great way of gathering a high-quality audience without spending money on paid ads. As these people are connected to the company you're collaborating with, the attendance rates for this webinar promotion method are much higher. Jon talks about even 30-40% compared to 15% from PPC.
How to find a webinar joint venture partner
You can use several methods to find the right joint venture partner. If you have a diversified professional network, you're likely to find them among the people you know. If the topic of your event is highly specific, you may need to do cold outreach. In both cases, you'll need to pitch your event idea and give the potential partner a reason to accept your proposal.
Here's how to establish a joint venture for your webinar marketing plan, step by step.
Step #1: Identify potential partners
Before you send a cold email to your potential webinar partners, you need to do a bit of thinking.
Start with your prospects. What kind of information are they looking for? What insights would be interesting for them? What would bring additional value to them?
Once you answer these questions, think about the characteristics of the companies or influencers you could partner with. Who can provide your prospects with these insights? What industry should they come from? Should it be an SME or a corporation? What should they specialize in?
With this specification, you may start looking for potential partners. Just like in sales prospecting, it's important to limit your search to these requirements—otherwise, you'll end up wasting your time on contacting irrelevant people. Remember that a joint venture is not only a webinar marketing tool. Your partner is meant to complement your event content with relevant insights.
Start with the companies from your professional network. These may be your business partners, contractors or clients. It may help you maintain a good relationship with them as they'll feel appreciated if you invite them to join your event as experts. If you run a B2B business, you may also engage your leads and warm them up as a side effect.
If you don't have any matches around you, talk to your colleagues. You may be surprised what people they have in their networks. To make it faster, look in their LinkedIn networks.
If these methods don't work for you, go beyond the companies you know. Look for them using Google, LinkedIn, Quora, or aggregating platforms. For example, if you're looking for a software agency, use Clutch. For SaaS providers, try Capterra. When looking for marketing insights, go to Inbound.org. There are many other places where you can find your partners. Go to this blog post for more ready-made search ideas.
Remember to look up your potential partners on LinkedIn or other social media. Chances are that someone from your company will be able to introduce you to them. In such a context, it'll be much easier for you to convince them to join you.
Step #2: Find their data
Once you have a spreadsheet with potential webinar promotion partners, fill it with their data. Why bother? Because you'll probably need to contact more than one person. The chances are higher if you reach out to someone you know, but they may still be unavailable on the given date or don't feel secure enough to talk about your topic.
For your personal connections, you'll only need their first names and emails. You probably have them. If not, try to find them on the web. You may be connected on social media and thus don't have their email addresses, but I highly recommend getting them (e.g. by asking them to give it to you because you have something really cool to forward to them). If you use social media to contact them, you won't be able to measure your efforts. Moreover, tracking responses on various platforms usually leads to chaos.
If you decide to reach out to someone you don't know, you should have the find the following data:
email,

first name,

last name,

company name,

domain.
That's the basic cold emailing set, but your research may require more fields. Also, it's recommended to add a column for a personalization field. Cold outreach is more effective when your messages are personalized, i.e. when they refer to something specific about your recipient (their achievements, professional experience, publications, etc.).
Finding email addresses this way may be difficult, but don't get discouraged. There are tools for extracting hidden email addresses from websites and social media. We've gathered them for you in this article.
Step #3: Write a persuasive email
When you know whom you'll reach out to, there comes the moment to write good email copy. And in this case good means converting. In the context of joint ventures for webinar promotion, a good email will convince the recipient to start a partnership with you.
If you know your recipient personally, you probably know how to communicate with them. Do they prefer small talk or getting straight to the point? Do they need a detailed plan of your webinar promotion or just the general idea behind it? Will they join your event for fun or to take advantage of your communication channels? Remember to adjust your message to their communication style.
If you do cold outreach, remember that poor copy may ruin your campaign. Writing good cold emails requires practice, but you can avoid a false start if you keep several rules in mind. First of all, always think about the receiver. Give them a reason to accept your proposal. Instead of saying that you need their channels for promoting webinars, show them the benefits. You wouldn't waste your time on any joint venture without getting anything in exchange, would you?
The easiest argument you could use is additional promotion for your partner in your channels. You may refer to your social media or web stats if they're appealing. Similarly, you may mention that your target audiences coincide, so your partner will get more visibility among their prospects or, if that's not the case, that they'll reach new target groups. If you're a tech company, you may mention that the joint venture will help your partner build an image of an innovative business. If you have strong personal brands within your team, you can mention getting access to their networks. There are many other benefits you can describe to the potential partner. Get creative on that!
Remember to avoid a salesy tone. Professionals receive plenty of sales messages and are simply tired of them. Instead, start a natural conversation without stating your request out right. Wait until you catch their attention.
With this attitude, write a short, specific and personalized email. Remember that every small piece of your message matters. Here, you can find our tips for writing subject lines, email openings and email copy in general.
Step #4: Automate your email campaign
Once everything's ready, you can send your messages to potential partners. As I mentioned before, I recommend using email in order to track your results and avoid getting lost in replies spread over social media and other platforms.
Surely, you can send a few emails to your personal connections manually. But if your spreadsheet has mainly people from outside of your network, automated software will be a better choice. Without it, you'll drown in the sea of replies and follow-ups. With automation, you can rest assured that you'll send your emails to all the contacts from your spreadsheet and follow them up accordingly.
Setting up an automated email campaign is really simple. In Woodpecker, it looks like this:
1. Connect your email account to Woodpecker. It may be a Gmail, Microsoft or any other account. The system will ask you to set your "from" name and email signature.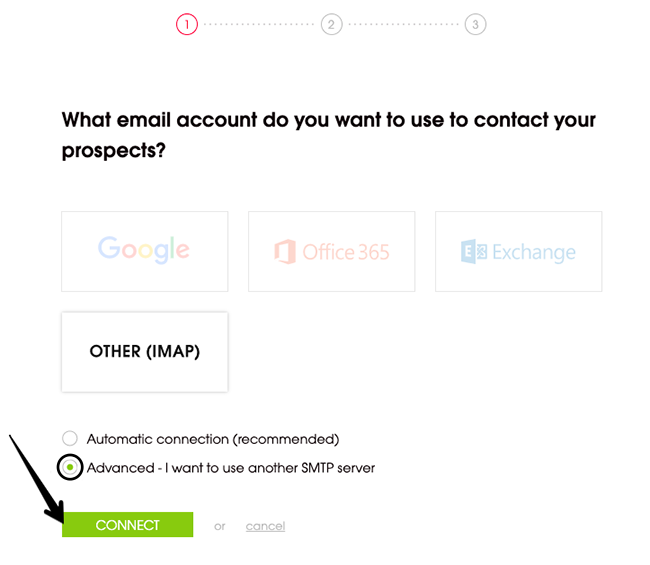 2. Design your email path: a sequence consisting of an opener and up to seven follow-ups.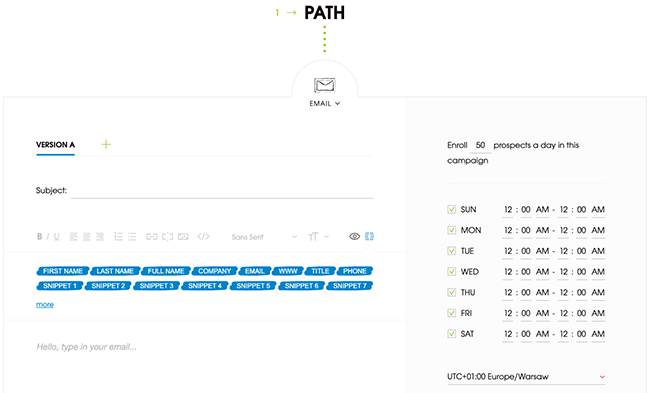 They may be conditional, i.e. vary depending on the conditions defined by you beforehand. That's the step where you write your email copy.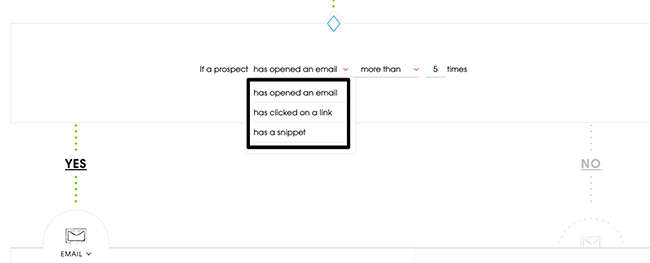 3. Set up daily limits (how many prospects will receive your messages each day) and delivery hours. Surely, you can define the time gap between the opener and follow-ups.
4. Import prospects. You may add your prospects' data in four ways:
manually,

from a .csv, .xls or .xlsx file,

using the integration with Google Sheets

from database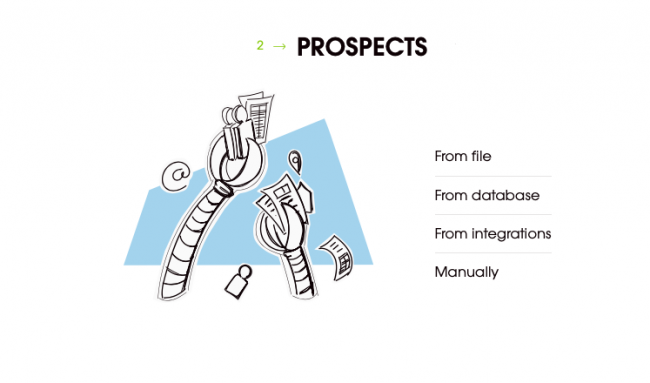 5. Send your campaign and monitor results.
Quick recap on how to market webinars with joint ventures
Adding a joint venture to your webinar marketing plan is likely to pay off. This webinar promotion method generates much better results than PPC campaigns, with minimal or zero budget.
To make it successful, always start with the needs of your event participants. Your webinar marketing partner should always bring extra value for them because otherwise their presence is redundant.
Based on this requirement, prepare a spreadsheet with the contact details of potential partners and plan your webinar marketing outreach.
Once you have the plan, write persuasive, recipient-oriented email copy and, if you need to do cold outreach, set up your campaign. Use specialized email automation for that: without it, your webinar marketing outreach will take plenty of time in exchange for poor results. Finally, send the emails.
If you follow my guidelines, you're bound to find valuable webinar marketing partners and grow your event audience.
The link to the article has been copied.