Still looking for an optimal solution for building your list of prospects? This is the first part of the series including a review of tools and platforms that help in collecting prospects for your B2B cold email outreach. Read on to learn what you'll be able to learn in the series and check out the first tool: SellHack.
Introduction to the series
Woodpecker users often ask us about tools for building their lists of prospects. In order to send cold emails that work, you need a well-targeted prospect list. And you constantly need fresh contacts. Creating a contact list rich in valuable information always takes time. But thanks to tools available nowadays, it may take you considerably less time than it used to.
We've been testing various tools during our own process of prospecting, and we thought we could share our experience with you to provide you with some stepping stones on the way to find a tool that will be appropriate for your own cold emailing system.
Here's our plan for the review series:
firstly

, we'll present various tools in separate blog posts. Each of the posts will include a description of the tool's features based on an interview with its founders, as well as the description of our experience with the tool.

secondly

, we'll prepare a collection of the tools and platforms, so you'll have a full review of numerous solutions.
***
We're starting right away with the first tool we've been testing for months now – SellHack.

About SellHack
We've interviewed Ryan O'Donnell, Co-founder of SellHack, growth marketer obsessed with helping sales professionals and business owners prospect better and faster. Sales and Business Development guy by trade, Ryan accidentally launched SellHack in 2014 and quickly got attention from LinkedIn (which was quickly resolved) and 10,000 users on day 1.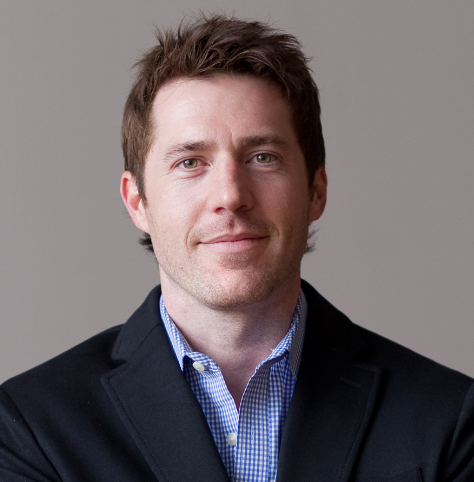 We asked Ryan 8 questions about the platform, because no one knows a piece of software better than its creators. You may have heard of SellHack, but it's definitely worth a closer acquaintance, if you haven't decided for that yet.
How would you describe SellHack in 4-5 sentences?
Ryan: SellHack is a platform built for business owners and sales professionals to automate their prospect list building so they can spend more time closing deals and less time formatting excel documents.
Sales teams looking to create predictable revenue know the importance of automating the most time consuming tasks. With SellHack, you can easily find leads, build lists and verify emails to ensure that you have fresh, targeted contacts in your email sequences.
What is the greatest benefit of using SellHack?
R: Leverage. If you are reading this, you probably understand the impact cold email has on outbound sales development and pipeline growth. The more emails you send, the more opportunities you create. The best way to consistently send more targeted emails is to systemize your prospect list-building with technology like SellHack.
What does the process of building database look with SellHack?
R: Building lists and validating contact info is what we do best.
Determine the search criteria to find your prospects. (i.e. title, location, industry, company size). If this is your first time, start by looking at the characteristics of your existing customers.

Use these search parameters to find your prospects on a site like LinkedIn or directly on SellHack.com

On the search results page, click the SellHack browser extension and select which prospects to add to your list.

Export your list directly to SalesForce or download a .CSV file to import into

Woodpecker

.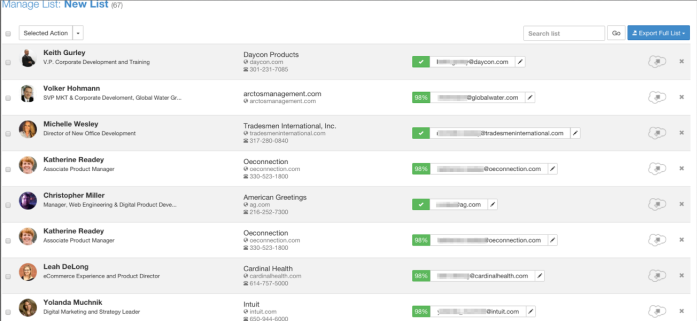 Do I need any additional tools/add-ons to use SellHack efficiently?
R: There are no additional tools/add-ons you need to use SellHack. A lot of our clients use LinkedIn Premium, which we suggest for anyone looking to get serious about the prospecting and lead generation. Going cheap and trying to save a few bucks manually doing what technology can automate is classic mistake most of us make (before we learn better).
What kind of information can I actually collect using SellHack?
R: All of the data collected is publicly available, but often difficult and time consuming to find. Data points include First name, Last name, Email, Phone number, Job title, Company, Social profile links, Address, and Industry.
How many contacts can I have per month?
R: As many as you need. There is no limit to the amount of contacts per month and we have plans built for any size business from the solo-founder to the large enterprise with sales teams on 7 continents.
How much is it?
R: Depending on your plan level, you can expect to pay between $0.14 – $0.20 per found email. Compared to doing this on your own, SellHack validates contact information in 2-5 seconds compared to 2-5 minutes. The efficiency gained with a tool like SellHack translates to more time freed up to focus on your pipeline.
See SellHack's pricing >>
Is there a free trial?
R: You can start a free trial of the Elite Plugin to check out the process for yourself. To start, just fill out the form on SellHack.com or contact [email protected].
Our experience with SellHack
Things we loved
Awesome support
Ryan is a great guy and knows the list building processes very well. He helped us a lot by sharing his knowledge about prospecting and insights into his list building workflow. The set of features is important, but while choosing the tool to work with it's also important to make sure there are people behind the tool who are willing to help you use it to the fullest in order to achieve your business goals. Using SellHack, we've been getting all the support we need and more. That's a huge plus.
Compatibility with LinkedIn Premium
When we started using SellHack in addition to LinkedIn Premium, our prospecting process became much more efficient. Linkedin Premium gives you great filters for targeting your ideal customer groups. You can limit your search to a specified group of prospects to make your outreach more relevant, and thus – get more replies from interested prospects.
SellHack empowers you in your prospecting efforts and allows you to collect the data you need faster, without copying and pasting each piece of information into a spreadsheet. From our perspective, if one decides to use SellHack, LinkedIn Premium is a must.
Convenient browser extension
The browser extension significantly speeds up the process of saving your prospects' data. Say, you specified your target group and you see a list of targeted 10 contacts per page. If you decide all of them are a fit for your cold email campaign, you can use the extension to save all the contacts from the page to your contact list. In other words, instead of clicking 10 times per site, you click just once. Plus, you'll be automatically redirected to the next page with another 10 prospects.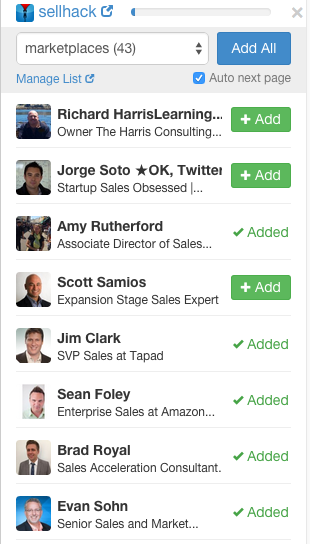 Of course, this process does not require you to go to each of the prospects' profiles one by one, so you won't check out each of the prospects individually. This is something you have to keep in mind: this process will take far less time, but you can miss some details and you won't be able to fully personalize your messages if you're collecting your database this way.
If you're looking for a higher level of personalization, you'll need to add some snippets after gathering the basic information from LinkedIn like first and last name, company, title, etc.
See the 3 Steps to Highly Personalized Cold Emails >>
Things that still can be improved
Email address validation
SellHack gives you information on "to what extent the found email address has been proven to be valid". Some of the email addresses will be marked in orange, and that means there's 40-60% chance they are valid emails. That's a good thing, because you see which addresses are certainly correct and which are not necessarily correct.
But this is what you can only find out after you've decided you want to add chosen prospects to your list. So let's say, you decide you're adding 10 prospects to your list. By adding them, you use 10 credits. And next, it may be the case that 3 of 10 prospects are marked in orange – that is you have 40-60% chance your email will actually reach those prospects. But you already have paid for the all the 10 contacts to be found.
So that may not be a perfect fit solution for you, if you stick to the rule that you send your emails only to addresses that are 100% proven to be valid.
Prospect's current job title
LinkedIn search has its drawbacks. And it would be great if SellHack allowed us to overcome the drawbacks. For instance, some people have two or more current positions declared in their LinkedIn profiles. Let's say there is a John Smith, who is currently:
Advisor at Company A, Co-Founder at Company B, CEO & Co-founder at Company C
In other words, he's one busy man. 😉
Currently SellHack will automatically assign the first company listed in prospect's LinkedIn profile to their profile in your database. In such a case, it would be great to be able to choose which company we want to refer to in our email. So let's say, if I want to address my email to John Smith, CEO & Co-founder at Company C, I can choose the company as the one I want to refer to before adding John Smith to my list.
That's just a suggestion for SellHack, though. I'm not sure how difficult that would be in technical terms, but that's a feature we would love to see in SellHack.
To sum up
SellHack

is especially helpful if you're already prospecting using LinkedIn Premium.

It's a platform that allows you to save lots of time building your list of prospects including basic info like name, title, company, website, country.

It has a handy browser extension that makes the prospecting process convenient.

The price per contact is reasonable.


You need to realize that not all of the addresses will by 100% proven to be valid (but none of the available solutions actually offers that due to technical characteristics of the validation process). You will be informed, however, which addresses on your list are 100% valid, and which may not be.

And last but not least, it's been created by a team who know their job very well and are willing to share their knowledge and help their customers – which is extremely important from our point of view.
That's it for the Vol. 1 of our review series. Prepare to see more tools and platforms for prospecting on our blog in the nearest future. Hope the series will help you define a set of tools that fits into your prospecting process and cold emailing needs.
See also:
The link to the article has been copied.