And here's another part of our Prospect List Building Tools Review series. This time we've got a big fish. Pioneers in the field, present on the market since 2014, coming from the US and focusing on quality data for years – LeadFuze. It was a real honor for me to talk to Justin McGill, founder and CEO of LeadFuze, and I'm glad he accepted the invitation to our series of reviews. Read his answers to my questions below and see what I've found about the prospecting tool he's built together with his team.
About LeadFuze
LeadFuze was founded in Glendale, Arizona in 2014. That was a year before we founded Woodpecker. From the very beginning, Justin McGill, founder and CEO of LeadFuze, together with his team, has been providing their users and their blog readers with top-notch articles about prospecting, cold emailing, and sales. I'm a proud student of their content myself, which may be proven by the fact that some of the early articles on this blog refer to great resources from LeadFuze.
Over the years, LeadFuze has been offering a whole range of services in the field of lead generation. Lately, they decided to go back to their roots and focus solely on providing the best data for leads.
I asked Justin eight questions about the prospecting software he's been developing for years. You'll find his answers below. My team and I also gave a spin to LeadFuze and I'm sharing our impressions in the second part of this post. Please meet Justin McGill and LeadFuze.
How would you describe LeadFuze in 4-5 sentences?
Justin: LeadFuze aggregates the world's professional data to continue to deliver the freshest leads to you. Find anyone's contact information in your target market with unlimited access and get entire lead lists built for you. Then automatically send that data to tools in your workflow to automate email outreach, LinkedIn tasks (send connection requests and messages), perform direct mail, and more.
What is the greatest benefit of using LeadFuze?
J: The time savings of finding ideal leads in your target market. You can add thousands of leads instantly with all their contact information.
How does the process of building database look like with LeadFuze?
J: So you can filter based on industry, role, location, size, technologies used, their monthly Adwords budget, whether the companies are hiring, any company news and even keywords. LeadFuze then returns those results that match. You can then assign Fuzebot to a list to automatically add new NEW leads that LeadFuze adds to its database so you don't have to run those searches manually in the future.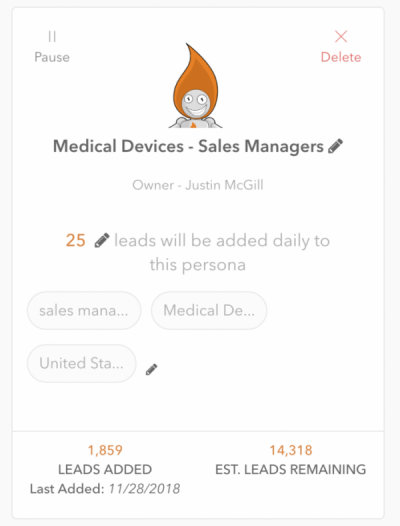 Do I need any additional tools/add-ons to use LeadFuze efficiently?
J: No other tools are necessary. You can integrate tools like your CRM or even Woodpecker (coming soon) to automate your email outreach.
What kind of information can I actually collect using LeadFuze?
J: Email, name, surname, title, company name, website, social media profiles – all those 🙂 Additionally things like education, degrees, skills, interests, and more – all come with it. You can export data at any time.
How many contacts can I have per month?
J: We have our "Solo" plan that gives you 500 leads per month and we have a "Team" plan that includes two users and has unlimited lead credits (it's an annual plan, but you're able to pay in monthly installments).
How much is it?
J: The Solo plan is $97/mo and the Team plan includes 2 users and is priced at $297/mo (with the 12 month commitment). Additional users are $49/mo. You'll find more details at the pricing page.
Is there a free trial?
J: Absolutely. You can visit leadfuze.com/start and there are 25 free lead credits.
Our experience with LeadFuze
THINGS WE LOVED
Information galore!
The years of work put in the development of LeadFuze can be spotted right away when you first enter the search panel. This is, by far, the most advanced lead data search tool I've seen. The database is not only huge but, what's most important, well-segregated. Even if I defined quite specific criteria, the tool was able to offer me from a few hundred to a few thousand of contacts to browse through. That really feels like a super-power when you're in the outbound process.
Advanced search criteria
In the 'Market based' search, you get a ton of tags that make the search easier. You can remove some keywords if you know in advance that you won't be interested in some kind of contacts. For instance, if you're not interested in some specific branches you may get rid of some search tags.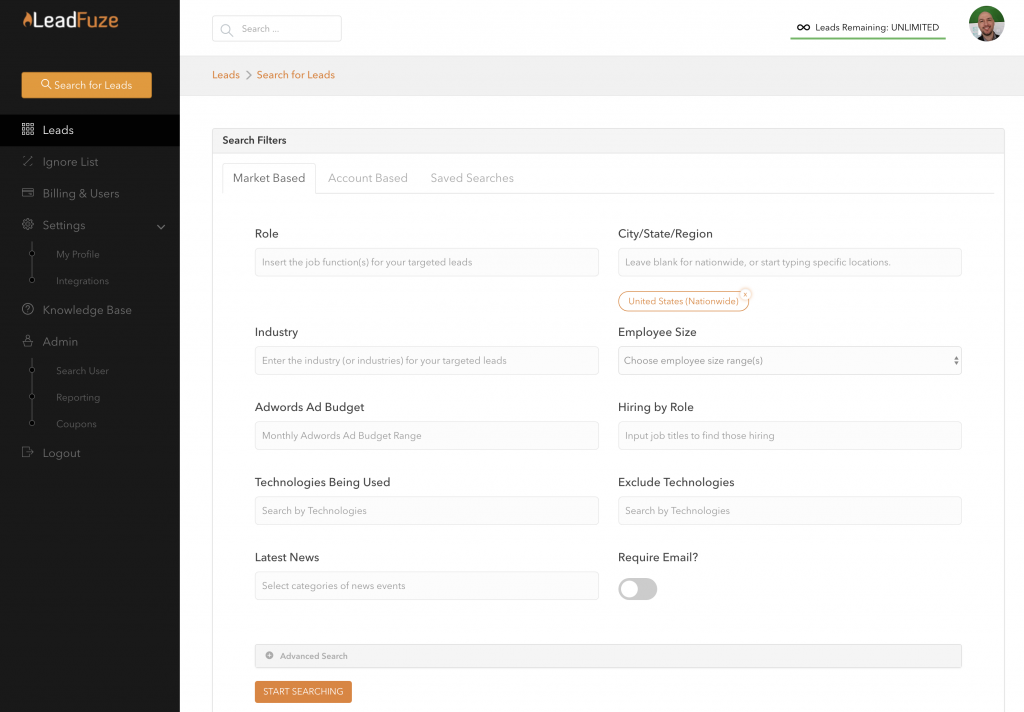 Moreover, you can add some so-called negative search criteria, which allows you to specifically exclude some types of contacts from your search. On top of that, you can add some specific keywords you want your prospects to have, or not have included in their profiles.
You can search by technology companies use. You can segregate by the budget companies spend on paid advertising.
All these options make the tool flexible and adjustable to your prospecting process. You can easily sieve the information at the very moment of browsing through the database.
The 'Ignore list'
I love the ignore list feature because it protects you from collecting the contacts from companies you've already contacted or, for some reason, don't want to contact. For instance, if I was looking for contacts for our Woodpecker outbound campaigns, I could put the domains of my present customers on the 'Ignore list' to make sure LeadFuze won't display their contacts in my search. I feel secure, plus I know I won't waste my credits on acquiring data I already have and wouldn't like to use anyway.
Remaining leads roll over into the next month
If you don't use all of your credits, the remaining credits will be added to the pool for the next month. You never lose any leads you paid for. That's simple and fair and we love this simple and fair approach.
THINGS THAT STILL COULD BE IMPROVED
Lack of data from countries other than the USA
LeadFuze provides its users with a great number of contacts, but only from the US. If your goal is to start business relations in the States – LeadFuze is definitely the app to go for. But if you want to connect with businesses from other countries or continents, you won't find what you're looking for. I'm sure there's a conscious decision behind this limitation, and it totally makes sense to focus on data from just one country, considering the data quality perspective. Nonetheless, it's a limitation for those who aim at expanding their business in other directions.
Tags management in search criteria (UX)
I had this little problem when I was playing with the search criteria. I've chosen 'Sales roles' in the Role criterium first and I got a predefined set of over a dozen suggested tags added to my search – that was great! No need to think about what else to put in there. But then, once I changed my mind and wanted to switch from 'Sales role' to 'Marketing role' the tags predefined for Marketing role were automatically added to the previously displayed tags for 'Sales role'.
So at that moment, I had a whole bunch of tags from two different roles, and to remove some of them, I had to click on each of the tags one by one. In short, I could add search tags in bulk, which was great! But I couldn't seem to find an option to clear/remove the tags in bulk in case I changed my mind. Removing the tags one by one was a little frustrating.
Drop-down usability
That's a really little thing and I'm carping here, but I decided to mention it because it would make my life easier while navigating through the great search panel. It would be lovely if I could use arrows on my keyboard to go up and down the drop-downs with suggestions when I start typing in a search field.
To sum up:
LeadFuze is one of the pioneers on the prospecting tools market. They've invested a lot of time and effort into their database and software which translates into quality.
In addition to tons of well-segregated data, it provides a lot of advanced search options, which allow you to create high-quality lists of prospects.
You can use 'Market search' to browse prospects meeting certain criteria, or use 'Account based search' to upload a list of names/company names/company domains to get their contact details.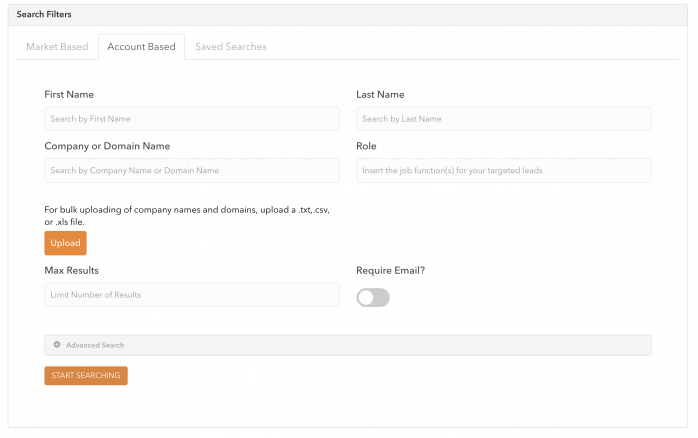 You can create a list of company names, domains, and email addresses that you want to automatically exclude from your search results.
LeadFuze provides contacts to companies exclusively from the US.
There's a 7-day free trial during which you can get 25 leads for free.
Premium plans start from $97 for 500 lead credits per month, which translates into about 20 cents per lead. For $297 per month (with 12-month commitment), you can have unlimited leads.
Unused credits roll over the next month

–

you always get to use all the credits you paid for.
Except for some minor UX shortcomings, the search panel is quite clean, simple and self-explanatory, which makes the tool easy to use.
There are quite a few integrations with CRMs and sales automation tools available within the 'Team plan' (including Salesforce, Pipedrive, Close).
***
See also:
The link to the article has been copied.