Right, so we did some research on our prospects. Time to write mind-blowing, personal copy of our emails. That's where things get tough…
But if you really did your homework right, it won't be as hard as you think. Here's how to use the outcome of your research and skillfully incorporate it in your emails to impress your prospects and make them hit 'Reply'.
Stop "throwing spaghetti on the wall"
That's how Heather Morgan from SalesFolk refers to poorly constructed cold emails with no personalization at all sent to a non-specified group of people. Check the great webinar Heather did with Lincoln Murphy for the full context.
Well, there is a slight chance something will actually stick to the wall. But most of it won't stick. Plus you're making a big mess this way for little or no benefit at all.
Generic cold emails stink. You know that. Moreover, you feel that yourself each time you find one of those in your own inbox. I know I feel that. So…
How to write our email so it doesn't stink?
To make our emails personal and natural, instead of spammy and stiff, we are going to use the material of the previously well-carried out research on the addressees of our outbound outreach. Here's how to incorporate our precious findings into the copy of our emails.
1. Website
First thing to use is our prospect's website. We can mention it to show that we did our research before reaching out to them. That's also a kind of authentication – we show them where we got their email address from.
See for instance an opening email template we used at 52Challenges to invite personal trainers for beta tests of our app: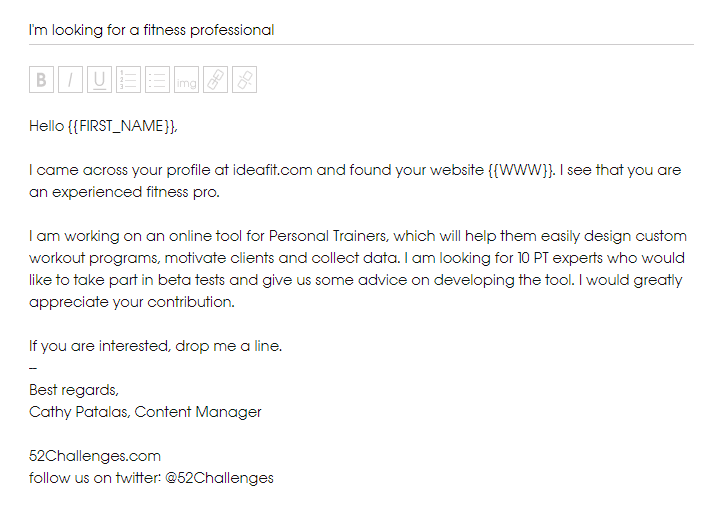 Remember that you don't throw the link just to throw it here. Point to a thing you especially enjoyed on the website. Or at least clearly show your addressee the reason why you decided to reach out to them on the basis on their company site.
Keep it logical. Avoid messages like:
"Hey Joe, I found your website, it's really cool. We have the best vacuum cleaners in affordable prices. If you're interested, let me know."
I doubt you sell vacuum cleaners, but you definitely get my point here: the intro has to be logically connected with your value proposition.
2. Blog post or magazine article
I used various blog posts on cold email to reach out to experts we wanted to invite for interviews a few months ago, when we started developing Woodpecker. Here's the template I came up with for my outreach: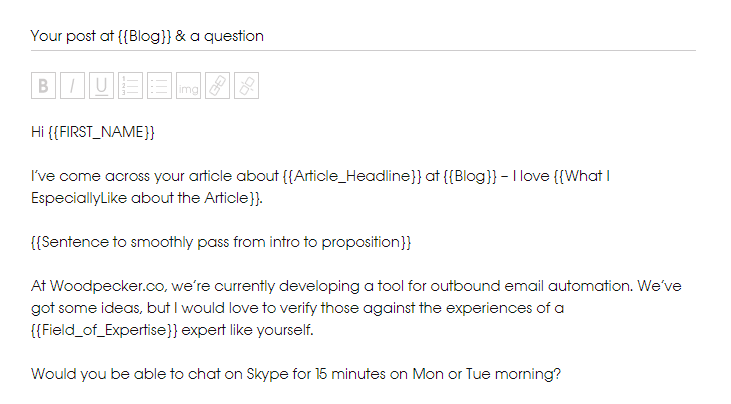 The most tricky part of such a message is the sentence between the intro and our proposition. This one bonds the whole message together and makes it logical.
Because I chose only articles on cold emails, and my proposition was also connected to cold emails, this wasn't as difficult as it could be.
I had a few versions of the bonding sentence, but mostly it was something like: "Looks like email marketing is still on top, especially when you've got a good automation tool."
All in all, the trick is to match all the parts of your emails so that the message makes sense as a whole. I had pretty amazing reply rates to this email. More on that here:
How I Wrote a Cold Email that Got 50% Reply Rate >>
3. Quora answer
That was another thing I referred to in my campaign addressed to cold email experts. I just modified the subject line a bit, so it was like: Your answer on cold emails at Quora & a question.
Then instead of a blog post, I referred to what they wrote on cold emails at Quora, and the rest was basically the same.
Again, the key is to find appropriate topics on Quora, and reach out to those who provided really valuable answers.
It's crucial that the topic they comment on is actually somehow connected with our value proposition. This way, it's easier to make our message relevant. Otherwise, we offer "the best vacuum cleaners" to people who commented on web design… – you see what I mean.
4. Tweet
This one will generally work similarly to the blog-post-related or Quora-answer-related emails above. The difficulty of creating such a message is that we want it to refer to a recent Tweet, say from the last week at most. In such a case, we should definitely create a smaller, up-to-date contact base.
The advantage of such tweet-related outreach is that the prospect who gets our message feels that we actively observe their Twitter profile, and that we are really interested in starting a relation with them. Recent always feels more relevant.
5. Event or award
I haven't tried this one myself yet, but I saw case studies on great reply rates triggered by such a relevant intro.
For instance, Robert Graham in his article featured at practicetrumpstheory.com, offers a template like this one: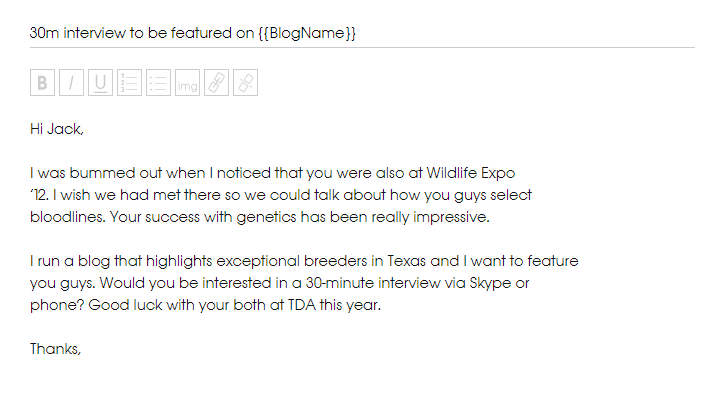 You can also refer to an award if you know your prospect or their company got one recently. This is a way to show your interest and appreciation at the beginning of your message in order to make them interested in your value proposition.
Still, the intro and the proposition have to be somehow linked together. It's not: "Hey, congratulations on your award for the best mobile app. Want to check out our vacuum cleaners?" – cause that's just sheer madness.
6. Competitor's name or current client's name
Here's a classic example of a template proposed by Heather Morgan that was featured in Predictable Revenue Guide to Tripling Your Sales – Part 3 by Aaron Ross & Jason Lemkin: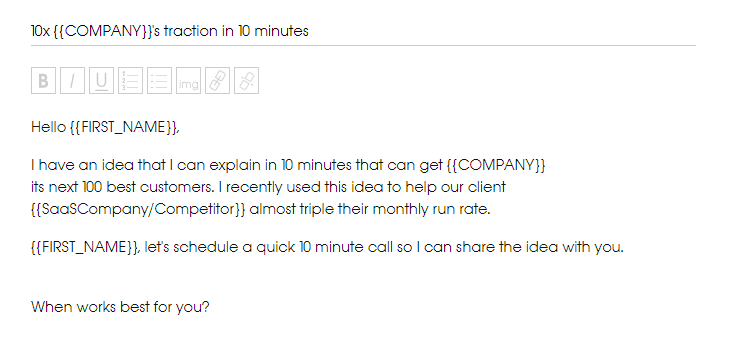 Mentioning a competitor here, or another company with a profile similar to the one of our prospect's, plays two crucial roles. One – it triggers the sense of competition. Two – it serves as a proof that our solution actually works. I love this template. It's so short and at the same time each of its parts is so well-thought-out and to the point.
Note that this approach does not involve as much personal and deep research as for instance the tweet-, Quora-, or the blog-post-related approach. If you find one company and its four competitors, you've got 5 companies to reach out to already.
And if you have a single current client, look for other companies of similar size and profile and show them your current results. Real numbers work miracles in this approach.
What's in it for you?
TWO IMPORTANT THINGS:
First
Get out of the box and try to come up with personalization elements applicable to your specific group of prospects and the solution you're proposing. Think of the things and places they really care about. Think how you can really add value to their business.
Don't you ever copy and paste widely-spread cold email templates. That won't bring you any good. I gave you some exemplary templates just to illustrate the idea of cold email personalization, and to inspire you to create your own highly-personalized copy. Remember that each of the exemplary templates was created with a specific group of prospects in mind.
In outbound outreach, so much depends on your target group. Now it's time for you to discover your own way to personalize emails sent to your group of prospects.
Second
Cold emailing is not about quantity as much as about quality. Yes, preparing a highly personalized campaign takes some time. But you don't have to send your campaign to thousands of people at once.
Add 50 prospects a week to your outreach, but send them tailor-made emails and some valuable follow-ups. Get 50% response rate and start actually promising relationships.
This way you will be able to take a good care of all your leads – and that is how you get loyal customers and partners.
If you have some specific questions about personalizing your own cold emails, we run individual copy workshops for our users. Sign up for a free trial and contact us for help with your campaign.
Go straight to Vol. 3 of this article about tools for cold email personalization.
The link to the article has been copied.