When organizing webinars, lots of elements need your attention. Picking the right topic, promoting the event so people sign up, actually hosting the webinar, and following up afterwards are just some of them. It might be easy to drop a ball or two when you're trying to juggle so many.
But you can use certain tools and integrations to make this juggling easier and reap full benefits of a webinar.
Read this article by Luca Ramassa, Content Manager at LeadsBridge, to find out what those are.
What do you need to do when you're organizing a webinar?
Webinars are an excellent source of lead generation. However, due to a lack of cohesive and streamlined strategy and the absence of integration with other marketing tools, it is often under-leveraged. In the last few years, webinars have become increasingly important for organizations as they make for a multi-pronged resource for branding, marketing, awareness, engagement, and audience feedback. These multifaceted benefits mean that you should attempt to maximize your leads using their webinar strategy.
How can that be achieved? Well, there are numerous ways to generate leads natively – and tools that will help you with that.
What to do before the webinar?
Select a prospect group
For the webinar to do well and generate high-quality leads, you need to select your prospect group strategically.
Keep those prospects out of the loop who haven't shown interest or haven't been profitable in any way in the past. Include those closest to the avatar or best customer, using the website traffic, subscribers, social media fans, and others as a prospect pool. Most important are those who have engaged or communicated with your business with an evident willingness to buy.
Promote the webinar
Don't rely on simple newsletter emails. Develop a promotional strategy to reach out to the selected group of prospects. You need to be highly targeted in your marketing endeavor to ensure those are present as the attendees who are most likely to interact with the brand. Use social media as a tool for passive marketing and keep the hype train going until the day of the webinar comes.
Apart from organic methods, there are also paid alternatives to get more people to sign up:
Facebook Lead Ads
These ads are specially created to accumulate leads directly through the social platform allowing you to drive marketing goals from the top of the funnel. The potential customer can directly input their information through the form without ever leaving the social network. This can act as a useful tool for allowing your target users to sign up for webinars without creating any hurdles or friction.
LinkedIn Lead Generation Forms
This simple tool enables you to collect hot leads through Sponsored Content LinkedIn campaigns. These ads are specially optimized for mobile devices as most of the common fields are pre-populated encouraging the user to fill the form. With LinkedIn Lead Gen forms, you have a better opportunity to get mobile users to sign up for their webinars and also collect their feedback.
Google Lead Form Ads
It is a search ad extension that assists organizations in collecting high quality leads through its search engine result ads without the requirement of redirecting potential customers to another website and adding another step to the process. It provides a quicker and more streamlined user experience allowing you to let their users subscribe for the webinar without getting encumbered in any way.
Have an automated follow-up process for webinar registrants
Frequently prospects are happy to register for the webinar event. Still, between their registration and the actual event date, they either forget about it or aren't entirely motivated enough to move their priorities around to make room for the webinar. To minimize the number of absentee registrants, a follow-up email process is a useful tool. It doesn't only keep them engaged but makes them feel important enough to be reminded about it.
Having an automated follow-up process has a positive impact on the organization's registrants to attendees' ratio that, in turn, results in more high-quality leads. It is important to note that the sales team needs to be a part of this process, so they have the chance to pursue leads as soon as they have crossed the threshold in the sales funnel. Integrate the CRM to streamline the process and ensure no lead is missed out on by the sales department.
How to follow up with the registrants?
Suppose businesses are using the aforementioned lead generation Ads for their webinar promotion. In that case, they have the option to automatically sync the registrants with Woodpecker along with their CRM or email marketing software.
This provides brands with the ability to remind the registrants about the upcoming event they have signed up for, increasing the chances of a high attendance rate.
With LeadsBridge, Woodpecker users can leverage Facebook & Instagram Lead Ads, LinkedIn Lead Gen Forms, and Google Lead Form Ads, and push the leads data into both their webinar platform and the CRM in order to automate the follow-up instead of downloading the CSV files manually.
Let's see how to connect one of these tools with Woodpecker using LeadsBridge.
Let's take LinkedIn Lead Gen Forms as an example.
Step #1: Log into LeadsBridge App
The first step to creating a bridge through LinkedIn Lead Gen Forms and Woodpecker is to log into LeadsBrigde App using the personal credentials.
Step #2: Source setup
In this step, it's necessary to enter the data of the LinkedIn account. First of all, connect the Ad Account, because this way LeadsBridge will automatically sync the LinkedIn profile and the LinkedIn Lead Gen Forms Form (if present), connected to the Ad Account.
If an Ad Account has never been connected, clicking on the "Add Ad Account" button will allow you to add a new one.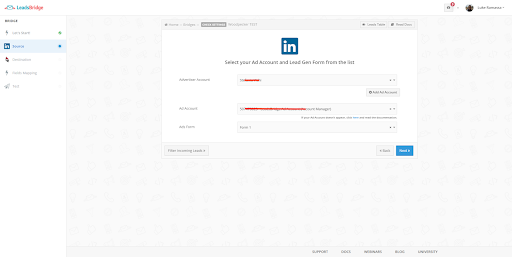 Step #3: Destination setup
In this step, it will be possible to set up a "Destination" used to manage the data coming from Facebook Lead Ads.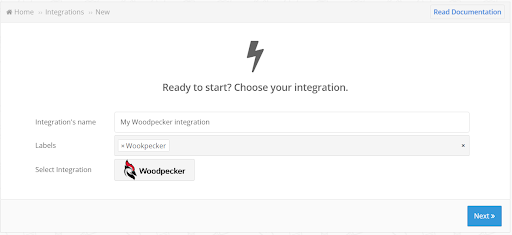 For this step, create a new Destination or use one already present in LeadsBridge, in this guide you'll find the information necessary to understand better how to create a Destination from scratch.
Step #4: Fields Mapping
The field mapping allows you to create a match between the fields of the LinkedIn Lead Gen Forms and Woodpecker. In most cases, users only need to check that the automatic field matching works appropriately.
Here it's possible to map source information with destination fields.
For this step, LeadsBridge provides complete Documentation. Click on "Read Docs" to read the complete documentation.
Step #5: Test
This is the last step, and it's possible to decide whether to simulate a TEST or publish the bridge directly. The TEST mode helps verify that everything is correct and the integration works correctly before sending it online.
Moreover, it's possible to sync the leads between Woodpecker and other platforms used for marketing, retargeting, and tracking. Check out all the available integrations for Woodpecker here.
How to organize a webinar?
A webinar isn't just about sitting in front of a camera and giving a long speech. It is a highly strategic marketing tool that requires a meticulous approach that can enable you to raise awareness, share your message, and generate high-quality leads while developing brand cache. The webinars can also be leveraged to introduce a new product or service to a potential target audience.
Here is a breakdown of what the organization's marketing department needs to do.
Be selective about webinar's topic
Pick something that is not only interesting but allows companies to gather enough compelling content to keep the audience engaged for the duration of the webinar. Don't use highly technical jargon in the webinar topic – it might put the target audience off. Instead, make it layman-friendly. The topic should sound interesting enough to the audience for them to sign up for the event.
Pick the right webinar format
Given the target audience and the webinar's objective, you have many options to choose from. Suppose the purpose is education, for instance. In that case, the masterclass format can be an acceptable format where few expert speakers can share the panel, or the organization can also go for the panel discussion. On the other hand, if the objective is to engage or collect feedback, a live Q&A session is a better fit.
Create engaging & insightful content
The audience isn't there to listen to what they already know. They are there to be educated, entertained, and, if possible, feel excited. That's why it is essential to carefully curate webinar content and brainstorm different ideas and perspectives that can be engaging and insightful. A focus group can be deployed to figure out what's engaging and what isn't.
Pick the right webinar platform
There are dozens of webinar platforms that you could use, but there are only a few that deliver the ideal combination of reliability, performance, and affordability.
The business will need to consider a wide range of factors including audience, number of attendees, budget, presence of guest speakers, wanting a webinar recording, audience participation, and possibility of integrations. Some of the leading platforms include GoToWebinar, Cisco WebEx, Adobe Connect, and WebNinja.
Some of the factors you need to take into consideration include:
Nature of Webinar
Many platforms are quite one-dimensional and will only allow live webinars. However, there are more versatile platforms that support both free webinars, paid summits, automated webinars, and hybrid events. Depending on your budget and requirements you need to pick the right platform.
Integration
If you are looking to streamline your sales funnel, you need to have a single technology stack that works in tandem. That's where integrations with a wide variety of software is crucial. For instance, WebinarNinja can be integrated with more than 1,000 apps, including LeadsBridge.
Data Analytics
Your webinars won't be a useful lead magnet until you have the data in front of you that's actionable and drives effective decision-making. Ensure that the platform you're going to pick offers comprehensive and granular analytical and data reporting.
Number of Attendees
Not all platforms have the bandwidth to enable large webinars with thousands of attendees. This is why it is important to check the platform to ensure it can serve all of your attendees without causing any server delay or server failure issues.
Interactive Features
If you want to conduct live Q&A sessions, collect feedback, and encourage your audience to participate in polls, you need to search for a platform that has support for interactive features for webinars.
What to do After the Webinar is Over?
Evaluate Data & Analytics
Once the webinar is over, it is time to determine how well the business has done. Have key performance indicators (KPIs) ready to develop a better understanding of different factors, including the number of attendees, registrants to attendees ratio, the success of engagement, number of conversions, and other factors. This will also allow the business to improve further and enhance future webinars.
After the webinar and data analysis, it is essential to follow up, preferably within 24 hours of the event. Ask the attendees to provide their honest feedback and also have an automated email ready for those who registered for the event but didn't attend. It is crucial to figure out what stopped some people from attending the webinar so future events can be improved in terms of attendance.
To make the process more streamlined, ask close-ended questions that the email recipients can respond to with a simple 'yes' or 'no'. Make those questions targeted and specific, so the business has hard evidence to figure out what went right and what didn't. Those who take part in the post-webinar feedback process enthusiastically should be moved up as genuine prospects within the sales funnel. Use the follow-up email to collect data as well as warm-up already interested prospects.
Final Word
When it comes to webinar marketing, the opportunities are endless. It's not just a single-window opportunity – you have the option to record them and use them within your sales funnel in the future. Moreover, webinars' versatility and potential also enable you to achieve many objectives through a single marketing tool. It takes time and resources to develop an engaging and insightful webinar, but it continuously creates value for a business once it is delivered.
For the same reasons, it is essential to leverage your webinar marketing to the fullest by being strategic, diplomatic, and prospect-oriented. For instance, having post-registration and post-event follow up processes in place doesn't only increase attendance; it can drive high-quality leads that can be soon turned into paying customers. This is why it is pivotal to keep the audience engaged throughout the process and capitalize on their interest and temptation when the opportunity presents itself.
The link to the article has been copied.