Here's another blog post for you. This time the one everybody loves to talk about — tools. I asked one cold email sender about his recommendations and he quickly put this blog post together. Learn what he uses to send his cold email campaigns.
Here's what Ugljesa shared with me.
What tools can improve your cold email campaigns?
Building newsletters and outreach cold email campaigns are crucial for every business. There are several reasons why it is a must no matter if you are founding a new company, or you already have established one:
You can build/find newsletters with early adopters already interested in your product or potential customers.
Newsletter campaigns are good for informing customers on a regular basis.
Cold

Emails

and outreach campaigns are driving your

sales

into the sky.
Building a successful outreach campaign isn't easy and the same for all businesses. For every project you're working on, you will need to test some things again, such as email templates, subjects, etc.
Finding prospect lists is also very hard. You need to be sure that your list isn't outdated. If it is – then, there's the problem! You will have a huge bounce rate and very possible, you will be blacklisted, and it can prevent you from sending effective future outreach campaigns.
In this article, I will present you 5 tools for building successful outreach campaigns. Some of them help you: to monitor competitor newsletters, write better copies, validate email addresses, build prospect lists or do your outreach campaign.
1. Competitors App
Competitors App is a competitor email monitoring tool which allows you to track your competitor newsletter campaigns. This is useful for several reasons:
You will find out holes and opportunities in your campaigns.
You will monitor competitors' campaigns.
You can see what their strategies are.
You can get some interesting new ideas.
If you do not monitor your competitors, then there are huge chances that they're monitoring you! You should use every opportunity you have.
Here are a few examples why monitoring competitors' emails matters:
Your competitor has change Call-to-Action button from "Register Now" to "Claim your 30-day trial account. No credit-card required"
Your competitor started using different personalization in their

emails

like company names, hobbies, or other custom parameters.
Knowing your competitors is good, but knowing what they are doing and what their strategies are, is even better.
Monitoring your competitors' newsletter campaigns with Competitors App is very easy. Here is the step-by-step guide to how you can do it.
Create your free 30-day trial Competitors App account here.
Add your competitor.
After you created your free account, on the left side of your dashboard, you will see a button called "Edit domain and competitors" (illustration below).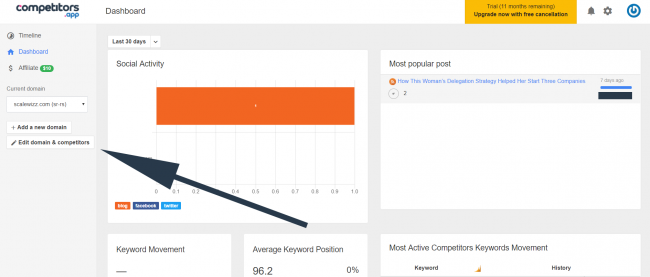 After you clicked there, on the up-right corner of your dashboard you will see a button called "Add Competitor". Go there, and fill in your competitor domain.

After you finished entering competitor domain, click "Next" and Competitors App will find all relevant URLs for your competitor you can monitor.
Scroll at the bottom of your dashboard and you will see the following alert:

Click "Finish" first, and later subscribe to your competitor newsletters with the emails they said in the alert.
And,Voila! After you finished everything, you can see your competitors' newsletters and accounts in your dashboard! It's quite easy! It saves your time and energy.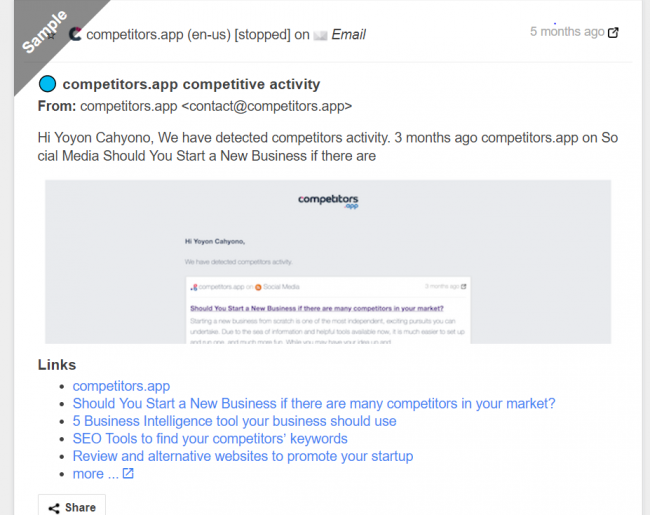 With
Competitors App
you can also monitor competitors website changes, Social Media pages, SEO, keyword changes, etc.
2. UpLead
Prospecting is one of the most important things in cold emailing and outreach. If you don't have qualified leads and prospects, when, honestly, you will need to work on your sales a little bit more.
If you don't have updated Prospect lists, your outreach campaigns can have a huge bounce rate and you can be blacklisted.
Finding qualified prospects isn't easy. You can do it in several ways:
Pay some Freelancer to do a research – You can find good freelancers on Upwork for $0,20 per person.
Export and Scrape/Enrich data from various websites and databases such as: LinkedIn, Facebook Groups and Pages, AngelList, CrunchBase, and various others.
Use UpLead
UpLead allows you to find all the data about your target prospects. The best thing of all – it's all verified and 100% accurate!
They have a database of over 30 billion contacts worldwide, and they're updating it every single day.
I will show you how you can do it.
Start your 7-day free trial here.
After you signed up, you can search for your ideal prospects on the left side by various criteria and filters.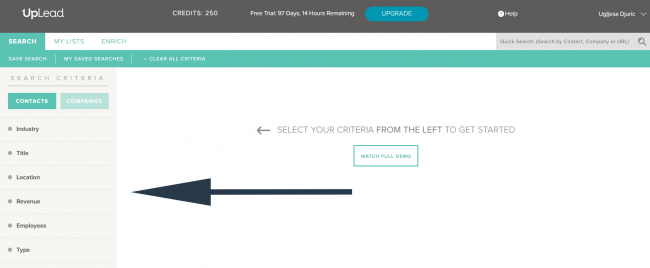 For the example, my ideal prospects are CEOs and they're living in Palo Alto (CA).
And here we go. Here's the list of all CEOs in Palo Alto. In the email column, just click the unlock, and you will see their contact information. You can even download your .csv sheet.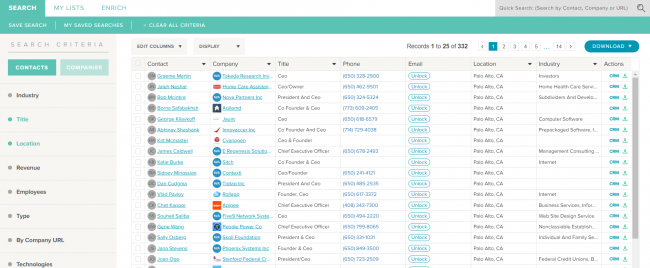 With UpLead, finding qualified and verified prospects has never been easier! 🙂
3. Grammarly
Probably a lot of you know about this tool. Grammarly improves your writing and checks your grammar.
Probably you think that writing style and grammar isn't so important in cold emailing. But, I will disappoint you. It is.
A lot of Spam filters check your grammar. If it's bad, your cold email will very likely go into the spam folder and you can be blacklisted.
Here are some good sides of Grammarly:
You don't have a free version for a limited time. It's free forever (Of course, you can always upgrade to premium plan).
It's integrated with almost all platforms – Gmail, Facebook, Quora, LinkedIn, etc, so you don't need to visit the Grammarly website every time.
You can use it for different purposes, not just to write

email

templates. For example, I'm using it right now while I'm writing this! 🙂
In one sentence, Grammarly is your free writing teacher and assistant.
4. Hunter.io
If you already have some prospect lists and you need verification to be sure that they're still valid, Hunter.io is here. On another hand, if you need to find your prospects emails, Hunter.io is here for you too!
I have already mentioned why it is soo important to have valid prospects contact information.
You're probably asking yourself right now: "You already mentioned one tool for prospecting. Why are you now mentioning another one?"
It's quite simple. Sometimes, some tools can't find all the email addresses you need. So, to be sure, it's always a good practice to have at least two accounts on the tools like this – one paid, another one free, or any other combination you like.
You can grab your free account here, with 100 credits each month.
How to find Emails with Hunter.io?
After you registered and confirmed your email address, it's time to Rock'n'roll!
In the middle of your dashboard, you will see a search option. Just type the company domain and you can find an email address of the person you want (Even better, you can add their Chrome extension, so the job could be quicker and easier)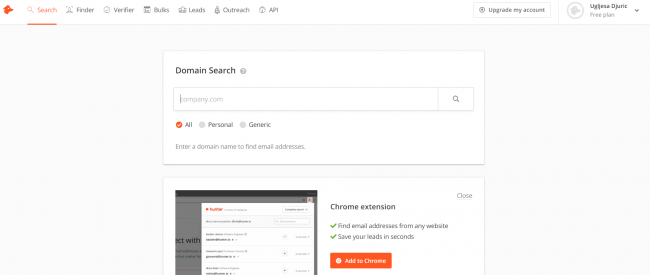 How to verify email addresses?
In the navigational menu of your dashboard, click on the button "Verifier", and you will see a search option to verify your prospect email.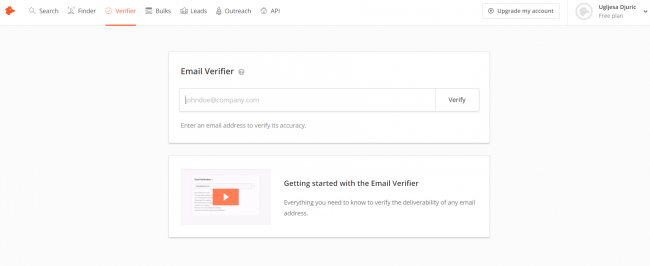 On another hand, if you need to verify bulk emails and spreadsheet with several thousands of emails, in the navigation bar in your dashboard, you will find a button "Bulks". Go there, and click Email Verifier at the bottom.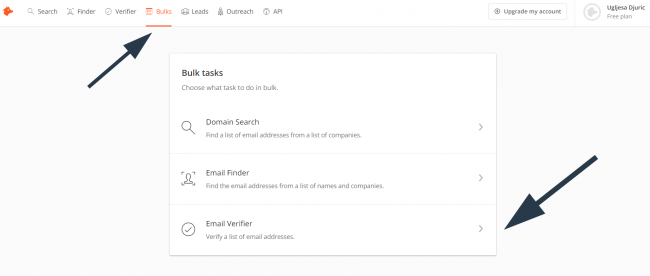 Go there, click "+ New Bulk" at the top right corner, and upload your sheet!
The interface is User-Friendly, and you should easily do a lot of tasks!
5. Woodpecker
Now when you have everything you need:
Eye on your competitors' newsletter campaigns and their strategies
Qualified and verified list with your most ideal prospect contact information
Good initial outreach Email template and copy
It's time to say "Hi" to your beloved prospects! 🙂
Woodpecker allows you to send personalized cold emails to your potential customers/clients. You can schedule different campaigns with various follow-ups. The best part of it – the tool send the cold emails one per one for the whole day, so it looks like they were sent manually, and there are bigger chances of avoiding spam filters.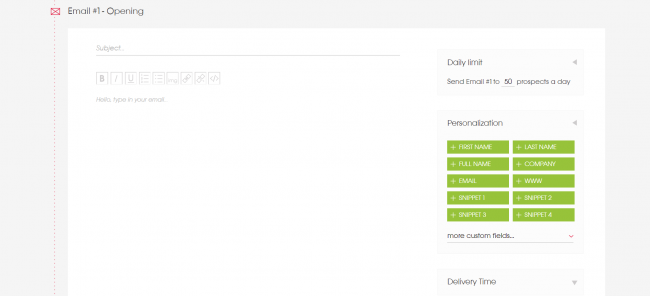 No matter what's the goal of your outreach and cold email campaigns, good preparation is everything!
A few cents from us
Hope you enjoyed Ugljesa's tips and insight.
Here's something from me.
Build your signature with Newoldstamp
Nowadays we all know about automation tools and butch email campaigns. The critical aspect of successful cold campaigns is making your emails humanized. People usually like to understand with whom they deal. Showing that you're a real person will increase your response rate. One of the ways is creating an interactive email signature with your photo and links to the website and social business pages.
To make sure that your email sign off looks excellent in all email clients it's recommended to use HTML signatures. Don't worry about coding skills and design. The easiest way to create one for yourself or your team is to use generators like Newoldstamp
The link to the article has been copied.