We're witnessing the renaissance of B2B cold emailing in outbound lead generation and sales. For the last several years cold calling 2.0, described in the famous Predictable Revenue by Aaron Ross, is becoming increasingly popular in the US and Western Europe. It appears, however, that the method requires more and more advanced tactics to be equally effective as it was only a few years ago.
Email recipients have learned to recognize sales emails in a split second, and simply ignore them. Does that mean cold emailing doesn't work anymore? It doesn't, if you still follow the assumptions salespeople followed 10 years ago. Below you'll find 6 trends in cold email that you need to take into consideration if you really want to see positive replies nowadays.
6 Trends in Cold Email that You Can't Miss
1. Invest in Quality of Contacts, Not Quantity of Emails
Don't send the very same message to thousands of recipients who you know nothing about (except for their email address). The "spaghetti on the wall" tactic does not work because, all in all, it's not very different from SPAM.
Instead of sending 10 000 emails at random, send 100 personalized messages only to specifically selected prospects. Address only those who perfectly match your ideal customer profile.
A well-prepared cold email campaign should bring you a 20-30% reply rate. It means you'll start a B2B relation with at least 20 people out of every 100 you've contacted.
Sending 10K emails at random not only won't bring you any positive outcome, but it may also cause your email address to be added to an anti-spam blacklist. As a result, none of the emails sent from any of the addresses on your domain will be delivered to their recipients.
A good practice is to send around 100-150 emails a week per a salesperson.
2. Send to the "Ideal Prospect"
The most important aspect of a good cold email campaign is a well-targeted and well-researched group of prospects. If you offer clothes hanging pegs, and your ideal customers are sales executives at companies producing wardrobes, send emails only to them. Don't put marketing managers from HR companies and printing house directors on the same prospect list. Create separate cold email campaigns for each of your homogeneus groups of prospects.
The process of creating your ideal customer profile should not focus only on figuring out their age, sex, title, industry, and demographic criteria. Look for industry-specific blogs and niche-centered forums. Analyze what they write and talk about to learn the language they use to talk about their business. Find out what keywords, expressions, and phrases they use.
Discover what their greatest painpoints and their worldviews are. Check who they treat as trust-worthy advisors and consultants or authorities they look up to. Try to understand how they test, compare and buy products similar to yours and on what basis they make their buying decisions.
Next, use the outcome of your research while writing a copy of your emails. Speak the language of your prospects, and show them you know what you're talking about.
3. Personalization is Much More than 'Hi John'
First and foremost, forget about sending cold emails to addresses like info@…., office@…, contact@… . That just doesn't work anymore. Send your messages to specific people at a company, for instance: john.smith@… .
What does it mean to 'personalize' your emails in 2016? It definitely does not mean to simply enter the recipient's first name in the subject line and salutation. When did you last time send an email to a friend putting their first name into the subject line? That doesn't feel natural at all.
Use snippets and custom fields to incorporate complete pieces of information in the body of your email. You can use even whole sentences as snippets. Refer to their website, blog, LinkedIn profiles and any sources of interesting information about them. You can also use a snippet in the post scriptum.
A personalized message is all about the prospect – you want them to read about themselves. See this one for instance: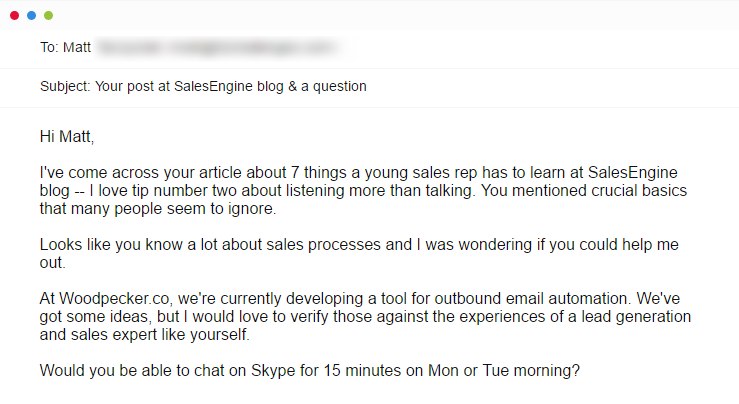 And compare it with the template that was used to create this email: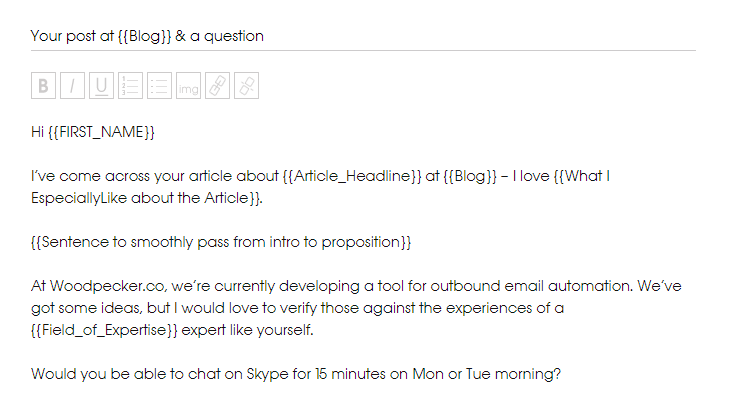 The modern personalization techniques require some more time and effort to prepare, but they can increase reply rates even up to 50%.
4. Always Follow-up at Least Two Times
One message is not enough. The first, opening message often gets ignored. So the second important pillar of an effective cold email campaign is a well-set-up system of valuable follow-ups.
The follow-up should be sent in the same thread as the opening message. It's like you went into your outbox, found your previous message, and continued the contact by responding through Re or Fwd. This way, your previous message gets attached below your follow-up, and your prospect has a full context.
That's what makes you look trustworthy in the eyes of the prospect. They can see you've tried to contact them more than once and they have all your previous messages to refer to.
That's what the open rates for particular messages in a cold email campaign look like:

Send the first follow-up after about 1-3 days from your first message. If you don't see any reply, reach out again in a few days. Remember to keep the follow-ups valuable but brief and to the point.
Find out what's the optimal delivery time is for your target group. Don't stalk them with your emails too often. Sending follow-ups by hand can be onerous and daunting after some time. But it's the process that can be almost fully automated nowadays.
5. Send Cold Email Campaigns from Your Own Mailbox
MailChimp, GetResponse, and FreshMail are fantastic tools for sending newsletters, but not cold emails. A newsletter and a B2B sales email are two different things. Forget about sending cold emails from an address like [email protected] or [email protected]. The sender should be a specific person, [email protected]. It's a 1-on-1 message.
The email should be a simple, plain text message, without fancy graphics and frills. It should be a personal message, not a leaflet including your company offer.
An email sent from tools for newsletters gets into the "Offers" folder in your prospect's inbox instead of the main inbox folder. There's also no chance for in-thread follow-ups. The recipient will be able to tell at first glance that you haven't sent the email by yourself.
Send cold emails and follow-ups one by one, straight from your own mailbox, or use automation tools like Woodpecker to make the process less time-consuming and more efficient.
6. Don't Sell – Build Relations
Cold email can be a very important part of the sales process, but we shouldn't expect it to sell for us. It should "only" start a B2B relation, be a trigger for a phone call or a meeting.
Avoid longish descriptions packed with adjectives. Don't try to advertise all the features your product or service has. Don't send a detailed offer.
Write like a human, be polite, but not too official. Ask for a short phone call, or Skype, invite for a meeting or ask a prospect-oriented question just to start a conversation. Don't try to sell right away, there will be time for this later.
Final words
We are not without sin ourselves, so I won't hurl stones at anyone. We had decided to send a large number of emails without appropriate personalization. We had decided to send our cold email campaigns to far too wide and far too varied groups of prospects.
Thanks to those failed campaigns, we realized that a modern cold email campaign requires the sender to do their homework first. Only after applying the techniques I described above, we started observing satisfying effects.
Customers from the US and Western Europe receive dozens of cold emails every day. If you take your prospecting seriously and really want to acquire new clients abroad, consider the six trends while crafting your cold email campaign.
This article has been originally published in Polish at MamStartup.pl.
The link to the article has been copied.