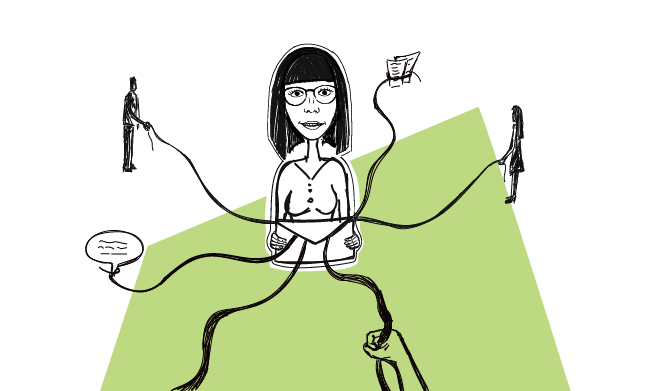 What's the first thing that comes to our mind when we think of cold emails in a start-up? Prospecting. Lead generation. Finding new customers potentially interested in our product or service. Fair enough. That's probably the core application of B2B cold emails right now. But we can do more than that. So, what else can we use cold emails for?
1. To get customer interviews
That's what every start-up should do even before they start to build their product or service. As far as I'm sure you won't necessarily take my word for that, I'm sure you'll be interested in Jason Lemkin's post on the 20 interview rule.
You can meet your interviewees in person if you're lucky. You can call them if they want to talk to you. But you can also start interviewing your target group via email. We've done that. It works great if skillfully performed. And it brought us an awful lot of extremely useful information.
Here's how we got our first 10 customer interviews with cold email>>
And here's how email interviews helped us build SaaS>>
2. To ask prospects for a review
Ok, so you've done your initial research. You know your target group, you know what they struggle with. That's how you came up with the first version of a solution to their problem. Now it's time to check if they like what you came up with. So you're going to show them what you have and ask their opinion.
And that's another point where cold email fits perfectly as a way to get the reviews. You can ask if your prospects would be interested in a free trial and if they will offer you some help in improving your solution. That's not only a way to gather a huge amount of valuable feedback but also to start deeper relations with potential future customers. We've done that as well.
3. To ask for expert's advice
The voice of your target group is most definitely the most valuable feedback. But except for potential users, there are also experts who could give you invaluable advice based on experience. Those are the people who know your type of business. They've probably aimed at the same group of prospects as you do right now. In short: they've already been there and done that.
Experts are usually hard to reach, but it's definitely possible to start a conversation with them. At Woodpecker, we've used cold emails for that as well. The results have been greater than we expected.
Here's more on how I asked for experts' opinion in a cold email that got 50% reply rate>>
4. To get new customers
As I mentioned at the very beginning, lead generation and getting new customers seems to be the core use of B2B cold emails nowadays. I've described in my previous articles on how to do that step by step. You may be interested in a six-step tutorial to cold email that brings replies from interested prospects.
5. To get influencers for marketing
Now that's a growth hack absolutely worth trying. I came across this great article on Bidsketch blog some time ago, and I am yet to explore the method myself.
In short, you find popular content in your niche, you find people who made it popular and you reach out to these people with your awesome content on a similar topic yet a slightly different approach or perspective. I'll report on my own attempts of using this method in the upcoming posts.
6. To start business partnerships
As you've taken off with your start-up, you may want to cooperate with different companies, whose solutions are complementary to yours and who aim at the same or at a similar target group. Such cooperation is a mutually beneficial relationship and allows both partners to complement the services they offer to their clients and grow thanks to that.
So you can also reach out to another company that is not necessarily your potential client but can be an important business partner. And that's how you can use cold emails to start building your network and open your company for new markets. In a SaaS world, for example, such business partnerships result in some great app integrations.
7. To get customer testimonials
In the eyes of your potential customers, the testimonials are proof that your product really works. They build trust for your company and trigger the bandwagon effect. Companies similar in size, business model or industry often share the same objections. Testimonials help in overcoming these objections: "Since this product worked for them, It may improve my process too".
That's why it's so important to collect testimonials and publish them on your website. But how to get them? It shouldn't be a surprise to you that the easiest, most personalized and scalable channel to do that is email.
Here's how you can use follow-up automation to reach out to your customers for testimonials:
Why Does Your Business Need Customer Testimonials & How to Get Them? >>
8. For link building outreach
Every successful online business stands on three pillars: a website optimized for conversion, customer testimonials and a steady flow of new visitors. The last one is the most difficult to achieve. If you're a website owner or content manager you know the struggle to rank higher in Google search results in order to get more website visits.
SEO is a complex process. You not only have to take care of your website or blog content but also acquire some valuable links that will make your website more reliable in the eyes of Google. How to acquire those precious backlinks?
The best way to do that is to reach out directly to other website owners and content managers from your industry and ask them about an opportunity to link back to your page or submit a guest post. Sounds pretty much like cold email outreach, doesn't it?
9. For networking
Are you going to an international conference? Or maybe just a local meetup? Either way, it's a good opportunity to leverage your business network. You can reach out to other participants via email and follow up with them after the event or say hi and introduce yourself before it.
Check out the two approaches to networking that Mary explains in this post:
How to Send A Networking Follow-up Email? 2 Simple Approaches>>
10. To find new hires
As your company grows you'll eventually need to hire some experts in various fields to help you develop it further. You can find new hires through:
posting a job offer and hoping someone suitable will show up at your office's doorstep,
outsourcing the recruiting process to a recruitment agency for money,
or you can also directly reach out to people who match all your criteria and who you'd love to work with.
Which way sounds best to you? I'd go for the latter. Not only have your full control over who you choose to contact, but you can also streamline the whole process with automated follow-ups while keeping the communication very direct and personal.
Follow-up automation can be a life-saver for recruiters working for recruitment agencies too. Leaving the mundane part of following up to a tool like Woodpecker gives more time to engage in conversations with potential candidates and employers.
11. To convert inbound leads
What do you do with the leads acquired through a webinar or a lead form on your page? Do you leave them to self-service and hope they'll finally convert? Or do you take a more proactive approach?
Most inbound leads require some nurturing to go through the buying cycle. They need encouragement from the sales reps to smoothly move further down the sales funnel until finally converting. A prompt follow-up can be the sort of stimulus that our inbound leads need in order to convert into paying customers. By Incorporating follow-ups into your inbound lead nurturing process you can increase conversion and reduce the number of lost leads.
Here's some further reading for you on this topic:
12. For personalized onboarding
Have you been wondering why even those customers who match your ICP churn after some time? Of course, there may be numerous reasons, but one of them could be too general onboarding communication. Your newly acquired customers rarely make one big homogenous group, so why would you treat them like that?
To gain customer's trust and loyalty your communication should be personalized from the very beginning of your mutual relationship. For more targeted communication, you can divide your new customers into segments and prepare a follow-up sequence tailored to their business type, industry, a subscription plan they chose, etc. The choice of criteria is entirely up to you.
Doesn't it sound a lot like (not so) cold emailing to you?
13. To fight churn
Churn is a SaaS company's biggest foe. Decreasing churn requires a proactive approach to customer care and a lot of personal touch in communication. The crucial part is to identify and then address the challenge the customers may be facing at the right time.
Follow up with the selected group. Ask them what their experience with your product has been so far. Then send them some additional materials, a link to a blog post that explains a particular function in detail or to a video guide. Ask them if they need your personal help and offer a meeting time.
Such a 1-to-1 approach can really make a difference for your customer retention.
14. To upsell your product
You may be familiar with upselling from your daily life. Have you ever been asked "would you like fries with that?" while placing an order in McDonald's? Or have you been offered a double shot of espresso in your cappuccino? That's exactly what upselling is about. The goal is to up the value of the purchase and increase sales.
How can you use this technique in your sales process?
Take a closer look at the customer base you already have and think about how you can leverage your good relationship to offer them extra value. Analyze your database to identify clients who would be the best target for an upselling campaign. Then, follow up with them with a relevant offer. Refer to your last conversation, so your message will come out as its natural continuation. Context is very important in this case and email allows you to maintain it, even when some time has already passed since your last contact.
What's in it for you?
All of those actions and processes will shape and boost the development of your business. So of course, the first thing that comes to your mind when you think of B2B cold emails is getting new clients – because it's the new clients that directly empower your business.
But there are so many things you can do even before getting new clients (and in the meantime) to find the right path for your company and to promote your product or service. And many of them can be done using cold emails.
In this post, I probably mentioned only a few possible ways to use B2B cold emails – those which we tried ourselves, or our customers did. If you've been using cold email outreach for other purposes at your company, or have ideas on how you could use them, please share them in the comments.