It's time for another tool in our Prospect List Building Tools series. This time I review a tool called UpLead. Its founder and CEO, Will Cannon, was kind enough to answer all my questions about the tool and how to use it. Let's read the article to find out more about UpLead.
About UpLead
UpLead is based in southern California. It was founded a year ago, in April 2017 by Will, who's been in lead generation business over 10 years. It was frustration with the majority of the tools available at the time that prompted him to start his own B2B lead generation platform.
The B2B contact data tools that offer accurate data are very expensive. They cost an arm and a leg. The affordable alternatives, on the other hand, have horrible accuracy, ranging from 40-60%. That's very small for a business that makes money on providing contacts.
Will spotted a need in the marketplace for a high-quality B2B database that was affordable, and he seized it by building UpLead.
I asked Will eight quick questions about the service so that you can see how it works. Here are the answers. Below I also posted my impression of the platform, what I liked and didn't like about it. Let's dive in.
How would you describe UpLead in 4-5 sentences?
Will: UpLead is a real-time verified B2B database that helps you find new customers and accelerate growth. You can search from over 50 criteria to find your next best prospects and access direct email addresses, phone numbers, social profile links and detailed company profiles.
Our real-time, built-in email verification ensures you will never have to worry about bounced emails again as every email you download or export is 100% verified at the time of download. Features like technology tracking, competitor intelligence, email format patterns, account-based marketing and more, allow you to grow your pipeline and learn more about prospects.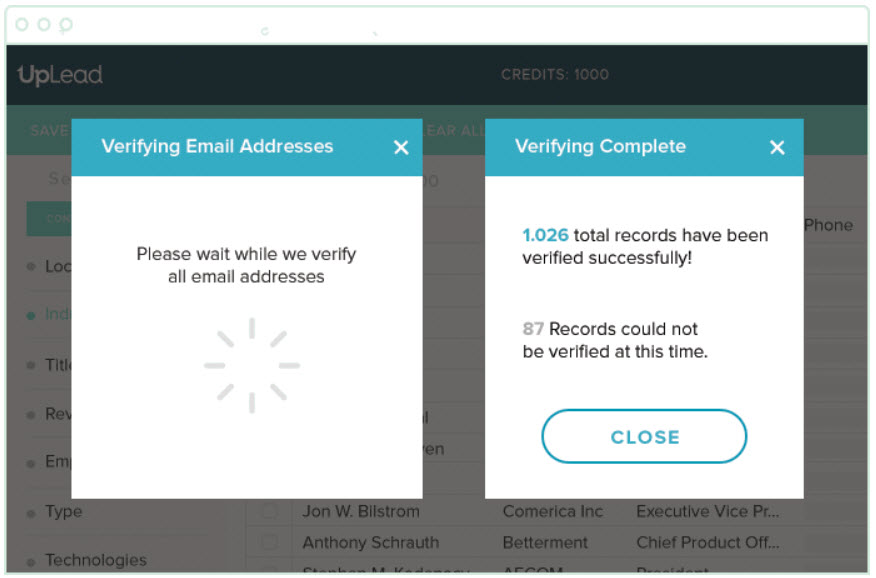 What is the greatest benefit of using UpLead?
W: With UpLead you can quickly search and find new prospects for your sales and marketing campaigns. As we see it, searching manually on Google for new prospects takes too much time. When it comes to finding new prospects on LinkedIn, it's nice but in most cases, you don't get their direct email address or phone number. With UpLead one can find the best new customers quickly and download their contact information to excel or export it to a CRM.
One of the most important factors of an outbound email campaign is the quality of the contact data you are using. From what we observe, there are many B2B contact data tools on the market but they are not all created equal.
With UpLead we have a built-in, real-time email verification so at the moment you download/export a list of contacts from our platform, we verify the emails in real time. Other major data providers update their data in cycles like every 30 days or every 90 days, with UpLead's real-time verification you don't have to worry about emails bouncing back and your sender reputation being hurt.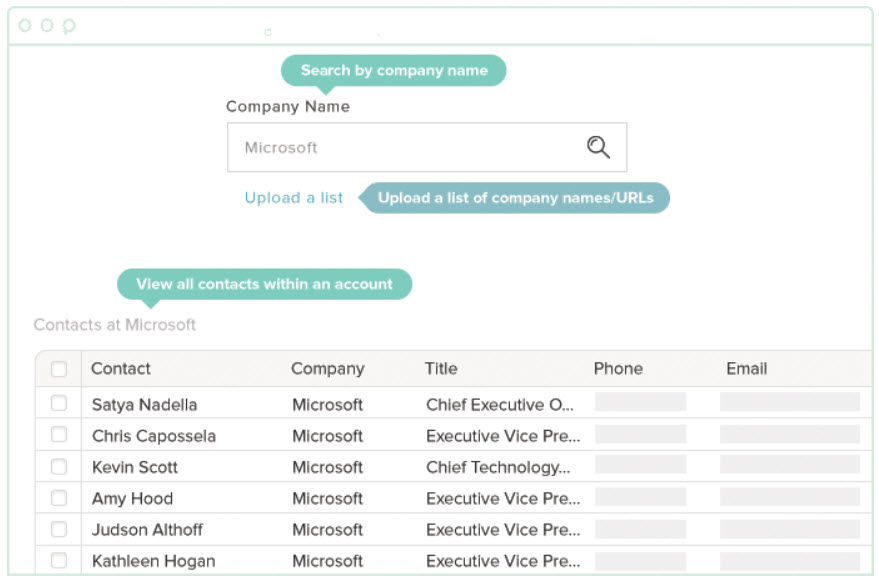 You can also search based on 50+ criteria including Industry, Title, Location, Job Function, Management Level, Number of Employees, Sales Volume, Technologies Used, SIC Code, Fortune Ranking, Alexa Ranking, Public vs Private, Year Founded, Presence of Social Links & more. This allows you to dig deep to build the exact prospect list that meets your ideal customer profile. Looking to target IT execs at SaaS companies that use Salesforce – No problem. Wanting to reach out to VP's at E-Learning companies in North America – Done!
How does the process of building database look with UpLead?
W: Our left-hand menu is where you will find all of your search criteria to build a prospect list. Simply click on any of the menu items to make your selections.
We also have a "Quick Search" bar at the top right corner where you can quickly look up contacts or companies by name, URL or keyword.
Do I need any additional tools/add-ons to use UpLead efficiently?
W: No additional tools or add-ons needed. We currently have a direct Salesforce integration, so you can push contacts or companies directly to Salesforce CRM. We have more CRM integrations coming in 2018, including HubSpot, Insightly, Zoho, and SugarCRM.
What kind of information can I actually collect using UpLead?
W: Our contact data comes with: Company Name, Address, City, State, Zip, County, Country, Website, Phone Number, Fax Number, SIC Code, Industry Name, Stock Ticker, Revenue, Number of Employees, Year Founded, Alexa Ranking, First Name, Last Name, Title, Email, Email Status, Job Function, Management Level, Contact LinkedIn URL, Company LinkedIn URL, Company Facebook URL, Company Twitter URL, Company Instagram URL, Company Google plus URL, Company Yelp URL, Company YouTube URL, Company Crunchbase URL.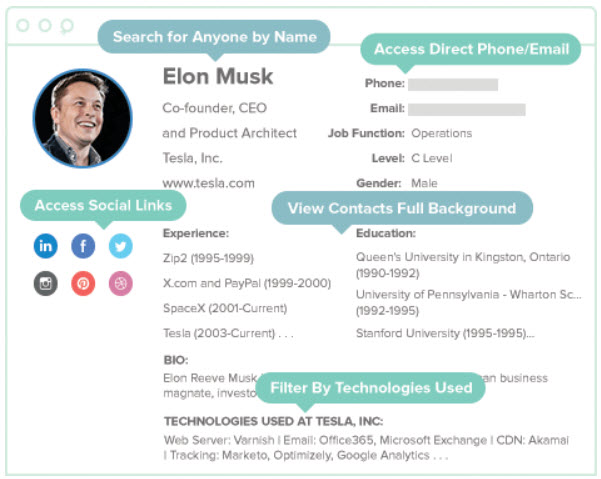 How many contacts can I have per month?
W: Plans start at 200 contacts per month and go as high as 100,000 contacts per month.
How much is it?
W: Our pricing is tiered based on the number of credits per month. One credit equals one contact that you downloaded or exported. Plans look like that:
$49/Month – 200 Credits Monthly
$149/Month – 1,000 Credits Monthly
$299/Month – 3,000 Credits Monthly
We also have Enterprise plans starting at $399/Month for 5,000 Credits Monthly.
What's worth to note is that unused credits roll over, they are not lost. All emails are 100% verified in real time, you are not charged a credit if an email is invalid.
We also have team accounts that come with unlimited users with no additional "Per User" seat costs.
Is there a free trial?
W: Yes – We have a 7-day free trial that comes with 5 download credits.
Our experience with UpLead
Things we loved
Perfect all-around solution
Building a list of contacts for a cold email campaign involves many apps. You need separate tools for collecting prospects, identifying their email addresses, finding pieces of information to personalize email copy with, and finally, verifying email addresses. But before you've become skilled at prospecting, you need to master all those tools, let alone discover them and design the whole process, as there's no unified way of doing prospecting. In the end, building a list of contacts takes a lot of time and skill.
Our business growth team uses a network of tools, such as Hunter, Mailt-tester, and the like, to find and verify a single contact. They needed to learn how to use every tool and come up with the whole process of finding a single contact.
With UpLead, you don't need any additional tool to do prospecting. You just set up the filters for your list and the tool gives you a list of contacts to get in touch with. Every kind of info you'd like to know about your contacts is right there on the UpLead profile. You learn instantly how big is their company, what industry they operate in, how many employees work their, etc. Plus, you get info about their skills and professional background. The email is verified for you as soon as you click on 'Email' button. That's a huge plus when you put Uplead against other list building tools.
Loads of information
UpLead unearths a ton of useful data. Once you filter out the organizations you'd like to reach out to, you have a complete profile of your target. You see several people per organization, what kind of job position they have, you can see their career path, skills, education and more.
You, moreover, get to know how many people work at the organization, the address of their website, etc. You also get info about which tools do they use in their daily workflow which may be helpful if you offer an alternative solution.
To sum it up, the amount of data you get is worth it.
You pay only for verified email addresses
The credits you have in UpLead are spent only if the tool finds and confirms the email addresses you ask it to. So you don't need to verify the email addresses via mail-tester or a similar tool. That saves you many bounces. And you get what you paid for.
Most common email pattern
A great feature of UpLead is that they give you the most common email pattern used in a business you want to target. It appears on a company profile. We use a separate tool to discover an email pattern at Woodpecker. And it can be a lot of guesswork in some cases.
Salesforce integration
UpLead has a native Salesforce integration. You can export the contacts you find directly to the CRM, which is a great time-saver for Salesforce users. You don't need to be a premium user to test it out. You can give it a spin during your trial.
Things that still could be improved
The interface
Even with the onboarding video which you can see when you first log in, you need to spend some time to learn how to navigate the app. Its UI needs getting used to. I'm sure that's because the application is very recent and the improvements of the UI are yet to come. We actually got a heads up from the team that they're working on it right now, so as you're reading this – that point may be invalid.
Few contacts for the tool's price
Our team complained that the UpLead database is very small in comparison to its price. In some categories, such as software houses, they could find only 3 companies. That being said, the profiles are extremely detailed. The tool is only one year old. It may have a more sophisticated database in the future.
Very limited trial period
During the trial period, you can test each and every function of the app. However, you get only 5 credits, which is very little when you're trying to find your way through the tool and learn how to use it efficiently. If the app had a better onboarding system, the number of credits could be sufficient. A good thing is you can still use the tool even though you have no more credits.
To sum up:
UpLead is a useful prospecting solution when you don't want to juggle a lot of tools while doing outbound.
It gives you a very detailed information about the prospect and their company. You also see their workmates and the tools they use at the company.
They verify the emails before they charge you for it. That should lower your bounce rate.
You can see a most common email pattern at this company, which you may find useful.
The trial period is very short. Although you have the access to all features, you may have little time/credits to find some value in using it.
The database is still small.
The UI needs some polishing but the UpLead team informed us that they're on it.
***
Update: We have a native integration with UpLead. Read more about it on the website >>
***
See also:
The link to the article has been copied.