Running your email outreach campaigns, you will definitely see some negative replies. You can be more than sure of that. It's not a question of if?, but when? how many? from whom? and are they angry or just not interested? And actually, those are all very important questions. It's not a good idea to ignore the fact that you see negative replies to your cold emails just because everyone gets some.
Negative replies are a sign that there is still something to improve in your outreach strategy. Here's about a few types of negative replies, what conclusions you can draw from them, and how you can use those conclusions to improve your cold email campaigns.
What is a "negative" reply?
I often read and hear about positive and negative replies in the context of cold emails. But what does "negative" really mean? I would distinguish several types of negative replies. Below, I listed some examples. Under each example, you will find some interpretation and a few possible steps you can take when you see such replies in your inbox.
An angry reply
Angry replies are easy to spot. They are full of negative emotions expressed by capital letters and exclamation marks, or even some coarse language. But an angry reply does not have to be impolite. Here are a few examples:
"Can you please take my name OFF your list."

"Stop spamming me!!!"

"Sorry. I get offers like yours flooding my inbox. I'm not interested."
What to do if you see many angry replies?
The first thing you should observe is if the angry replies come after you've sent the first email, or after one of your follow-ups.
What to do if you get angry replies after your first email?
If you see some anger coming from prospects after they get your opening email, the first thing to check is your email copy. Perhaps it looks too much like a sales offer or an ad. Maybe it's too long and focused more on your product/service than on your prospect. Make sure your opening email aims at starting a conversation and offers some real value to your prospect. Try to add some personalization elements, other than the first name in the salutation.
If a few alterations of the copy don't help and the angry replies keep coming, it's probably a sign you should change the profile of your prospect.
You need to realize that people on certain positions get more cold emails than people on other positions. The more cold emails they get, the greater the chances that they will a) ignore your message, or b) get angry and decide to pour the anger in their reply. So for instance, if you get some spicy negative replies from sales directors, perhaps you could address some account managers and see how they react to your messaging.
But what to do if many of your prospects send you angry replies after they get a follow-up message?
My advice would be to check your delivery settings first. How many follow-ups have you planned? How many days are there between your subsequent messages? At what time your messages get into your addressees' inboxes?
Maybe your prospects feel like you're being pushy, sending them a reminder every day or every other day, and that's why they feel uncomfortable. Try to vary the periods between your follow-ups. Give them some more time to respond. Set up various sending times during the day for each of your follow-ups, so that they don't get every email from you at 9AM.
Check this post if you haven't read it yet:
A not interested reply
You've surely seen more than one not interested reply. Usually, they don't point to any reason why your prospect is not interested. They just state, the prospect has no need or interest in your offer. Here's a classic example:
"Thanks, Cathy, for your information. This is not something I am in need of at this time."

"Appreciate the offer, but I'm not interested."
This gives you little information. These replies are just a polite way of saying that there's no need for you to send further follow-ups. It's difficult to draw some precise conclusions from a reply like that. But if you get a lot of them, you can deduce a couple of things:
1) Your value proposition is not appealing to your prospects
2) Your hypothesis that a certain target group will benefit from your solution may be invalid.
What to do if you see many not interested replies?
Show them benefits
The first thing to change is the part of your copy where you present your value proposition. Perhaps you talk more about the features of your product/service instead of benefits. If your addressees cannot easily notice what's in it for them, many of them will not be interested in talking to you. Show them what problem you can solve for them exactly, or what they will actually gain by applying your solution.
Change the perspective a little
If your value proposition is presented in terms of benefits, and you still get many uninterested replies, you can try to change the perspective a little.
For instance, now you may be drawing your prospects' attention to saving time. But maybe there are other gains that they would be more interested in, like: getting more customers, saving money, outrunning their competition, etc.
A little hint here: the more specific you are, the more appealing your offer gets. So when you're stating that your solution will help them save money, estimate how much money they can save a month, and put the number into your cold email.
One copy alteration may not be enough. Run a few A/B tests and patiently improve your email copy step by step.
But what if it's not the copy, but the prospects?
If you've carried some serious A/B testing for weeks, or even months, and you still see numerous uninterested replies, it may be a sign that you've been barking up the wrong tree. In such a case, you may collect a test base of contacts for another target group. You don't have to change the industry, for starters. Just change the position of your prospects and see how it goes.
If the change of position doesn't work, try to change the direction a little: perhaps the sales departments are not very interested in your solution, but marketing departments will be. Remember, though, that a new target group may have another perspective for your product and may appreciate other benefits than the previous one. That's why it's always crucial to adjust your email copy to each of your prospect groups.
If that little pivot doesn't work either, it's a sign that most probably you should revalue your Ideal Customer Profile.
"I'm not a good fit" reply
Such replies can be actually helpful, because they clearly state the reason why the prospect is not interested, the reason being: they are not really matching your Ideal Customer Profile. Here are some examples:
"It sounds good for personal trainers, but not really a fit for me at this time."

"Thank you for reaching out. Your program sounds awesome! However, I only teach group fitness classes as of now. Sorry I can't be more help!"
What to do if you see many "I'm not a good fit" replies?
There may be an issue with the targeting of your prospect base. If you have your prospect base provided by another company, contact them and show them the answers you're getting. Hopefully, just a few alterations in the search criteria will positively affect your positive response rates. If you collect contacts yourself, try to narrow down your search to companies that fit your ICP.
You can also slightly change your email copy, so the prospects you're contacting feel that your solution may be also a good fit for them. However, the more precise your targeting and your messaging are, the greater the chances that you'll connect with the right prospects who will find the real value in your product or service. So don't try to stretch and provide a solution for everyone.
Just make sure that your prospect base is carefully collected with all the important criteria in mind, and that your email copy presents your value proposition in a clear way and gives the prospects some points to refer to.
A reply with a sales objection
Some negative reponses imply that, in fact, the addressee fits into the ICP specification, but they are not interested in further contact due to a sales objection. For instance, they already use a similar solution, or they require some features that you don't offer yet.
"Thanks for the offer but I am quite happy with the online software I use."

"I've checked you website and it looks like you don't have the options I would need. Thanks, I'm not interested."
First of all, a skilled salesperson would use such objections into a conversation starter. Answers of this kind can be turned into valuable conversations. Even if the prospect will not turn into your customer immediately, they can share some valuable thoughts on your product as well as other available products in your niche.
What to do if you see many replies with sales objections?
Replies including objections can be a rich source for you to draw conclusions about your product/service and your offer in general. Carefully read all the objections and see if there are some recurring reasons why your prospects are not willing to engage in a further conversation with you.
Sometimes, the reasons will be stated straight ahead. But sometimes, you'll need to play Sherlock and make some deduction. Perhaps your product is on an early stage of development, and your target group are not the type of early adopters. Maybe your website does not present your product or service right – maybe there's too little information, or too much information, or the message on the website is not clear.
It may be also a dozen of other reasons. The key is to spot the reasons and try to fix the issues that cause negative replies.
What is an acceptable negative reply rate?
How many of them should actually alarm you? First of all, you should have an overview on how many replies have you got in general, how many of them were positive and how many were negative.
If you're sending your cold emails with Woodpecker, your replies get detected and you're be able to mark them as interested, maybe later, and not interested.

That allows you too immediately see the positive and negative response rate in the campaign stats.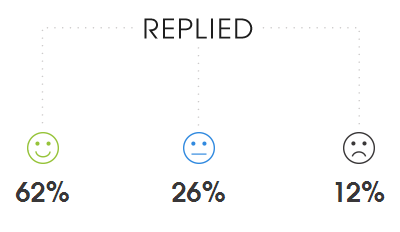 I wouldn't like to give you an exact per cent of negative replies that is acceptable. If I did, it would be just my subjective opinion. I'd like you keep your negative reply rate as low as possible.
Don't stop at controlling the numbers only. It's the quality, not just the quantity of negative replies, that will allow you do draw some valuable conclusions about your outreach strategy.
What's in it for you?
Here's what I want you to remember from all this:
No matter how hard you try, you will see some negative replies.
There is no set rate of negative replies that you can accept and ignore. Never ignore negative replies. Analyze them and use them to improve your cold email campaigns.
You need to strive for as low negative reply rate as possible, constantly improving your targeting, email copy, and sending settings.
Negative replies may be a consequence of more than just your outreach strategy. Most of your prospects will definitely check you out beyond email, so make sure you give them some reasons for positive replies: take care of your website, social profiles, customers' testimonials and reviews. Show that you're a reliable company and a trustworthy person.
***
Check out also:
The link to the article has been copied.