Time for another guest post on our blog. This time it covers a topic that is very on trend right now, data enrichment. And it shows how to use data to increase your email deliverability. Ok, let's give the stage to Anastasia from CIENCE who's an expert in that field.
How to lower the bounce rate with human-driven data enrichment
An efficient outbound email campaign is a result of hard work. To build templates, you need to know your target audience and their problems, as well as how your product or service can help. Then you need to personalize your message. Your message must be timely, relevant, and actionable. Unfortunately, a high bounce rate can ruin this hard work before it starts.
A high bounce rate results from a more significant problem that has existed for a while. In fact, in popular lead generation studies, the #1 challenge is the quality of leads. This all starts from the beginning — accurate accounts and contact data. But the problem is getting worse and is unlikely to change in the near future.
Why is accurate lead gen data so hard to get?
First — here, in the U.S. — the economy is humming along. Executives (and all other roles) are changing jobs at a faster rate than ever before in history. This alone accounts for inaccurate contact-to-account list data decay rates >3% per month.
Time is the enemy of all lead lists when it comes to accuracy. In the normal course of business, unless you are building lists anew or constantly enriching them, your investment in contact intelligence will naturally diminish as the list grows less accurate.
Next, the selling/buying process is becoming longer, involving more decision-makers. This number now stands at 6. The phrase, "consensus sale," is quickly trumping the sole decision maker's power in most companies. Getting to the right lead is difficult.
Privacy laws like GDPR or the California Consumer Privacy Act restrict the amount of data collected by any business. It's safe to say that individuals are putting greater efforts to conceal their contact data while still expecting more personalization from the sellers.
Lastly, sales data research is hard. Simple as that. It can be monotonous, boring, and tedious. Virtually all salespeople avoid sales research like the plague. Finding extremely disciplined, detail-oriented people to fill data researcher positions is challenging. By the way, it's a role that rarely pays well and many jobs nowadays often go unfilled.
How does this affect outreach?
It makes outreach more challenging than ever before. As a result, companies have to spend more time and effort on each lead. You don't want to waste them on bounces, yet simple math is daunting.
Data accuracy below 70% means that ⅓ of any salesperson's time is completely wasted.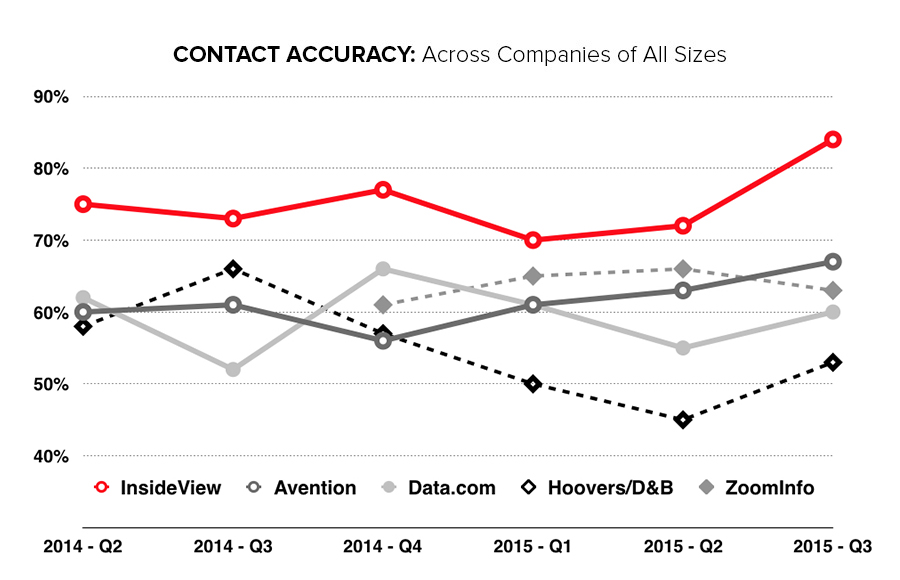 This is unrecoverable time spent teeing up communications that will never be read. There are few things more frustrating than doing work that will never even be seen.
Additionally, with SPAM filters getting more sophisticated, high bounce rates from a single IP address or domain sending email can get you blacklisted… Fast.
There are plenty of reasons why your email hasn't been delivered to a recipient:
Your contact data isn't accurate (

email

invalid or doesn't exist).
SPAM folder/blocking of your domain or IP address at the Email Service Provider level.
Strong firewall or

email

filtering software is used by the target company.
Content within the body of the

email

acts as a trigger.
Mailbox is full.
The

email

server is down.
The message is too large.
The first two of these tilt on the fulcrum point of accurate lead gen data. Despite common beliefs, a bounce rate in B2B email outreach is largely within your control. While you can't impact the firewall protection or change algorithms, such as SpamAssassin, that determine SPAM scores, you can still work with email templates and contact information.
Moreover, it's possible to retain the bounce rate lower than 30%, and even get down to as few as 1-2% consistently. This is the expected performance for each of our outbound campaigns at CIENCE, with accurate lists of contacts that we generate.
Types of data enrichment
For any business, contact information of potential customers is priceless. And there are two primary methods to obtain it:
Passive
Active
Passive is associated with the efforts of a marketing team.
Simply put, you become an acknowledged source of valuable information. Then you exchange the best pieces of your content for people's contact data. Accuracy depends on the honesty of people requesting content.
Furthermore, not all of your content consumers will fit your buyer persona. Actually, most don't fit, judging MQL data by industry.
Active acquisition of contact data is the domain of researchers.
Sometimes researchers are a part of a sales team. However, most companies don't have full-time employees whose job is data enrichment. Instead, they buy contact lists from lead generation companies. And the quality of these lists varies significantly.
There are several types of data enrichment services available on the market:
The resellers of contact lists;
Platforms that use AI to obtain necessary information;
Data enrichment companies that use human intelligence.
The lists of resellers are the least accurate, because the information changes over the time, and you can't be sure when they made the purchase. For the same reason, any ready-made contact list will have a high bounce rate, unless you buy it straight after an update (which in the best-case scenarios are made once every 3-6 months).
An interesting thing about the reseller business model is the one of arbitrage. If you understand the goal is to re-sell lists as many times to as many buyers as possible before the data becomes untenable, you'll have a truer picture of this service.
Next, there are platforms that use AI to obtain necessary information, which is a bright promise of the future. The reality on the ground nowadays, however, is different.
We believe that the full automation of research doesn't provide the most accurate data because AI hasn't reached the level of human. On the other hand, researchers who don't use automation tools in their work are slow and don't provide the necessary quality.
This is also why, when possible, it's best to combine software and human intelligence to achieve the highest quality of leads. One of the key benefits of this data enrichment is that you obtain up-to-date information. For example, a researcher generated 50 leads on Monday, and now your sales rep can do the outreach to them on Tuesday.
What does human-driven data enrichment process look like?
If you don't want to outsource data enrichment, you can hire a researcher, organize the process and control it. Easier said than done, but not impossible.
Of note: some companies entrust this function to their sales development representatives.
However, as strong supporters of sales specialization, we believe that it's not the right thing to do. One needs entirely different skills and psychological traits to become a successful SDR or data enrichment expert.
When hiring a researcher look for the following qualities:
Attentiveness
Ability to work for an extended period without communication
Stress-resistance
Diligence
Ability to withstand monotony
Persistence
Analytical skills
Ability to spend most of their working time sitting in front of a computer
Where to start with data enrichment
Once you've hired and trained your researcher you can initiate data enrichment. This process can be as long or short as you require — based on data sought. Here's a common example of a lead list at CIENCE.
A researcher has to provide 17-22 entries of data per one lead on average:
Company Name
Business Website
Chat Client
Keywords
Ranking Traffic
First Name
Last Name
Title
Corporate Email
Validation
Corporate Phone Number
Company LinkedIn
Decision Maker LinkedIn
Country
State
Industry
SIC
Company Size
Revenue
GDPR Compliant Step
Though it might seem simple, searching for a single lead can take up to one hour, depending on your buyer persona. Local data enrichment is much harder than a nationwide. When you look for SMEs, the process gets several times as long.
To work efficiently, you will need several tools which in general will run you about $500 per one researcher, sans data subscription.
Research requires a deliberate buyer persona or Ideal Customer Profile (ICP) — as we call it here at CIENCE. ICP sets criteria for filtering leads (e.g., industry, title, location). Some criteria might be very specific and require more time and efforts than average.
For example, you would want to search for companies that have facilities of a particular type (e.g., hotels with pools or restaurants located on the top floor). In this case, the tools mentioned above won't help you. Your researcher will have to find this data on an organization's website, search engine and even satellite maps.
What's the advanced take on data enrichment?
Bespoke human curated research can and should be done in the following application areas:
Demographic
Firmographic
Geographic
Technographic
Psychographic
Trigger Events / News / Events
A true account-based approach will take advantage of each of the multiple datasets above. Profiling of a targeted contact could include information from each area such that you can create informed campaigns that speak to the contact's reality and have done your homework effectively.
For example, you could target the direct emails of CMO's of companies between $15-25 million in revenue in the greater Los Angeles area, running WordPress on the company website and generating at least 50,000 unique visitors per month that is currently hiring for marketing roles.
Areas of concern
Less than 1% of people make their email public on social networking websites. And in most cases, they provide the personal one. That's why you can't use these websites as a source of contact data. You can only leverage the presence of companies and people there as well as the possibility to find out who works for a particular company.
As a rule of thumb, researchers first look on a website of a company for contacts. If they don't find them, they use email generation tools. Once researchers get an email, they try to validate it.
Validation is the must-do stage of data enrichment. It enables to significantly decrease the bounce rate of your outreach. At CIENCE researchers aren't permitted to add leads to the clients before they check if the email is valid.
There are three ways you can do it:
Use validation tools
Do manual research on the web
Call verification of email address
Sometimes it's impossible to say if an email is valid. In this case, we strongly suggest abandoning the lead. It's pretty hard, especially when it comes to data enrichment with a very detailed buyer persona or precise geo-targeting because in these cases, the prospects are scarce.
However, it's better to give up on a perfect lead than compromise your email send-out.
The process mentioned above enables you to decrease your bounce rate significantly and get high quality leads. We hope our article was helpful to you. Good luck with data enrichment!
The link to the article has been copied.