I like to stress out the importance of cold email personalization. You may approach the process of adding a personal touch to email copy from multiple angles, which I've already described. But sometimes it's nice to use a tool or two that would do it for you.
I asked Moaaz from Cloudlead, a B2B lead generation intelligence provider, to explain you how to use data to drive your marketing and sales efforts.
Moaaz will take over from now.
Which resource do you consider to be the most valuable? Some would lean towards oil or real estate, but the truth is that data is hands-down the most precious of all. With data, knowledge is amplified greatly.
It is safe to say that data has undeniably been the basis for most of our decisions. Those working in the B2B industry are no exception to this truth and have yet to leverage it to the fullest.
According to the Aberdeen Group, "Seventy-nine percent (79%) of decision-makers say that their decision window has shrunk over the past two years." What will further amaze you is that this statistic was for 2015. It's safe to assume that this trend will continue.
But how do we act in response to that change in decision-making time? What should sales development representatives (SDRs) and marketers do to adapt to it?
The answer: data-driven selling.
Data-driven selling is modernizing how SDRs prospect, nurture, track and close leads.
What exactly is data-driven selling?
Data-driven selling means upgrading your sales outreach by implementing B2B customer intelligence, analytics in order to add even more personalization to your business communication.
Incorporating a data-driven selling strategy into your business model requires some effort. I wrote this blog post to help you in it.
This article is focused on explaining three points necessary for skyrocketing your outbound process with data. I'm going to discuss:
the importance and relevance of data-driven selling;
the use of predictive analytics for your outbound processes;
the steps you can take to work towards leveraging data with a more targeted and personalized

sales

approach.
Importance of data-driven selling
Every business has a gap that needs to be fixed. Sometimes organizations are aware of the gap. And sometimes they don't even know what and where the problem is.
With data-driven selling, you can effectively target an individual at a company in both scenarios mentioned above.
Let's take the example. Say, you are an SDR working at an HR software company. The value proposition you present to your prospects is improving HR motivation through an application providing a rewards program.
You might target HR managers and directors as a raw target audience – but it would be rather a blind shot. What you can do instead is to use some insightful data. What if you knew important data verticals like their interests, education, their company revenue, organization employee size, industry, target industry, the software they're using, etc.?
This sounds like pretty basic stuff right?
Wrong.
Always remember that the devil is in the details. Upon taking a closer look at the HR activities of your prospects, you may figure out that a constant hiring process is taking place, which could indicate high employee turnover.
This would, in turn, allow you to send a problem-solution based cold email. Keep it short, simple and to the point and your lead generation scorecards are bound to glitter.
This is just scraping the surface on the importance of data-driven selling. Truth is, the B2B industry is having a hard time keeping up with the advancements because applying a data-driven strategy takes research, time, and effort to implement, which in turn, costs money.
It doesn't necessarily have to be this way. You can find B2B data solutions to help you stay updated with detailed, top of the funnel information. Also, this article may help you take the necessary steps towards a promising start with data; it's all about taking the initiative.
Before you get onto implementing a data-driven strategy, you need to realize the importance of B2B data quality.
Why B2B data quality matters
B2B data quality matters simply because it provides much-needed information about accounts, prospects and current customers, which in turn, can help you sell better. For many companies, quality B2B data can be a source of competitive advantage too.
Furthermore, having bad data, or incorrect customer insights, can harm your business outreach efforts.
For instance, think of a situation when an SDR pitches to the wrong decision maker or targets a company with the wrong criteria. Not only does that waste the SDR's time but also the prospects time.
Predictive analysis can boost your outbound processes
Data has a crucial role in making your sales efforts more predictable and scalable.
Predictive analysis is basically utilizing unique algorithms and machine learning tools to make predictions. Often based on historical and perceived future outcomes.
This sounds pretty complicated and it can be so. Nevertheless, you don't need to worry about using complicated software for getting access to predictive analytics. There are easy to use tools like Buzzsumo and Google Trends, which can give you a thorough analysis of web traffic based on published content.
You can even take predictive measures by monitoring your competition. Keyword analysis can highlight a lot. And tools like SEMrush can help you keep an eye on what your competition is doing in terms of keywords analysis and SEO strategy. What follows is that you can plan future sales and marketing campaigns with such information at your fingertips.
A predictable sales approach means that you can take a leap towards sales effectiveness. This simply means you will capture more conversions throughout your sales funnel and multiple buyer journey stages.
The sales funnel can be misconceived as a ritual process for lead generation, especially with a predictive analysis in your process. A prospect can jump from the initial contact stage to negotiation stage when you engage correctly.
This is where I bring up my personal favorite lead generation strategy. The awareness, interest, desire, and action which is better known as the AIDA model.
The AIDA model, with predictive analysis and quality B2B data can yield extraordinary results.
No crystal ball can replace hardcore data-informed predictions. You may have your gut feeling to rely on, which is good but you need to admit that having actionable intel to rely on could be a sigh of relief.
Incorporate a data-driven strategy into personalized selling
Now, as promised, here are some actionable tips on what you can do to take your first initiative towards combining a data-driven sales strategy with personalization.
The previous example of the HR Company is quite relevant here but here's the add-on. Quality B2B data is precious but getting it can be tough. That is why B2B SDRs and marketers need tools for sales outreach personalization, which enable them to easily get to the data they need.
If there is one thing I have learned in Cloudlead, a B2B data company, it's that having the right data can be crucial for a successful outbound strategy. The only thing left is to implement your data-driven strategy and keep testing your results, aiming at constant improvement.
To help you save time on the testing part, here are some quick tips you can take to start your very own lead generation strategy with B2B data to drive sales growth with the right level of quality personalization.
Prospect or acquire verified B2B data for audience segmentation
It is essential that you know your ideal customer profile like the back of your hand. The reason is you can use it to prospect or acquire a list of contacts that fit your product value proposition the best.
From my experience, prospecting can get difficult to implement, because there are several things required to successfully obtain a list of B2B verified contacts and accounts. The resources are crucial. For example, at Cloudlead, we have a multi-layer contact cleaning and verifying system, consisting of machine learning tools and human data researchers.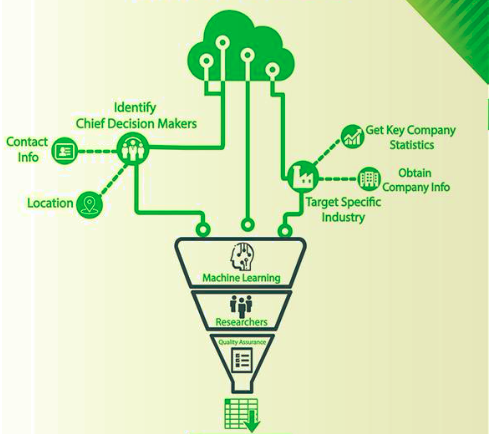 Source: Cloudlead
After you do this, rest assured. Your data is accurate, valid and up to date.
Analyze your B2B data and convert it into business intelligence
This doesn't have to take much of your time. You need to have quality B2B data to get the results you can work with.
The trick is to use Google Analytics and combine them with predictive tools, such as SEMrush, Buzzsumo (gives you insights on content based on your keywords), or Google trends to helps your sales and marketing teams make better decisions thanks to having additional market insights at their disposal.
Start analyzing the data by researching what content your prospects read the most, what groups they have joined, mentors they follow, articles they have written and more. There are loads of points you can consider for you to create your personalized selling strategy.
Ideally, you should try to find easy parameters like annual revenue, number of employees, software being used, organizational hierarchy, and much more. These parameters help with your sales prospecting strategies. Audience segmentation helps marketers deliver relevant content, and likewise, helps SDRs sell effectively.
Initiate a simple data-driven sales campaign
In this step, use whatever you found out during B2B intelligence to prepare highly-targeted and personalized drip campaigns. Here you can see the stats of a Woodpecker campaign: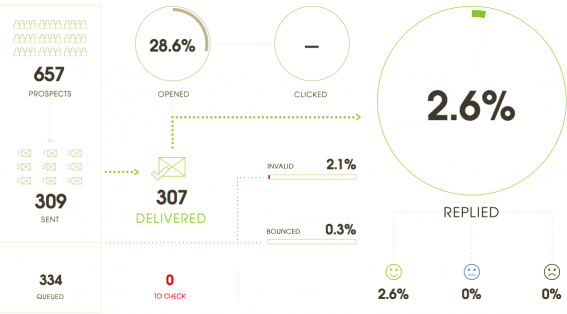 Source: Woodpecker Stats Dashboard
The campaign was launched with the help of personalization option in Woodpecker and our B2B data. The analysis allowed us to identify and target key decision-makers who were attending a certain conference. Due to poor timing, we experienced a low open rate. Nevertheless, all replies we received were positive.
What does it exactly mean?
It means we have a 100% reply to interest conversion rate (so far!) That is not very common, especially when you send just one email. This is why B2B data quality can be helpful in solving your prospects' engagement puzzle.
Prospect engagement puzzle is another phrase for the challenges SDR's and marketers face when trying to successfully engage with prospects. In this scenario, the reply rate would be an indicator of engaging successfully. Deciphering how you're going to solve your prospect engagement puzzle can be tricky but it's completely worth it when you see a steady flow of leads.
As for our campaign, the next step is to start a conversation with those who are interested. A highly targeted campaign that uses B2B data smartly, can get you many interested leads.
Certainly, some cold email campaigns can yield even better results than the one presented above, but the main point I'd like you to take from here is that enriched B2B contact data together with the right lead generation tools can help you achieve great results.
The link to the article has been copied.