Let me take a guess: you're looking for a lead generation service, but so far you've been overwhelmed with the options and don't quite know who to choose to fulfill your lead generation needs.
Well, let me help you with that so you can stop fumbling in the dark and finally get the pro assistance that will help you drive your sales.
This guide consists of two parts:
The first one shows you how to choose the right expert for your problem and business

The second shows you where to look for them so you don't have to go back and google it for hours
After reading this, you'll be able to pick an expert who's just right for you.
Who'll help you fill up your sales pipeline.
Bring in the benjamins, and finally get a solid ROI from cold email.
But first things first – let's start with the issue you're facing.
Outbound lead generation services – what can an expert help you with?
The scope of an outbound lead generation service will vary, ranging from a part of the process to covering the full campaign cycle, from building a list to optimizing and tweaking your cold email sequences.
Types of outbound lead generation services
Cold email copywriting

Email deliverability

Technical set-up

Strategy

Campaign management

Fully DFY lead generation

List building

Campaign optimization
A lead gen expert will help you with some or all of these, simply nailing the problem on the head when your cold emails aren't working and you don't know why, or kicking off your campaigns when you're not sure where to start.
Agency vs freelance specialist
What can a lead generation agency help you with?
You can count on agencies to take the full process off your hands. Many of them also offer to handle some part of the process, like building a list.Their strongest suit is running the whole show for you, though.
They've got processes and people across various teams working on your behalf. Often they'll want to sign a contract for a longer period of time, which makes sense since you need time to start seeing the results of a properly strategized and executed cold email campaign.
What can a freelance specialist help you with?
A freelance lead generation specialist might cover a specific niche, or handle the lead generation process for you – just like an agency.
You're more likely to find freelancers who are laser-focused on one specific part of cold emailing, like copywriting.
So if you're looking to get some advice or help on a very particular aspect of your cold emailing process, like rewriting your emails, or someone to consult with on how to tweak your strategys, a freelance pro might be a better choice.
Having said that, it's not set in stone, and the agency vs consultant is just one way to look at your lead generation expert. Here are other criterias to think about.
Criteria for choosing lead generation services
Expertise & experience
Starting with the obvious – do they cover the area that you're having issues with?
But then, there are things that might not come to mind immediately.
Do they have experience in targeting the market you want to expand on?

Have they successfully worked with businesses in your industry before?

Were they able to solve the problem you seem to be having, for somebody else?

How long have they been in the game?

If you're looking to get a prospect list from them, ask how they go about building it. Do they have a team that's taking care of it? What's their process?

How do they stay compliant with applicable laws, like GDPR or the CAN-SPAM act? Make sure yours and your prospective customers' data is in good hands.
Tip: many lead generation specialists offer a free discovery call. So if you've picked a top few to reach out to and you're not sure who to choose, jump on a call with them.
Budget
Some of the lead generation specialists offer service packages with fixed prices. Typically, though, they need to customize their offer to your needs, which means the price will vary from client to client.
Some of them might charge per lead or campaign.
Tip: Before you sign on with an agency or a freelance specialist for a fully DFY service, make sure you'd agreed on the definition of a lead. Is it someone who replied? A meeting booked?
How will they qualify them? When will they be delivered to you? Does the offer include lead scoring?
Talk it over before signing on the dotted line so you have a clear picture of what you'll be getting at the price you agree to.
The results might take time
Some professionals (mostly agencies) sign contracts with clients for at least 3 months, since this is when you start seeing the first results if you're building and implementing a cold email strategy from scratch.
But outbound lead generation is a long-term game that works best to provide a regular and steady flow of leads. Depending on your particular case, it might take several months before you see the results.
Then again – this will vary depending on what problem you're trying to solve. If you need help with a certain part of the process, like email copy or tweaking the sending strategy, you should be able to see the results much faster.
Tip #2: Too cheap ain't a good thing.
Lead generation involves many skills and is time-consuming (you know that if you've tried yourself!). If you're surprised at how low the price is for a full service, it might actually be a sign that something's off.
What cold email tools they're using
This depends on your particular case, but might come in handy. If you're already using a cold email tool that you like and have processes built around it, it might be worth it to pick an expert who knows the tool and will help you maximize its ROI.
On the other hand – if you're looking for a tool, or want to switch from another that didn't meet your needs, an expert can also recommend you one. Typically, they'd used many of them and know all of their benefits and drawbacks.
Reputation
If a business is bad, you'll probably see proof of that in the opinions of their clients.
So do a little research and see what people have said about the lead generation agencies or consultants you're considering to work with.
They might call themselves the best pros out there, but since you don't know them yet, you don't trust them. So it's people's opinions that will show you the truth.
Check their reviews, read case studies, see what people are saying about them on social media – or go to Woodpecker Experts, where the vetting process has already been done for you.
You just pick the professionals whose expertise and experience matches your needs, and contact them – no need to google lead generation services and browse through the results, looking for one that might make you swipe right.
How to make sure you hire the right lead generation expert
Woodpecker Experts came to be because we saw some Woodpecker users need a helping hand to kickstart their cold email campaigns, or optimize them for more satisfying results. So we built a platform that makes your search easier.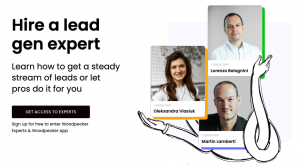 The base of experts is carefully curated

. We talk to each of the experts and decide if they are a good fit based on what our customers need.

We made sure they cover

every aspect of lead generation with cold email

. So whatever you need, you'll get help with it.

We invite

both agencies and freelance consultants

to join. So chances are you'll find an expert with the expertise you need, within your budget.
Want to browse? If you're a Woodpecker user, go right here. Choose an expert whose expertise matches what you need and connect with them via the form. See if they'll be able to help you, and if so – set the scope of the project and price.
Not a Woodpecker user? Consider signing up – you can connect with the experts when you're on the trial as well, so you can start getting a good ROI on your cold email efforts as soon as possible. In that case, go here.
The link to the article has been copied.