Even though two months have lapsed, I'd like to recap you on the third Woodpecker Meeting that took place on May 25, 2018, a single day when we all meet together to celebrate and listen to team presentations. It has slowly but surely become a custom for the Woodpecker team. The first meeting was set up to celebrate reaching 150 premium users, the second one — 800. Read more to find out what we discussed in the third one.
Here are the reports of the two past Woodpecker meetings.
The Woodpecker Meeting I, What We Did After Reaching 150 Customers >>
The Woodpecker Meeting II, or 800 Customers on Board >>
Now let's go over the third one.
Report from Woodpecker Meeting III
Just like before the whole team didn't go to work but met at Business Link Wrocław, a cozy place downtown where Woodpecker was born. We noticed that we've grown a lot since that time. And the first thing that shows that is the size of our team. Here's a group photo.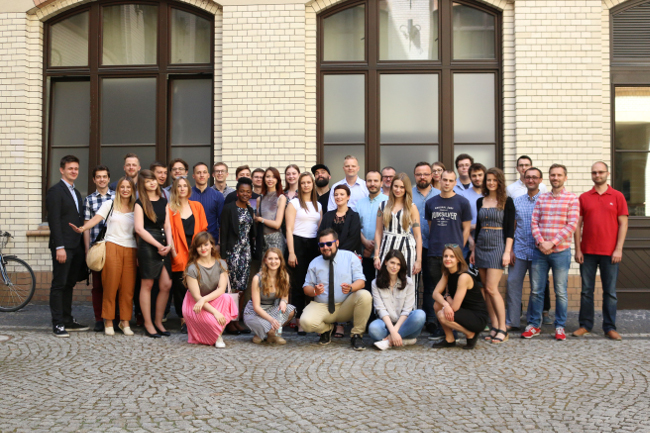 As in the blog post about The Woodpecker Meeting Vol. 2, let's examine some numbers.
A short summary in numbers
3+ years, that's about how long we've been working on the Woodpecker app
40 people, that's how many people are working at Woodpecker.co
154, that's how many blog posts we've published on this blog
2000, that's how many

B2B

companies are currently on premium
55, that's how many countries we serve right at that time
A lot of things have changed, haven't they?
Like in the previous year, the teams were asked to prepare some presentations about topics specific to their departments. That way, we got a clear picture of what everyone had been working on since the last meeting. Plus, where they are heading.
Alongside our usual presenters, such as Matt, Maciej, Kamila, please check what they've talked about last year here >>, we've heard from our back-end programmers and data scientist.
And instead of describing to you what each of them talked about, I have a small surprise for you.
I'm inviting you to watch a short video recording of the meeting that we put on our YouTube channel.
Recording of the Woodpecker Meeting III
Here is the recording.
What do you think? Do you, at your company, celebrate a day like that? What is it all about? Please share in the comments.
The link to the article has been copied.