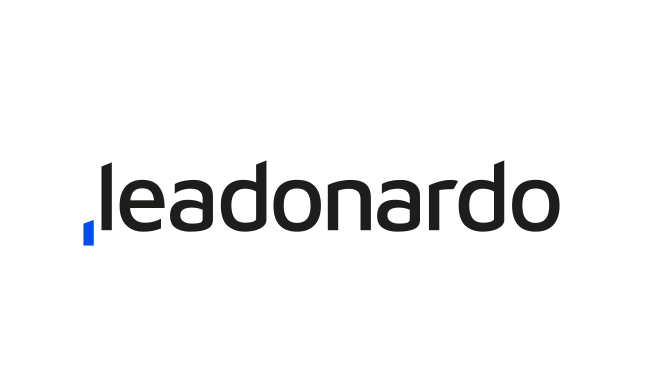 Today we've got the first prospect list building tool review in 2018, but it's the 10th one in the series we've been running on Woodpecker blog for a while. This time I've interviewed Joanna Jachuła  – the CEO of Leadonardo, B2B outbound lead gen company that has just launched their list building application. Read more about how Leadonardo can fit into your outbound workflow.
About Leadonardo
Leadonardo a Polish sales startup that has been helping B2B companies from all over the world since 2018. For most of this time, they've been providing an outbound platform for list building. The Leadonardo team has previously worked at RightHello – a lead generation agency.
They've gained invaluable experience in the field of building email lists and targeting for cold email campaigns. They've used the experience when working on their contact list building platform.
I had a pleasure to interview Joanna Jachuła, the CEO of Leadonardo. She's been dealing with UX and outbound marketing for a long while, working in RightHello.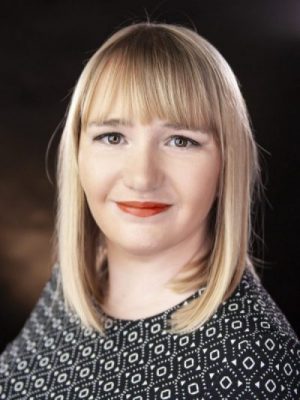 I asked Joanna a few questions about Leadonardo. Read her answers below to learn more about the contact list building application they've recently launched, and see if it's a fit for your outbound sales process.
How would you describe Leadonardo in 4-5 sentences?
Joanna: Leadonardo is an online prospecting tool. Sales Reps and Outbound Specialists use Leadonardo to find new clients and business opportunities. Leadonardo provides an affordable and easy to use solution that allows you to reach decision makers at companies of your choice, in scale.
What is the greatest benefit of using Leadonardo?
J: I would say that it is saving the most precious commodity these days – time. You would probably be able to find contacts manually, but imagine how long it would take to locate 2000 of them?
How does the process of building database look like with Leadonardo?
J: It's really simple. First, you choose companies you would like to contact in our app. You can filter them by industry, location, size, a year when they were founded, and a couple more. When your company list is ready, you choose what position level or department you would like to contact – e.g. c-level, marketing, IT, HR.
Then, the magic happens. Our app either serves you with the complete list of contacts right away or takes some time to crawl the Internet looking for them. In extreme cases (e.g. you want to reach lumberjacks in Canada), a manual search is needed to find the missing contacts.
Do I need any additional tools/add-ons to use Leadonardo efficiently?
J: Being more serious – to launch a cold mailing campaign you should have a tool to send emails and I'm naturally not talking about a free Gmail account. Tools like Woodpecker would be my suggestion. You also need copywriting for cold email pitches.
What kind of information can I actually collect using Leadonardo?
P: You get the following:
name and last name
job title
email address
company name
company website
company social media account (LinkedIn/Xing/Angellist/Crunchbase, etc.)
Plus, you have the information about the industry the company is in and its size.
How many contacts can I have per month?
J: There are 5 standard plans to choose from, 100, 250, 500, 1 000, 2 000 contacts, and you get them as a single package. If you need more than that, it's discussed individually.
How much is it?
J: It depends on which plan you would like to purchase. The price is ranging from 59 EUR (100 contacts), through 209 EUR (500 contacts), to 599 EUR (2 000 contacts).
Is there a free trial?
P: Sure! You get an access to our app for 7 days during which you can check how it works, look through our companies list and request 50 free contacts of your choice.
Our experience with Leadonardo
THINGS WE LOVED
Company classification & flexible search
Basically, the classification is based on pre-defined tags and allows you to filter companies you want to contact more precisely. There are over 30 pre-defined company categories, some of which are divided into sub-categories. That makes the filtering so much easier, which, I imagine, could potentially save hours those who used to do their prospecting on LinkedIn.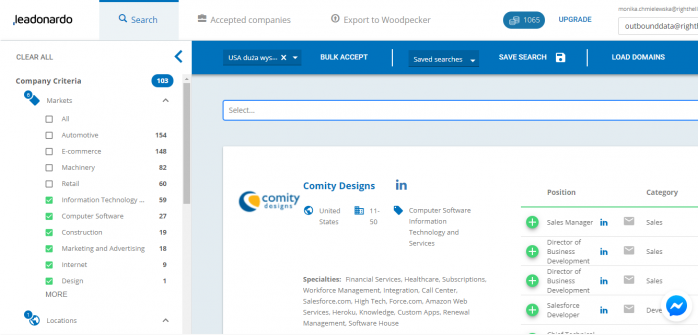 Leadonardo offers a complex catalog of companies to choose from. Plus, the solution is a stand-alone app, which means you don't need to pay additionally for advanced filtering options on platforms like LinkedIn.
You can also start your search from job titles – so from people instead of companies. That makes the app flexible and easy to fit into various types of prospecting processes.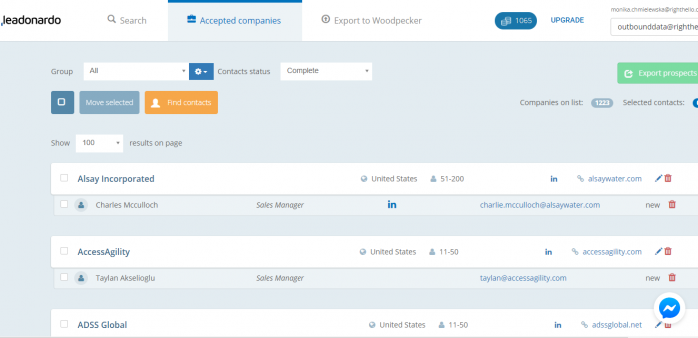 The option to upload your own blacklists
A nice feature to mention here is also the ability to upload lists of emails or domains you don't want to contact for sure. So if you have a list of present customers, you can upload it to Leadonardo before you even start the search to be sure you don't get any duplicates on your cold emailing lists. That's especially important in the light of the fact that you use your credits for each contact you order.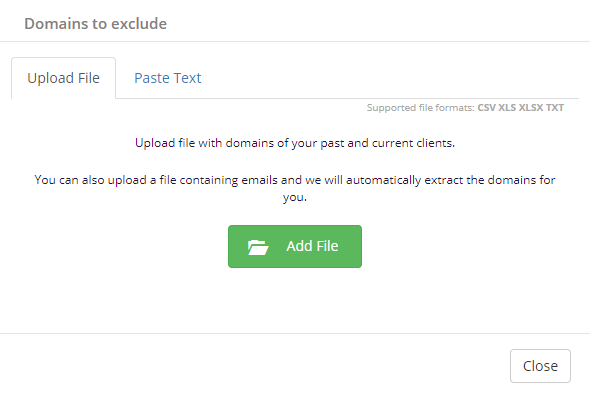 The quality of company descriptions
The descriptions of companies are rich in information, as they are combined from various platforms. Additionally, you can use your own keywords while searching companies to either include or rule out from your list.
So let's say you're looking for software houses but only those that specialize in Unity. In such a case, you put "Unity" in your keywords, and the companies get filtered for you immediately. That's something to play with if you aim at a high-level customization in your outbound campaigns.
One click to go to a company website
That's a useful feature if you put some more time into researching the companies you are going to contact. When you click on the name of the company in the Leadonardo catalog, you'll get immediately to the company website. A simple yet, from my point of view, a necessary feature that I personally appreciate very much.
Automatic gender detection & vocative form for the first name in Polish
That's something unique, for sure, nonetheless useful exclusively to Polish customers. You see, names in Polish get marked with suffixes when used in different cases. We have a special case for the name when we write (or speak) referring directly to someone. It's called vocative. So when in English you write "Hello Maria" (lucky you), Polish requires us to write "Dzień dobry Pani Mario".
Leadonardo allows you to automatically add another column to your contact list with this declinated form of a Polish name. Which means you don't have to do this yourself with each and every name on your list of contacts (such a drag…) Plus, you can also add another column with gender specification, which then, allows you to easily divide a Polish cold email campaign into versions for male and female prospects. For those of you who don't know, Polish also requires different grammatical marks on verbs for males and females.
In a nutshell, two unique features saving Polish campaign senders tons of time.
THINGS THAT STILL CAN BE IMPROVED
UI, UX
Because the app provides a lot of possibilities, the panel involves a lot of elements. There are still some improvements to be done in the UI which definitely affects the UX. The app could definitely work faster.
Additionally, there are some parts of the panel that are not self-explanatory. Live demo helps a lot. Had I tried figuring the panel myself for the first time, I would definitely have had some difficulties.
Shortcomings in filtering
While playing with the filtering, I noticed that sometimes you get one or two companies that don't belong to the group you wanted to filter. For instance, I chose companies from the UK, and I got one company from the United States on the list, plus a few companies with "no data" in the Location field. I found a company from Switzerland on the list of companies from the Netherlands.
In both cases, that was a very small fraction of the filtered group. But still, when I think about it in terms of adding a whole list of contacts in bulk to my prospect list, the filtering is something I'd like to be able to trust entirely.
To sum up
Leadonardo is a stand-alone web application which allows you to build contact lists for outbound B2B campaigns.
You can filter companies using pre-defined tags relating to the specifics of a company you're looking for, such as company size, location, market, year of establishment. You can also narrow down your search to specific kind of people you want to get in touch with.
Moreover, you can type your own keywords which is a great option to have if you're looking for a niche businesses.
At times, you need to double check your list to see if the filtered companies are the ones you hoped for.
A huge plus is that you can upload your own blacklist so you won't get the companies you reached out to before.
When you find a company you want to get in touch with, you can visit their website by simply clicking the company name, which saves you some time.
Polish users will be happy with the fact that you can add a column for gender specification and vocative form, then the right suffixes are added; that's very helpful.
The price per contact is not low, but Leadonardo pays a lot of attention to the quality of their lists, so I'd say it a fair price for the quality they deliver.
Hope this post will help you decide if Leadonardo would be a good fit for your outbound prospecting process. If you haven't tried it yet, sign up for a free trial on their website and give it a try.
See also: